Arrancar Template
Theme Music:
Basic Information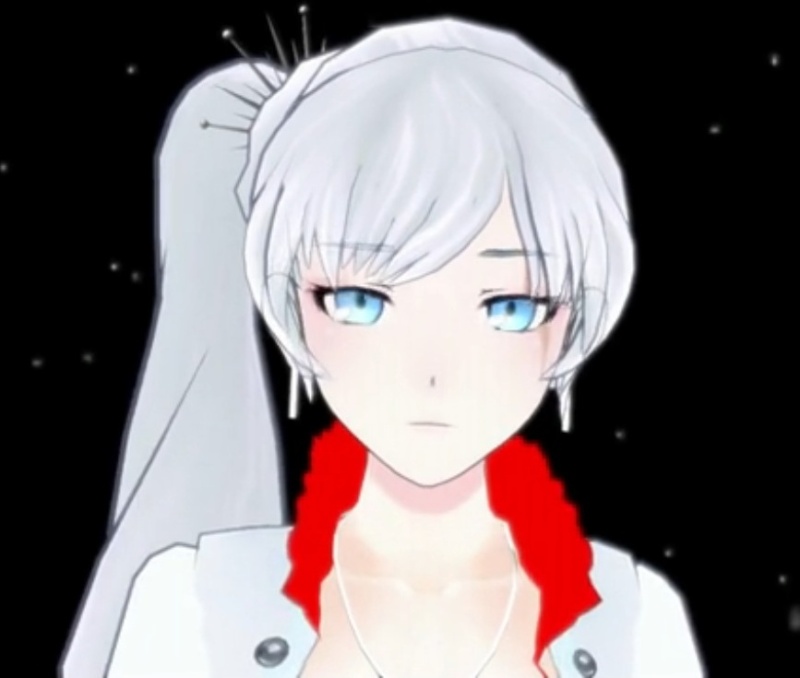 Name:
Elayne Arashi 'White'
Age:
18
True Age:
85
Sex:
Female
Personality:
Elayne is quiet and shy. She loves to sing, and has the voice for it. She can be timid, and almost always feels lonely dispite having plenty of friends. The only time she is not shy is when she is singing. She would have trouble speaking in front of crowd, but she could sing without fear or doubt. She sings far less in public now though, and keeps it to herself.
Elayne has a twin brother named Raiden Arashi who died 5 years before her. Before she was sent to baording school, they spent allot of time together. Despite the huge differences in personality they were best freinds. Raiden's death haunted her until she met her own end. The only other person she was so close to was Grainne Xios who she met after leaving soul society.
Because of her beauty she is admired allot, which makes her feel awkward and set appart from others. She's lost allot of male freinds because they develope feelings for her, and she doesn't recipricate those feelings. Despite that she finds it easier to develope freindships with men because they are so less complicated and confusing than women who, allot of the time, are jealous of her.
Elayne is afraid of herself. Especially when she becomes angry, she is afraid she will lose control of herself and hurt somebody. She is far more worried about it happening now, than back when she was a vizard and Layna could try to sieze control at any moment. She has felt the urge to let loose and destroy, and it terrifies her that something will push her over the edge and she will do it.
When Elayne becomes used to a person, something that could take a day or a month, she becomes a little more social with them. She's less shy and smiles a little more.. She doesn't come off as sad or lonely as she normally would. As she comes to know the person, she will talk more and more. She even shows emotions such as excitement or happiness.
Elayne used to be awkward in large groups of people, but she is no longer affected by these problems. She's become less timid since becoming an arrancar, far more difficult to freighten and doesn't really give in to social anxiety anymore. Her new status as arrancar has caused her to become used ot being paid attention to, mainly because people want to know if she's there to eat somebody.
When surrounded by freinds her personality changes quite a bit. She becomes warmer, happier and even excitable. She insn't afraid to express herself and enjoys singing more around freinds. She's not as reserved. Being surrounded by freinds is the only time her loneliness receeds. Being beautiful as a human, being a vizard, and being cast out of the gotei is the main basis behind her lonliness. Being shunned by so many had bad effects on her, but the problem stemmed largely from her child hood.
Elayne used to dislike fighting, but since the battle with the Sinner that turned her into an arrancar, she's become far more agressive. She wont hesitate to take action if she feels someone poses a threat to hers or others safety. Unlike her brother, she was sheltered from the cold realities of the world, and will always help someone in need despite the danger to herself. She does not like seeing pain and suffering. In battle, she sings softly as she fights, taking courage from her own song. Elayne isn't easy to anger, or show it. She has little tolerance for acts of hatred, rape, beatings, mindless murder. She will show visible anger in the presense of such things and attack the culprit, singing an angry battle song.
Likes:
Singing, being surrounded by freinds, Grainne and Rai.
Fears:
Loosing her best freind or brother, losing herself to her nature, being trapped alone.
Character Appearance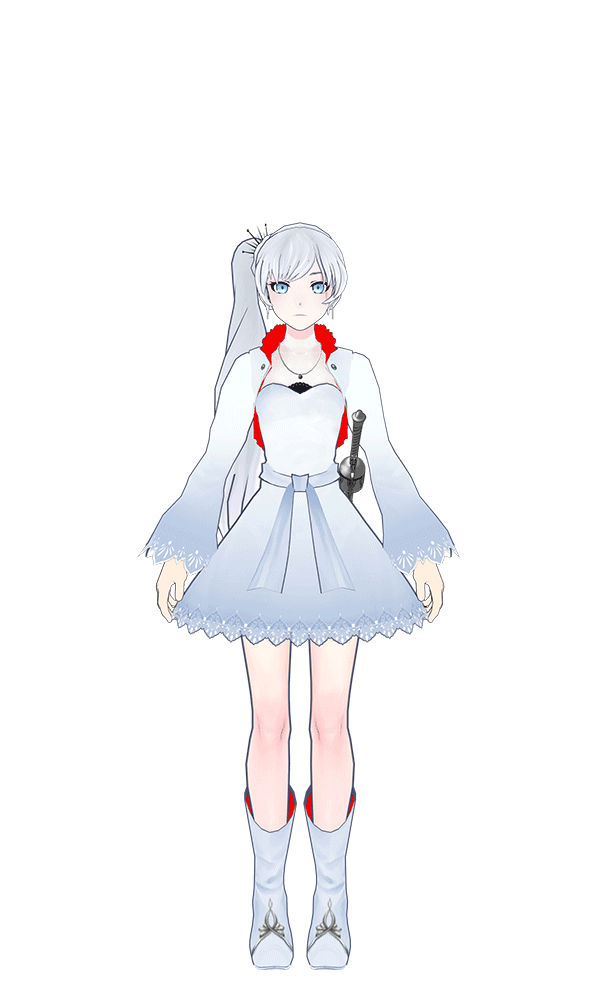 Height:
5'4"
Weight:
110lb
Physical Traits:
Elayne has long white hair she keeps tied back to the right side,. Even then, it falls well past  her shoulders and a fringe frames her face. Her hair is white with a tint of silver. Her eyes are pale blue, her skin snow white with a rosy pink glow to it. Her  body is slender, not to skinny but not muscled either. In many peoples eyes she is a picture of purity and beauty.
Clothing:
Eleyne most commonly wears white. Her standard outfit is a white coat with a collar, and puffy sleaves the inside lined with red, and a white dress thats stops above the knees, and is lightly tinted with blue near the ends of the skirt. She wears white boots. Sometimes she wears a long white coat with black skirts underneath. It all depends on her mood.
Accessories:
Silver earings and a silver necklace with a pendant.
Fighting Style
General Fighting Style:
Elayne is a master figher with a rapier or other thin blade in hand. She has extensive training in fencing forms and more violent battle forms. She rellies heavily on speed for her attacks. Her thrusts have excellent peircing potential and can make it through the toughest  of heirro for  oppoents her tier.
Elayne is also incredibly skilled with a second weapon, wether it be her white rose dagger, or lightning blade or whip, she can duelwield with the best of them, though she preferes to fight with only one weapon. However she adapts with her opponants, and can quickly switch fighting styles in battle.
Elayne's main powers are lightning based, and the source of her raw attack power. However they're not her only source of power as she has access to a collection of self developed spells she can teach to others with the will or right requirements to learn them. She also has cero, though she mostly forgoes them for other abilities.
Strengths:
Speed and agility: She is incredibly fast for her tier. She is capable of agile feats such as running along walls or up walls, flips, and backflips, and other such movements.
Stamina: She has excellent stamina, allowing her to go for longer and keep up a rapid flow off movement and attacks before reaching fatigue state. (fatigue after 10 posts, for 3 posts)
Sensing: She shares her brothers sensing. with a single glance she can tell a persons power and race, even if they are suppressing it. She can tell if they are disguising it, though not what race they are if they are doing so. So if a sinner was emiting shinigami power, she would know they are not a shinigami like they claim, but she could not tell they were a sinner.
Weapon peircing power: Her Rapier's sharp thin tip combined with the speed she can put behind it allows Elaynes thrusts to peirce through strong heirro or armor of those her teir or below. This does not apply to slashes with the rapier. It is in effect at all times.
Weaknesses:
Weapon slashing power: Her thin bladed rapier, while sharp, can not cut through average hierro or armor her teir and up.
Durability: Elayne has not  seen much serious combat. While skilled, her ability to take blows and keep going is not good because she is not used to taking serious wounds. She is also very susceptable to pain.
Strength: she is just below average in strength but her small size and weapon allows larger and stronger opponants to knock her around if they land a hit, and even send her flying if she blocked the attack.
Zanpakuto & Cero
Sealed Appearance:
A black rapier
Zanpakuto Name:
Layna
Zanpakuto Call Out:
Shock, Layna
Cero:
Bala: Her Bala is white with a black outline
Cero: Her cero is white with a black outline
Gran rey: Her Gran rey is a swirling vortex of white with small streaks of black.
Pre-resurrection Powers
Battle Mask: This mask has the appearance of her old vizard mask, and deploys automatically when she engages in combat, flowing out from the mask fragments on her face. It provides excellent concentration and protection from mental attacks.
Platforms: Elayne can create magical platforms beneath her feet that allow her to launch her self at odd angles. While not great for climbing because she can airwalk, she could create one above her enemy at a 45 degree angle, jump up to it and use it to launch herself down at them. The platform appears white as a magic circle. She can create the platform anywhere within 25ft of herself, at any time. Enemies cannot use them, they'll pass right through. Likewise they wont block attacks of any kind. Only one can exist so if she creates  a new one, the old one will vanish, but she can create them as fast as she can think.
Airskate: Elayne gains modified airwalk, and instead of running she can skate along the air at high speeds. Combined with platforms her agility increases greatly. She can still airwalk normally if she chooses.
Resurreccion
Appearance: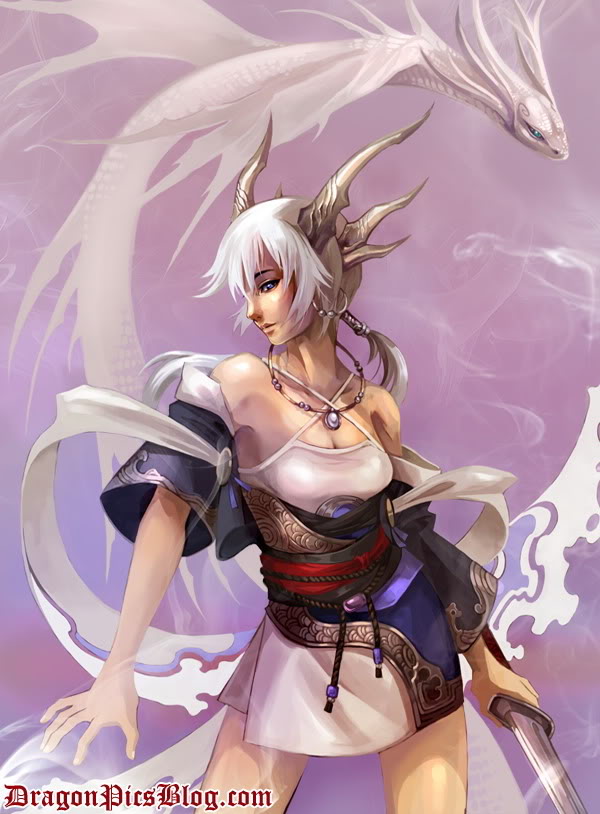 She gains a new outfit and set of elegant horns. As usual, as soon as she enters a fight, if she's not already fighting, her mask flows onto her face.
Abilities:
Strike: Elayne charges her blade with lightning. If she stabs or cuts an opponant in with the blade, a bolt of while lightning strikes them from the sky, delivering a cero worth of damage along with a shock from the blade itself. 1 post cooldown upon successful delivery.
Lightning skin: Elayne charges her skin with lightning. If she is struck by a person or conductive item, she delivers a burst of electricity as strong as half a cero. 3 post duration. 1 post cooldown.
Shield buster: Elayne can charge and fire a bolt of lighting designed specifically do break energy barriers and shields. Fired from her hand in a straight Line, it can penetrate through a shield capable of blocking a gran rey cero, and cause it to deteriate and shatter. If it hits anything else it only does a cero worth of damage. It can only do this once, and if it meets another barrier strong enough to block it it will be stopped. 2 post cooldown.
Chain lightning: Elayne fires a bolt of lighting that can hit multiple targets, and leap from metal or water sources to reach more targets. She can control the path the bolt takes. It can leap from one place to the next 5 times, and can't back track or hit the same person twice. Delivers a cero worth of damage. 1 post cooldown.
Pulse burst: Elayne fires a bolt of lightning from her hand that bursts appart 10ft from her, shooting of ten cero powered bolts that scatter in a cone shape in the direction its fired. They spread out into a 15 ft cone as they travel up to 100ft. 6 post cooldown.
Lightning weaponry: Elayne can create a whip or sword out of lightning. The whip is usually six foot long, the sword the same as her own blade. The weapon she creates can switch between the two forms at will and can be created and dematerialised at will. The weapon deals standard damage along with an extra bala worth of electricity damage.
Lightning Pierce: Elanye thrusts her blade towards an enemy, unleashing a 1ft thick, 100ft long beam of raw lightning energy towards the target. It goes right through almost anything in its path with little effort, including buildings and metal. It hits with the force of a cero oscuros. 5 post cooldown.
Boosts:
strength x3 speed x3, stamina x3, reiatsu x3
Back Drop:
Background:
Human life
Elayne was born to parents in the military. She wasn't the only child born that day, her mother had fraternal twins. Elayne's child hood was very normal, considering her parents were in the military. She got on well with her twin despite their major differences. She was always the more sensible, shy one, but it didn't matter because Raiden always found ways to get them both in trouble.
When Elayne turned twelve, her mother had to make the difficult choice of sending her off to boarding school, deeming that their home was no place for a lady. Elayne wouldn't have minded a military career, but her mother wanted better for her child. The choice saved Elayne's life, but it exposed her to bullying.
She'd always been timid, and found it hard to make freinds. Even at a young age she was pretty, and it made some of the other girls of her boarding school Jealous. They picked on her constantly, and no one risked themselves to defend her. She took it without a word though. They did some horrible things, including shaving off part of her long white hair.
Elayne loved to sing, and was considered the most telented in the singing club. She took pride in her singing, and when the girls tried to bully and insult her singing she made her feeling known for once. She told them they were horrible bleak people who were jealous, and their singing sounded like crows being burnt with a flame thrower.
They backed off a little after that, but played one last prank, the day she found out Rai had died. They didn't know something had happened, despite Elayne crying with one of her only freinds. The pranksters dumped a bucket of cows blood over Elayne's head and started laughing. Elayne stood up, going from crying to rage in a second, and  lunged at the closest, using some of her self defense training. She beat the ever loving crap out of the instagater, and was never bothered again.
She was nearly expelled, but considering the beating she gave her bully wasn't really that bad, and the fact that a family member had died, they lessened the punishment, and let her go home to her parents for a few weeks. After that life was looking up for Elayne. As the years past her singing becoame better, she gained more freinds and was never bullied again. She was still pretty self conscious from that ordeal but it was.
When Elayne was eighteen she was heading to an interview when a man snatched an old ladies purse right before her eyes. Having trained extensively in self defense and fencing, she gave chase positive she could do some good. She caught up to him and tried to snatch it back, but the mugger spun and stabbed her. Shocked by his own action he dropped the purse and ran.
Elayne made it back to the old lady, and collapsed in the street. She was taken to hospital, but died before she got there. As her soul broke from her body, a hand reached out to her.. She took it, and kura kressent sent her soul to soul society.
soul society
In soul society, Elayne forgot who she was. She only had one item to indicate who she was, a small picture of her brother she'd had on her at death. Slowly, things came back to her, her first name, who she was, though she couldn't pin down her family name. Flashes of her past would come to her, but she never fully remembered everything. She knew she liked singing, and how to fight.
A few days after appearing in soul society, Kura found her and took her to the academy for shinigami training. It wasn't long before they became freinds. Elayne asked if she knew the boy in the picture, but Kura did not. Elayne was disapointed, but if he was here she'd find him. She couldn't remember who he was but she knew she knew him.
Elayne entered the academy and trained, and trained, and trained. She was timid, but she wanted to do good. She trained her swordskill but had to fucus on a faster, more elegant style than plain up slashing, and incorperated memories of fencing into her fighting style. She reaserched techniques in the use of the rapier and developed a style that worked will with her speed and lack of strength.
She trained in kido too, but spent more time mastering defense and evasion bakudo, along with healing. She learned a few hado, including the hard hitting hado 88, which took a long time to master. Shunpo came easy, and she was easily the fastest in her class. She was even compared to someone named Raiden Arashi, though she didn't know who that was.
When Elayne graduated the academy after learning her shikai, she was assigned to squad 7. She mastered her Shikai quickly, having an affinity for its style. Magic and a rapier, what more could she ask for. She soon became known as Elayne White, or just White, because if her silvery white hair and snowy skin.
Elayne was starting to fit in, but sometimes unexpected things happen  in life, like almost dying against a hollow.
Vizard begginings
It was a normal extermination mission, Elayne had been sent on a few before. However, it went badly. The hollow that had been detected had turned otu to be twice as strong as originally reported, and Elayne's team quickly found out, and were slaughtered. Elayne barely escaped alive. Well she hadn't run, she tried fighting regardless, angered at the hollow for killing her allies. She used her strongest attack to hurt it, but was struch at the same time and badly wounded.
Elayne didn't know what happened after that, but she was sure she'd seen the boy in the picture. He'd killed the hollow before it could kill her. She didn't know where the boy went, but Kura appeared soon after and healed her. Her comrads deaths had been detected by the gotei and reinforcements had been sent.
After she recovered, she felt different, like the near death experience had severed something. She still faught the same, acted the same and didn't feel anymore afraid of battle. But something was different, she could tell. She went on as if everything was normal, however she soon found out it was not.
Elayne was sparring one day, when she took a blow to the head. Disorientated she fell down, and blacked out. However when she came too, she found out she'd gone berserk.. Hollow possession. She'd seriously injured her sparring partner, and several others too. Elayne was sentenced to imprisonment in the maggots nest, however a cloaked figure knocked out her gaurds and helped her escape soul society.
Her rescuer turned out to be Kura, who let her go. When more shinigami arrived, Kura told them she'd followed the fugitive through but they'd escaped. And so it came to pass, Elayne was a fugitive Vizard in the world of the living.
there after
Elayne spent her time hiding out in various cities, killing hollow. She'd never heard of the endless, a place she might find safe haven, and she couldn't go to the coalition for fear of them tossing her out or handing her over to the gotei. She was esentially alone, and could only think to do one thing, search for the boy in the picture.
She eventually found Raiden and was pleased to reunited with her twin, though she ended up meeting Parius chitose, and joining his cause. When he finally disbanded his group she returned to the endless to join it, however a few weeks later, things changed drastically for Elayne.
A sinner showed up In kurakara town, and she was the cities only defender. Despite her desire, she engaged the creature in battle, to save as many people as possible. She took a beating defending the city but managed to pass into an alternate space before her full hollow form was released. However before it was, her Zanpakuto was shattered, and the spirit within, Icyene Runa, was killed by the weapons destrucion. Elayne's inner hollow raged on until it was finally weakened, and forced to flee into hueco mundo.
Birth of the Arrancar Arashi
The sudden destruction of Elayne's Zanpakuto spirit resulted in a drastic change in her own being. Her spirit tried to compensate for the lose of  Icyene Runa by taking more and more power from Elayne's inner hollow Layna, and in the end, the two souls fused into one, transforming Elayne into an Arrancar. Because Layna was so passive, Elayne's soul won the battle for control of the body, and Layna was consumed.
Elayne woke in the sands of hueco mundo alone, her memories gone and her former powers shattered. Icyene Runa's death meant the lose of a good portion of her power. A black Rapier materialised near her while she slept. When Elayne woke, she was attacked by a hollow, and her former vizard mask appeared on her face, spilling out from two small chunks of mask fragment hidden at the top of her jaw. Though there was no change in power, when ever she was threatened, the mask deployed automatically. It was not something she could control.
Elayne had forgotten many things, especially around the time of the fight that had changed her. She'd forgotten large portions of herself, including Icyene Runa, but she remembered she had a brother. She didn't know she'd previously been a shinigami, though she remembered her mask. Icyene Runa's death was tramatizing enough to cause her to repress many of her memories of the Zanpakuto spirit, so that she forgot allot of things or had different memories.
Elayne left heuco mundo, exausted, and barely made the trip to the human world, where she met an unlikely person who helped her get her head around what was going on with her.
Side Notes: