Item name:
Artemis and Apollo
Description:
Artemis and Apollo are Tadatomo's pair of personally customized, semi-automatic pistols, designed to rapidly fire bullets instilled with his spiritual energy. The right-handed white gun, Apollo, was custom built for rapid firing and fast draw times, while the left-handed black gun, Artemis, has been modified for long-distance targeting and comfort.
Artemis and Apollo are both M1911-style handguns chambered for the .45 ACP round, and boast a plethora of customized features:


Both pistols have been modified with pivot-style triggers as opposed to the 1911's usual straight-pull trigger.


Both feature custom sight systems; Artemis uses a set of target sights, while Apollo uses a pair of combat sights.


Both feature ported muzzle compensators that reduce recoil and counteract muzzle flip. Both barrels are extend through the compensators and are ported to match the cuts in the compensators.


Both use custom slides that have been noticeably thickened and reinforced along the slide travel rails and around the chamber and firing mechanism. The result is a slide that bears a resemblance to SIG-Sauer's M1911 line.


Rails have been bolted to the forward portion of both frames. These rails are used to hold the compensators in place.


Both use double-stack magazines with slam-pads.


Both have gold-plated magazine releases, hammers, safety switches and triggers.


Artemis features a hooked, two-handed trigger-guard, while Apollo uses a more traditional rounded trigger-guard.


Both weapons use ergonomic wood grips.


Artemis's Ejection port is located on the left side of the weapon, as opposed to the right side (as Artemis is meant to be used left-handed, this causes spent brass to be ejected away from Tadatomo.)
Effect:
Clip Size: 16 each
Rate of Fire: Semi-automatic
Reload/Recharge Time: Apollo = 1 post / Artemis = 2 post
Damage: Apollo = 1 bala/Artemis = 2 bala
Artemis Ability: Artemis has the ability to fire 1 cero-equivalent shot. The bullet has a much higher piercing capability than normal shots and can punch through strong hierro. 3 post cooldown.
Apollo Ability: Apollo has the ability to rapid fire 30 bala strength shots in quick succession. It's not accurate, but it's fast. 3 post cooldown.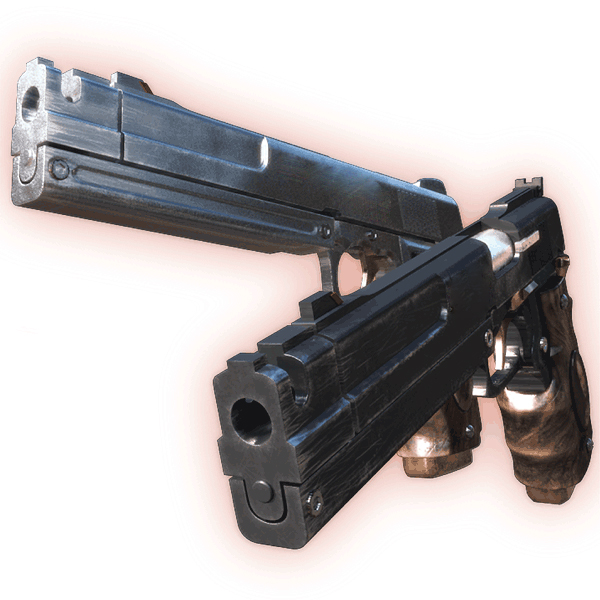 Price: 1500 (Zenke said so.)
Number of it you have/possible/allowed:
One of each gun for Tadatomo. Only one pair exists.
____________________________________
Character Roster with links to Apps
Gráinne Xios (Black) 0 Shinigami (Neroamee)
Kaytlyn Kal'Dior 1-1 Valarion
Laura Fisher (Red) 1-2 Human
Olivia 'Liv' Firestorm (Yellow) 1-3 Arrancar
Clara Firestorm 1-1 Vizard
Elsa Arendelle 1-1 Human
Tadatomo Fukushima (Experiment 13) 1-2 Human
Zachary Gillam 2-1 Human
Isabella Solaris 1-2 Sinner (Solaire)
Krosis 1-1(2-1) Serion