Item name: Jigen Pasupōto (Dimensional Passport)
Description::
Ring#1
Ring#2
Ring#3
http://www.superhappycashcow.com/pic/HITMAN%20REBORN/Ring%20&%20Box%203/Mukuro%20Hell%20Ring%20B-1.jpeg
Ring#4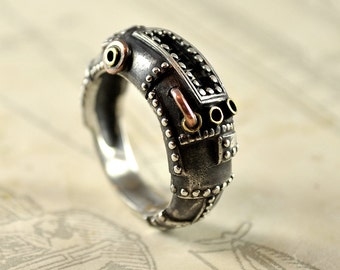 Effect: These are a set of rings Temida has worked on before the fallout of the soul society. He has developed these using information he aquired through interrogating, testing, and history books to create. (Note:he was the old 3rd captain, wich was all about intel) At times he had other shinigami from different organizations to help in this research. Each ring has a special effect, and are activated with an Incantation. The creation of these rings were influenced from history books of an invention of Mayuri Kurotsuchi and a Kidou he heard about that Kisuke invented. Along with the incant, the user must point the ring finger in the direction they wish for the effect of the ring to take place. (Yes this may mean you must flick off the world)
Ring#1
"My Right hand cuts the ties between Space. My Left hand places the door between worlds. I am the Shepherd that clings to two worlds. The sun will come, and I will rise up the ibis"
Calling this incant will simulate the creation of a Senkaimon. The ring will glow white as the Japanese style doors open. The location is relative to the starting location. This can be used in any dimension.
Ring#2
"My right hand is the stone that bridges worlds. My left hand is the blade that binds reality. The black-haired shepherd is hung from a chair. Stratus clouds come, and I strike down the ibis "
When this incant is spoken, a gargantua will open up before the user. The second ring as well will glow a deep black. The location is relative to the user's summon location.
Ring#4
"The shepherd is has rot and withered, leaving a pile of bones behind. With my right hand I shall carry him back, with my left hand I shall bring him home. All journeys must come to an end."
As this incant is spoken, a normal wooden door will grow from the ground like a tree sprouting from the side. When the door is opened it leads to the human earth. The ring glows a faint gold. The location is relative to the user's summon location.
All portals are one way, if in soul society, the first ring won't take any effect, and the 4th ring must be active to go back to earth. These can only be used for Entrance and Exits in threads, don't go making Gargantua and Senkaimons for battle use.
Price: Staff Must Decided, however if my input is desired i would say 300Densai
reasons: It has no battle use.
Number of it you have/possible/allowed: 1 set for Temida at this moment.