Advent Human Template


Basic Information
Name: Gaige Ashe
Age: 18
True Age: 21
Sex: Female
Personality: Happy go lucky, critical and often sarcastic. Gaige is a techno maniac. Without technology she wouldn't have a reason to live, or would even be alive for that matter.  Gaige's favorite pass time is making new technology to play with, but she also enjoys testing it in fights. Gaige's past is tricky and really not something she likes to think, or talk, about it. Generally if someone approaches the subject she'll dodge it or tell them to drop it. Its not that uncommon considering people like to ask about her arm..
Gaige likes people. She prefers like minded people, but people in general amuse her. But she doesn't care about people. Innocent civilians dying in a fight doesn't bother her. Friends, maybe a little but she's accepted the fact that everyone eventually dies. She has no fear of death herself, so using it as a threat against her is pointless. She is afraid of being tied up, abilities with the potential to bind terrify her.
In regards to other races she again doesn't really care. Some amuse her, some get in her way and die. She doesn't argue who deserves to die more. Fighting is something she enjoys, because it pushes the boundaries between life and death. Weather she fights someone good, or bad is irrelevant to her. If it comes to it,  as long as the fight is entertaining she doesn't care if the person is good or bad.
Gaige is a rogue at heart so she won't find herself tied down to an org willingly. She inparticular is not fond of the coalition, given that they let her mother escape and tried to take Gaige from her father because she might be dangerous. She is hell bent on killing her mother for the pain she caused her. Gaige enjoys mercenary work often because it entails getting paid to fight. She has a soft spot for children, and seeing them die upsets her. If she sees the killer, and can enact some good old vigilante Justice, she will.
Likes: Cake, Discord, and building things.
Fears: A world without technology, boredom, Being tied up.
Character Appearance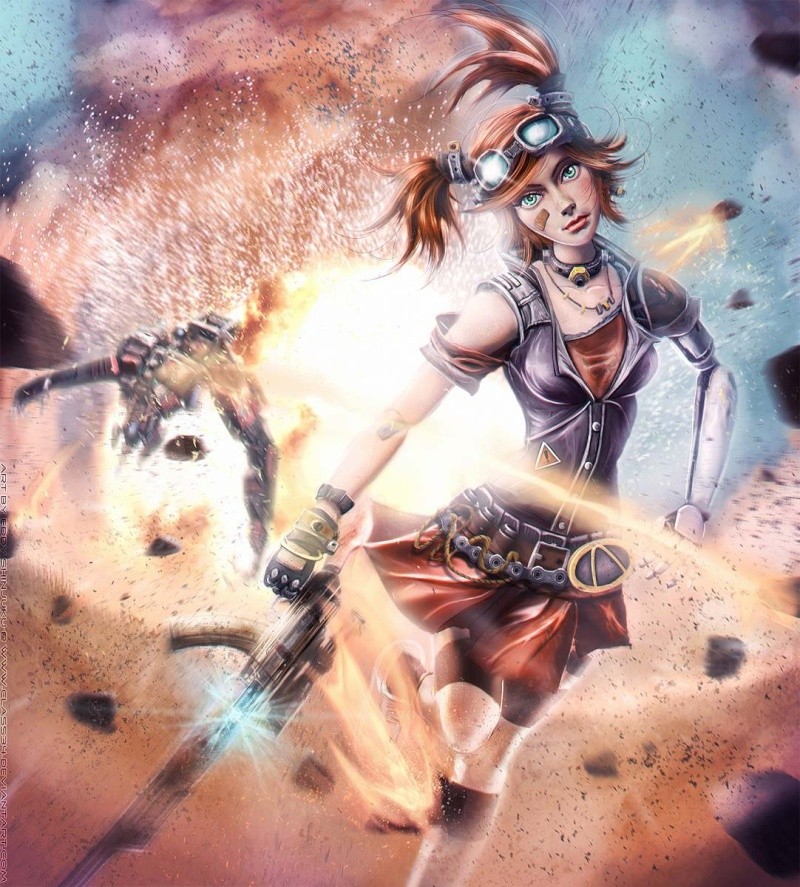 Height: 5'6"
Weight: 140lbs
Physical Traits: Gaige is slender. She has brown hair she keeps tied up into two short spiky pony tails using a pair of strange looking clips. She has green eyes that flair and glow because of the modifications to them. Her left arm is metallic and robotic, as are her legs from above the knees.
Clothing: Gaige wears a red top underneath a blue sleeveless button up jacket that stops at the waist, a short red skirt with a pair of belts, one of which is made of loops of leather, the other is just a normal black belt. She wears a pair of black and white stockings, (sometimes the colors are different, but always 2 colors, never just solid) and a pair of sneakers. Her right hand has a glove, her left arm is fully metallic, made of plates of shiney metal.
Accessories: A choker, a silver necklace. Valkyrie Combat Armor storage device, Overdrive Battlesuit Storage device.
Material packing device: A badly named little device, worn at the hip. Gaige's father made it, based off similar technology. It is oval in shape, edged with gold, with and upside down gold v on it. It acts as a storage device for Gaige's weapons. It is linked to her Artemis Mk V and is activated on thought. The MPD is capable of storing up to 10 items within it. She can dematerialise her weapons back into it by placing it next to the weapon and thinking about it.
Fighting Style
General Fighting Style: Gaige a chaotic fighter but has an analytic and intelligence mind. She enjoys the heat and chaos of combat while bringing her own sharp thinking into play against the opponent. She is capable of planning ahead and adjusting quickly to the flow of the fight, changing the plan on the spot if need be.
Her ability to analyze the flow of combat is only heightened by her Augmented Detection Array and the Artemis Mk V,  allowing for  a much greater use of her mind in battle. Her sensing is excellent, she can tell a person's race by seeing them, but without the ADA the range is very short.
Gaige is quite flexible. She can twist herself into odd positions to avoid attacks without straining herself. Add her speed to that and she can be very difficult to pin down, which is fine with her because she prefers to fight from range, but has her arm blade if worst comes to worst.
Gaige has no natural powers, and ever since her mission to save her sister, she has not had any reiatsu present in her body. She is completely devoid of spiritual enegy, which is fine because she has plenty of tech and pure skill to rely on.
Strengths:
Speed and reflexes: Gaige is naturally very fast, which is a benefit when teamed with her intelligence and enhanced senses. She can react much faster to an incoming attack than others might, though this doesn't necessarily mean she'll be able to avoid it.
enhanced senses: Sensing sight and hearing (Read ADA)
flexibility: Gaige is quite nimble on her feet. She might not have blur but her natural flexibility paired with her new legs can make her quite hard to pin down in melee combat.
Intelligence: Gaige has always been intelligent, even without her built in computer. She is not only tactically advanced because of her intelligence but her aptitude for creating things is huge. She is even capable of taking something apart and reassembling it without the slightest chance of damaging it, and find any faults with the item in question, making her excellent at repairing almost any kind of technology. Her intelligence is by far her best trait, and she knows it, it grants her a form of hyper competence when it comes to any kind of mechanical construction, repair, sleight of hand and evasive movement, along with a few other things.
Marksmanship: Because of Gaige's combination of speed and heightened senses, she is an excellent marksmen. She's sometimes even capable of shooting bullets out of the air if given the the appropriate amount of time, though she needs to be using something highly accurate like Oblivion driver. Still, even at long ranges she can take difficult shots without a scope.
weaknesses:
Reiatsu Distortion: Though her Reiatsu distortion sickness is gone, she still suffers some minor side effects from being exposed to high concentrations of spiritual energy, as described in reiatsu sensitivity.
Spiritual energy: Gaige has been cleared of all spiritual energy. She no longer gives off any kind of energy signature when she is not in her power suits and also lost the use of several pieces of tech that ran on her body's natural energy.
Emp/powerful electrical attacks: The Artemis Mk V is built to shut down momentarily if it detects an Electromagnetic pulse within range of it (close enough to damage) This means that Gaige's ADA will shut down as well, to protect their circuits. This can leave her without the use of theses devices and any bonus' they may grant for 1 post, and also has a chance of causing her Reiatsu sensitivity to flair up, since the counter measures designed to reduce its effect are inactive for the time. This can also be caused if Gaige takes a hit from an electrical attack as powerful as a gran rey or greater.
Blur: She cannot use it because she has no spiritual energy.
Quirks:
Hypersensitive Instincts: This quirk uses all of the user's senses to react to dangers around them subconsciously. So if attacked from behind, the user's body will instinctively turn to block the attack or dodge. If struck from multiple sides the user may unconsciously activate a shield ability or other defensive ability such as teleporting away from the danger, or dodge/brace against the attack. It works best against unseen attacks as long as the user can hear or somehow detect, but will also work against attacks seen with the peripheral vision. Coupled with something like Hyper Intuition this makes the user very hard to hit. Or in this case, Gaige's battle senses work well with hypersensitive instincts.
Reiatsu Sensitivity: Gaige is sensitive to large quantities of Reiatsu, and if someone like Grainne or Ariel were to flair their energy near her it would give her headaches and weaken her. She reacts to energy attacks almost like a Serion, however environmental reiatsu doesn't harm her. A direct blast from an energy attack to exposed skin would eat away at her for a post, causing minor acidic burns. Her armors nullify this unless the armor is breached. Energy weapons don't have the same effect, only attacks with Reiatsu in them.
Abilities & Weapons
Weapon
Oblivion Driver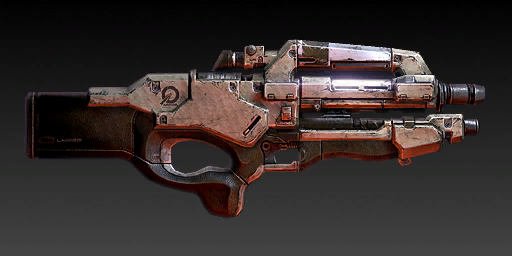 Appearance
The Oblivion Driver is a short stocky high powered Rifle, hand built by Gaige. It's small size is balanced and designed to absorb the recoil of the high powered shots it fires. The rate of fire is always semi auto which also helps to preserve the weapons precision. Boasting excellent accuracy, long range and useful in tight places because of the compact size, The Oblivion Driver is Gaige's most prized weapon.
Bullets:
The bullets used by the oblivion Driver is a 7.62x51mm tungsten round. which is the standard in most high powered rifles. The Oblivion driver Also accepts Incendiary, armor piercing, and explosive rounds.
Standard: Theses rounds are coated in spiritual energy to  allow them to hit spiritual targets. They do the equivalent of a bala and a half worth of damage.
Incendiary: Self explanatory really, upon impact the bullets from these clips do additional burning damage to the target, usually burning the skin where they hit. They can ignite flammable objects with ease but aren't great against armored targets. If someone is ignited, like their clothes, the fire can be put out pretty easily.
Armor Piercing: A special bullet designed to punch through strong armor and strong hierro. The downside is they do 1 bala worth of damage (as opposed to 1 and a half, like the standard bullets that come with the Oblivion Driver.)
Explosive: These bullets explode on impact as opposed to penetrate the target fully. Still, they do extra damage and hit with double the power of the Oblivion Drivers standard rounds against unarmored targets
Clip:
The clip is loaded into the gun just above the butt, in a similar way to the P90 submachine gun. Each clip contains 30 rounds, and she carries 3 clips of standard ammo, including the one in the gun, and 1 clip of incendiary, armor piercing and explosive rounds.
Summon
Vanguard Drone
description
A support drone built by Gaige, this machine is a partially sentient airborne nuisance. Thick armored plates cover it's chassis and a wedge like shield protects its front while powerful direction boosters keep it airborne and capable of impressive aerial acrobatics. It counts as a summon and is considered 3 tiers lower than Gaige. When she calls on it, it teleports in and when its duration runs out it teleports back out. It cannot teleport willingly in combat however. Gaige can link with it and use it as a second pair of eyes or to scout with, and can assume direct control of the drone which affects her own concentration, or allow it to work independently of her.
Abilities
Wedge Shield: The shield on front is reinforced to the point that it is as strong as Zan steel and capable of blocking. but not stopping, almost any attack. Its shield only covers the front of the drone. It is able to split in the centre revealing a built in Rifle.
Turbo Hammer: The drone deploys a powerful booster on the back that causes it to move at near shunpo speeds. By doing so it can deliver a blow with its shield at the force of a cero oscuros. 4 post cooldown.
Mounted Rifle: The mounted rifle fires the same standard rounds as oblivion drive and has a clip of 100 bullets. When they run out, it has to be reloaded manually.
Duration:
the Drone can be active for 5 posts, with a 3 post cooldown. Gaige can sent it away at any time.
Robotic Augmentations
Ability Name: Artemis Mk V
Description:  The Artemis Mk V is a modification that is installed in the user's brain. It is a miniature high powered computer that can process a lot of information at once, and is very useful as a general tool in and out of battle. Without the Artemis, ADA does not work. The Artemis Mk V is not 100% essential for life, so it can be shut down momentarily to protect from emp and electrical interference, however ADA will go offline too. The Artemis Mk V has a built in remote hacking system, allowing Gaige to access and hack a console from across the room or outside a building. Working in unison with the visual part of ADA, The Artemis Mk V can create a holographic screen that only she can see. This allows her to view images, information or other relevant data, and aids in remote hacking. It can also measure a person's level of stress, monitor their emotional state, track builds up of reiatsu, and several other useful functions.
Ability Name: Augmented Detection Array (ADA)
Description: The ADA is a hearing, sight, and sensing augmentation device. Gaige's eyes and ears have been modified with the ADA system, which increases her hearing and visual abilities to something far greater than a normal humans. The ear part of ADA has an automatic sound sensor that will close off the ear canal when hit with sounds that exceed a certain decebel, stopping damage to Gaige, and avoiding headaches. Likewise they eyes have an anti flash sensor, effectively rendering flashbangs useless against Gaige unless her ADA is offline. Finally her spiritual sensing ability has been augmented to a far greater range than normal, allowing her to detect and decipher spiritual pressure at ranges of up to 300 yards.
Ability Name: High speed battle analyzation
Description: An effect brought on by the combination of The Artemis Mk V's powerful computer and the ADA, Gaige can process the flow of a battle at a far greater speed than the normal human mind, allowing for a greater chance of predicting and avoiding attacks as the fight goes on, as well as discerning an opponent's weaknesses. This starts off at 10% at the beginning of a battle and increases by 5% every post, to a maximum of 80%
Ability Name: battle Arm Mk IV
Description: Gaige, in a misguided plan to increase her capabilities for working on small objects with minimal error cut off her own arm, and replaced it with this. The battle arm is surprisingly light, and has triple the strength of her other arm, it is built with metals reinforced to be capable of blocking Zanpakuto steel or equivalents. It starts just above the shoulder, and is fused to her nervous system allowing it to respond exactly like her old arm, but with much greater precision. It has a number of hidden weapons and uses. First is a retractable blade that slides out over her hand. This is reinforced in the same way as her arm, and can block Zan blades. The battle arm also has 3 modules built into it, When one is in use, and for one post after use, the others cannot be activated. These modules are the Rocket fist (detaches after elbow, Energy shield (stored under the plates of the upper forearm, and Sol heat  module (stored in the hand.)
Rocket Fist Module: The Rocket fist is a pretty simple attachment to understand. A powerful rocket in the lower part of the forearm. When activated the fist  shoots off, propelled by the  rocket at the speed of a bala and impacting with the force of a cero. The rocket has only enough energy to do this once ever 2 posts. The fist re materialises where it should be attached as soon as it hits something.
E.S Module: the E.S module is capable of emitting a 3ft wide disk of energy from a central point that has the thoughness of Zanpakuto steel. When activated the upper arm opens revealing the emitter for the shield. This shield has a 2ft radius and while Gaige could hide fully behind it when crouching to protect herself from allot of ranged fire, it wont fully block explosions or large attacks. As a secondary function it is capable of emitting full bubble shield that can block up to a cero oscuras, with a 4 post cooldown.
SolFist: The Sol Fist houses a heat generation mechanism that acts very much like Robert Solis' body. It generates allot of heat when active. Unlike Robert Solis this module runs little risk of exploding and killing everyone around. It does however, have the same mechanism built into the hand as Robert Solis' gloves, which were originally designed by Gaige and allow her to use the heat to fight. This module gives Gaige the ability to use Combustion fist.
Combustion Fist- Similar to but not identical to Robert Solis' explosive fist, Gaige is capable of delivering a powerful fiery blow that hits with the force of two cero, with a blast cone of 10ft extending from her fist outward. The fist proceeds to shut down afterwords and slowly recharges itself over the course of 2 posts.
Ability Name: Agility Enhancing Legs
Description: During the fight Against Vyn, Gaige's long lost sister, Gaige sustained extreme damage to both of her legs. As a result, both were lost, removed from above the knees, and replaced with slimline, lightweight robotic replacements made from the same materials as her battle arm. While not as tough, they have X3 her normal strength, allowing for a greater force to be put behind jumps and kicks. They also contain a few other enhancements, such as electromagnets in the base of the feet. Razor sharp, zan steel strong blades run the length of the shins, allowing Gaige to block swords and deliver slicing kicks with them. the blades are stored inside the leg, and pop out the the front of the shin when Gaige needs them. The legs are less obtrusive than her arm, and though they have a metallic finish, they are almost indistinguishable from organic legs underneath clothing. They even have working toes, cause what is life without toes.
Valkyrie combat armor
The Valkyrie Combat armor Is Gaige's final form Equivalent. It is stored in a compact storage device similar to the coalition container but smaller and attached to her belt, and grants her a boost to her Physical and Defensive Capabilities. Gaige Built the valkyrie Combat armor herself, after building her Overdrive battlesuit. It lacks the sheer power and weapons of the battlesuit but it is not limited as it uses very little power and does not put any strain on Gaige, meaning she can wear the armor indefinitely. The Valkyrie Combat armor is resistant to all forms of EMP devices and is very hard to disable using them. The left arm of the suit was removed since Gaige doesn't need armor on her nigh indestructible robotic left arm. This allows access to her Battle arm mk IV's modules and weaponry, but she no longer has the combat shield that was orignally mounted to the left arm of her suit.
Ability Name: Armor and Repair
Description: Like The overdrive Battlesuit the Valkyrie has a complex armor and repair system. While it only acts as an average hierro it repairs at a high rate because the armor plating is much lighter. It also heals damage to Gaige's body preventing her from bleeding to death from serious wounds though this doesn't do much for pain or restore her stamina.
Ability Name: High mobility wingsuit
Description: The Valkyrie is equipped with a sophisticated backpack that allows flight. The suit is very agile, and it can perform defensive maneuvers easily. Although it's not faster than the Overdrive Battlesuit it can reach its top speed much faster than its more powerful counterpart.
Boosts: X2 to Strength, stamina, and durability. X3 to speed.
Overdrive Battlesuit
The Overdrive Battle suit is Gaige's equivalent of hyper mode. It is stored in a compact storage device similar to a coalition container but smaller, which is attached to her belt. It grants her a major boost to her physical and defensive capabilities. Gaige built her Overdrive battlesuit, and though she's upgraded the power source since it was first built it is still limited. As such, overdrive can only be sustained for 9 posts a thread. The Overdrive battlesuit puts allot of strain on Gaige, and if she can still fight afterwards, she will be fatigued. The Overdrive Battlesuit is resistant to all forms of EMP devices and is very hard to disable using them.
Ability Name: Armor and Repair
Description: The armor of Gaige's Overdrive battlesuit is equivalent to a very Strong Hierro, and has a high speed repair function. The suit also repairs any damage to Gaige's body, but only enough to avoid bleeding to death. If she was badly injured before entering overdrive, this is likely going to save her life. The repair function makes the suit very difficult to disable, but is also why the power is so limited.
Ability Name: Mobility Thrusters
Description: Gaige has mobility thrusters built into the suit in the hands, elbows, feet, knees, and shoulders. These allow for a continued flexibility and help her reach speeds closer to blur than before. In essence they work the exact same way as the SPT, also increasing the speed of her attacks.
Ability Name: Overshields
Description: Gaige built an overshield system into the battlesuit. It is located on the shoulders of the suit. The Overshield can be used to protect the suit from powerful energy, lightning and fire attacks upon automatic activation. The Overshield can black up to 5 cero, 3 gran rey, or 2 cero oscuros, before it is disabled. Its can take a total damage of 1 cero oscuros at a time, if its hit with something higher than a cero oscuros, even though it can block 2 separately, the attack will continue at half power. The shield switches on upon detecting high energy levels, meaning anything weaker than a cero will be ignored and nothing will be there to stop it.
Ability Name: powerfist
Description: Gaige has a powerfist mounted to the left arm of the Overdrive battlesuit. When inactive it slides back onto the forarm and allows free use of the hand, but when active it slots forward and surrounds the hand in a large guantlet. It is as strong as Zan steel. When it is used to punch and comes in contact with something, the ground, a body, a wall or shield, It releases a charge of force backwards, driving it forward with the force of a cero, essentially turning the fist into a wrecking ball since it has very little trouble demolishing most things. The force generated would break a person's arm normally, but Gaige's robotic arm, plus the battlesuit itself, can easily take the force.
Ability Name: Plasma Cannon
Description: After creating Xion, Gaige adapted the technology used to make a larger more powerful weapon, and mounted it to the right arm of her Overdrive battlesuit. The Plasma Cannon fires a blast of superheated plasma accurately and at long ranges. It does a Gran rey worth of damage in a 5ft area due to splash. It is very effective against armor and hierro and melts through most things easily unless they're designed to withstand high heats. Firing produces a serious amount of heat in the weapon and it requires 3 posts to cooldown between shots.
Ability Name: Micro Multi Launcher
Description: The multi launcher is a device mounted on the left shoulder of the suit opposite the Railgun. The Micro Multi launcher is a utility device capable of launching several different types of rockets. These Include flash, smoke Decoy and explosive. The Rockets fire straight up and can home in on a target location. This does not have to be a person. Holds 5 of each rocket type.
Smoke Rocket: The smoke rocket explodes harmlessly above it's target, throwing out a dense cloud of smoke that covers a 50ft area. The smoke is dense with spirit particles making it difficult to sense inside it, and obviously makes it difficult to see inside the area.
Flash Rocket: The flash rocket explodes in the air harmlessly in front of a target, causing a powerful and bright flash that blurs the vision of anyone who was looking at it when it went off. The blurry vision lasts for 1 post.
Decoy Rocket: The decoy rocket can be used to target spiritual attacks or other missiles/projectiles and cause them to detonate prematurely.
Explosive Rocket: The Explosive rocket locks onto a target and homes in on them. It explodes with the power of a cero in a 10ft radius.
Ability Name:  Railgun
Description: This foldable Railgun is mounted on the
right shoulder of the suit. When activated it folds out and over gaige's right shoulder. It has 2 hand grips, one for the left hand on the side and the other for the right hand under the barrel. Before Gaige fires she must lock the suit to the ground due to the shear force created by firing it. That being said, if she wants to take a risk and fire it without first stabilizing, she can, but may be submitted to some powerful recoil. Needless to say it can send her flying in the opposite direction. The suit fires a solid metal slug 9 inches long and 3 wide, that hits with the force of 2 cero oscuros. It creates a barrier of force around it that is 3 feet wide, and even if the slug does not land a direct hit, the concussive force can still be extremely dangerous. Once fired, the railgun folds back up and is unusable for the rest of the thread.
Boosts: X4 to Strength, speed, stamina, and durability.
Back Drop
Background: Gaige's parents were an odd pair. One was a weapons engineer and the other a scientist working on what she described as the perfect human. Gaige's mother, Hanna Ashe, had spent her life working on creating immortality in humans. Her father, Kevin Ashe, was unaware of this goal. The pair had met and married well into Hanna's research, but she kept her true intentions hidden well through Gaige's life.
As it was, Gaige lived a relatively normal life. She had the one advantage of her parents being genious', and prospered from it. She didn't enjoy science as much as she did engeering and building. Her parents wanted to home school her but Gaige actually insisted on going to school to develope her social skills too. She didn't want to grow up learned but freindsless.
In school she was a hit, very popular because of her looks and intellect, but she did her best to stay out of the popular crowed. She often caused trouble, just because, though never once did she get a bad grade. Her life was perfect really, a little to perfect for her own liking.
But it all changed pretty fast. Some time after her 15th birthday her mother asked her to come to her lab after school. She said she had something to show her. Infact, Gaige's mother was sure she'd completed the formular for immortality, and planned to attempt it on Gaige, given that she wasn't actually allowed to test it.
Gaige was quite surprised by the invitation and fell for it pretty easily. Her mother had always been tight lipped about her exact line of work, so she jumped at a chance to see it first hand. She hadn't been expecting her mother to test what Hanna had titled the divinty project on her.  She started by restraining Gaige, then injected her with something later discovered to be concentrated Shinigami Reiatsu, and turned on the machine.
What was suppose to happen was the electrical currents would stimulate the Reiatsu and cause it to integrate with Gaige's own, giving her a form of very high speed regeneration that countered the aging process, instead the project completely backfired, and it began to kill Gaige by turning her reiatsu against her body. In the end it was her father who saved Gaige's life. After the experiment went wrong, Hanna called him and told her what she'd done, and how it had failed.
He managed to program nanites to counter the effects and slow it, then implated special Reiatsu control nodes that calmed the distortion. It wasn't a complete cure but it worked. Her father later installed the Artemis Mk V, a system he developed, to help monitor and maintain the reiatsu nodes. Gaige's body had still taken some pretty severe damage. Her eyes and ears had to be integrated with special devices to replace damaged parts.
Gaige's mother was later arrested by the coalition for her crime. She later escaped and vanished. They also wanted to place Gaige into custody but her father refused claiming they had no right which was true. He moved away and seen to it that she recovered, and withing a year Gaige was back on her feet. She was changed by the incident, and slightly unstable.
She put herself into her work and started developing tools. By 17, she was had made some interesting devices, but her most important work was her Oblivion Driver, and a robotic arm. Every time her father asked about it, she always responded with a sly smile. Eventually the use became clear, as she cut off her own arm, and using a special rig, preformed an operation on herself to integrate the arm with her own body.
Het father of course was furious. But at the same time oddly proud. When she demonstrated the arms capabilites he was awed. Its perfect coordination and precision aided in building Gaige's overdrive Battlesuit, which took close to 3 years. Even the current version needs improvements, given its limited powers.
Those 3 years weren't just spent building though. Gaige took up mercenary work, using the gear she made to aid in combat. She added to her father's work and had him install a long range sensing chip. She used the money she earned to buy materials, upgrade her arm, rinse and repeat, until the suit was finished.
When she was 18, Gaige met Robert solis for the first time. She witnessed him  trying to harness his uncontrollable powers and losing a limb because of it. She seen his future in that few seconds, a ticking timebomb waiting to explode. Like herself, his powers were going to one day kill him. It was the only time in her young life where she actually cared enough, probably because of the similarities in their condition, to actually help somebody else.
Gaige built a pair of gloves designed to control and siphon off the sheer heat generated by roberts body, which stopped him from dying while she worked on replacing his arm. They became fast friends during those days, as she worked to save his life and prevent a disaster. It wasn't surprising that they became intimately entwined over the course of the month they spent together. However as the days working on the technology needed to stop Robert from burning up came to a close, Gaige knew things were coming to an end between them too. She hadn't gotten over her desire for revenge, and as soon as his tech was completed she broke it off and they went their seperate ways.
They seen each other from time to time on one battlefield or another, or when he needed something fixed. But beyond that, they were nothing more than distant freinds.
When Gaige was 19 she met Laura and Liv for the first time, and they became good freinds. Laura shared an interest in technology and Gaige taught her everything she knew and was only slighly disappointed that Laura was not as dedicated to technology as Gaige, and was unwilling to sacrifice an arm for the greater good. Liv didn't show much interest but her love of fighting was something Gaige shared and they spent as much time fighting as Gaige and Laura spent working on tech.
At age 20, Gaige set out to do what she'd worked the last 5 years for.... Find and kill her mother, something she tried to do alone, only to get her ask kicked. If it wasn't for the swift intervention of Laura, she would have died too. But she didn't give up, and after the invasion in Boston and other countries she managed to get her hands on technology that allowed her to advance her powercore. This time with the help of Liv, Laura and Alexander Kerensky she finally managed to deliver justice to a freind who ruined many lives. Along with punishing a few other ne-er-do-wells.
When they defeated Hanna, she released Gaige's sister Vyn from a cryopod before dying. Vyn fled the building and vanished. While tracking Vyn and preparing for the fight, Gaige met the Valarion Kaytlyn Kal'dore who helped her build the pitfall device that would help her save Vyn. Gaige tested it, as Kaytlyn expected, and was cured of her reiatsu distortion sickness permanently. Gaige tracked her for weeks before finally tracking her down to a facility in sweden. Gaige, laura and Tadatomo attacked, and there was a brutal fight. While Tadatomo and Laura distracted Vyn, Gaige entered the facility and destroyed it, but was beaten to a pulp by the perfect human Altaria who viciously mangled Gaige's legs with energy blasts.
Gaige managed to deploy the device, but Vyn wasn't going down easily and Gaige was forced to try shoot her sister in the wing with her railgun. Instead Vyn blocked it, and lost most of her arm. She was sucked into the pitfall trap, and the reiatsu in her body was stripped from her. Gaige promptly passed out. In the aftermath, Gaige replaced her legs with robotic ones, and built her sister a new arm.
After the events of the facility, and with Vyn and her inseparable partner in crime Zackary safe, they left. And Gaige moved on to new things. She began working on her biggest project yet, the invention of the hyper spanner. But also, she set to work on constructing a facility to house like minded mercenaries who needed a safe place to live in during their down time. This idea transpired farther to the point where she was suddenly administrating a guild and taking in contracts from various organisations for the members of said guild to take on as they pleased.
Side Notes: I'd actually like 2-2 on this.
RP Sample: