Serion Template

Basic Information
Name: Xeradul The Armored
Age: Unknown
True Age: Unknown
Sex: Male most likely.
Personality: Xeradul is a silent fighting machine. He gives off the impression of being a mindless warrior, though he is actually very intelligent and well versed in combat. He is uncompromising in his intentions and resolve. He works towards one goal, and that is what he's been ordered to do.
Likes: Liking things is for humans.
Fears: What is fear?
Character Appearance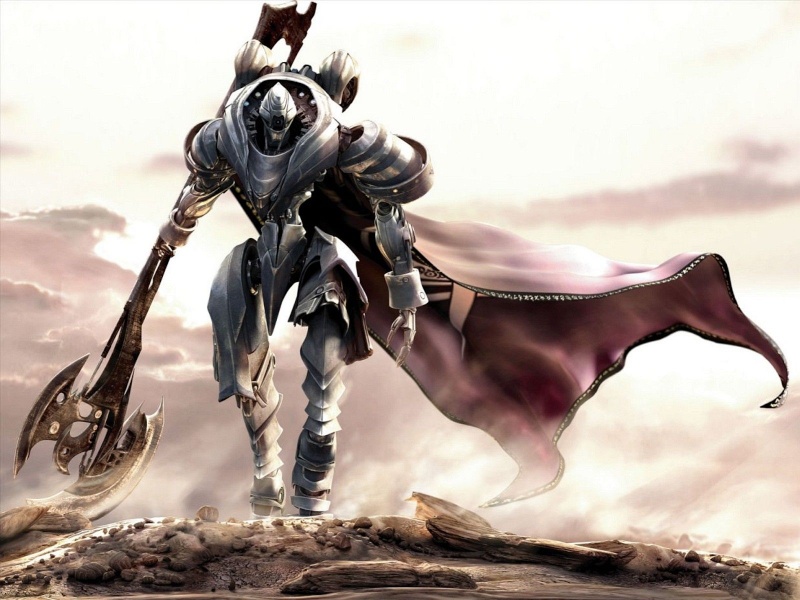 Height: 6 feet.
Weight: 1000lbs.
Physical Traits: Xeradul is an imposing machine of shining silvery metal. He is a heavily armored close ranged fighting robot.
Clothing: A white cloak.
Accessories: None
Fighting Style
General Fighting Style: A short range fighter, Xeradul always tries to keep within 25 feet of opponants,
Strengths: Strength: Designed to be a close range fighter, Xeradul is a powerhouse of physical strength.
Armor: out of the four machines set loose on earth, Xeradul probably has the toughest armor, giving him excellent protection.
Energy Output: Xeradul has a high energy output compared to some of the other machines.
Weaknesses: Speed: Xeradul is heavy due to his armor, and as such he is below average in speed
Sensing: he cannot detect spiritual pressure, only energy signatures (like what an engine or another robot might give off.) So keeping track of multiple opponents is not easy for him.
Recklessness: Xeradul is reckless, and is more likely to shrug straight through a dangerous attack because he thinks his armor can take it.
Weapons and abilites
Ability/weapon Name: Shotgun axe
Description: Xaradul's favorite weapon, the switch axe shifts quickly from a long handled axe into a powerful shot gun. The shotgun takes a clip that holds 5 shots. With an effective range of about 15 feet it can do up to a cero worth of damage.
Ability/weapon Name: Particle Beam Rifle
Description: A weapon similar to a grenade launcher but larger, The particle cannon fires a concentrated beam of energy that packs similar force to that of two bala. It does not need to be reloaded, as it works solely off of energy.
Ability/weapon  Name: Short range missile pack
Description: This weapon is located on Xeradul's back. It has a 30 foot lock on range and a max travel range of 50. It holds 6 small missiles that lock on to heat signatures and fire, tracking the target relatively well, though they can be tricked with flairs and the like. Each is as powerful as a cero and has a blast radius of 10 feet. Xeradul can fire as many as six, but there is a 2 post reload time after all six are fired. Missiles are replaced using the dimensional packing systems.
Ability/weapon name: Combat shield
Description: A shield of heavy metal made from the same alloy that makes up Xeradul. It is surrounded in a barrier of energy that helps stop it from being cut or broken from powerful attacks.
Nova mode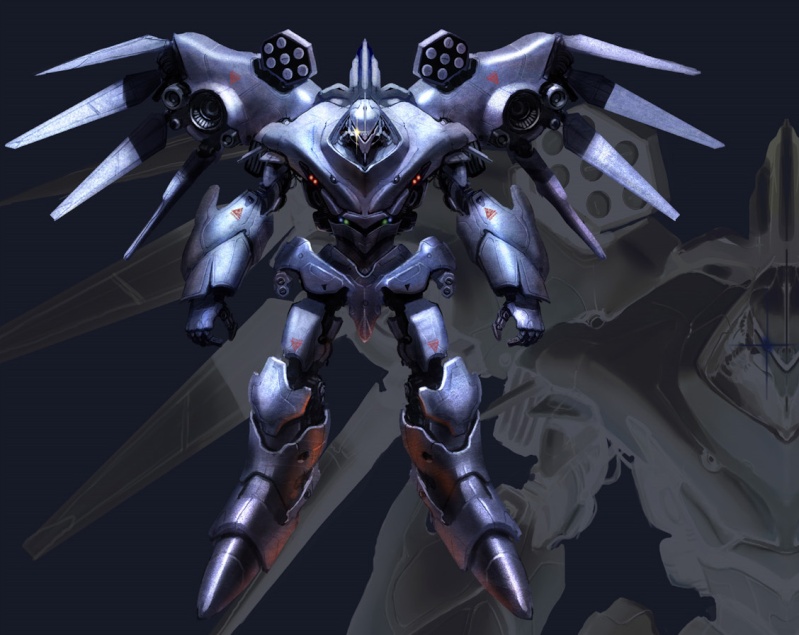 Ability/weapon Name: Double Short range missile packs
Description: This weapon, located on the top of Xeradul's high mobilty jetpack, holds double the missiles of the previous version, so 12, with the same 2 post reload time.
Ability/weapon Name: High mobility jet Pack
Description: The high mobility Jet pack allows Xeradul to fly and mimic Shunpo. Not only that, but it is increases his agility when moving at high speeds.
Ability/weapon  Name: Hellfire sword
Description: A sword with a rifle built into it. The rifle fires incendiary rounds, and takes a clip that holds 30 shots. It can be fired in bursts of 3 bullets, or one shot at a time depending on the mode. The sword itself is razor sharp and coated in energy that heats it and also protects it like the combat shield. Bullets do bala damage.
Ability/weapon  Name: Terra-buster cannon
Description: The Terra buster is a massive hand held cannon that fires an ionized beam of energy. With a blast radius of 59 feet and damage output equivilent to a cero oscuros the Terra-buster is one of Xeradul's strongest weapons. The Terra-buster cannon can be fired twice in a row, but has a cooldown of 6 posts.
Boosts: Strength, speed, durability and energy output all x4
Back Drop 
Background:
Side Notes: