Advent Human Template
Theme Music:
Basic Information
Name:
Elsa Arendelle
Appearance Age:
23
True Age:
976
Sex:
Female
Personality:
As the queen regnant of the kingdom of Arendelle, Elsa appears calm, reserved and regal, and unlike her sister, is experienced in grace and poise. When she was younger, she had cared strongly for Anna and, although she was the more mature of the two, Elsa was quite playful. However, ever since her magic nearly caused her sister's death, Elsa had lived in fear for a great amount of her life, too nervous to let her powers overdevelop. As a result, she chose isolation from everyone she cared about, including Anna, out of fear that she could hurt them, and kept things to herself rather than communicate or be around anyone. From said concern, Elsa is sensitive towards other people and their well-being, as Elsa always felt she had to be far away from people as much as possible in order to keep them as safe as possible. As such, she felt that she could not truly rule a kingdom because of this "flaw", although she tried as best as possible to repress her abilities for the sake of the kingdom and to be a good ruler for Arendelle when her time came, and so gained a great sense of responsibility at an early age. Often, although Elsa demonstrates her willingness to sacrifice her own happiness for everyone else's, she herself feels irritated from the restraints she is forced into, most evidently on her coronation day when she was to become queen even though she was very apprehensive from the threat of her wintry power, and simply be accepted for who she is.
Growing up believing her powers were unstable caused Elsa to cut interaction with Anna fearing she could not control her powerful emotions when Anna was around to spur them. Despite her moral reasoning, she came off as aloof and cold towards anyone who wished to see her. However, Elsa truly loved Anna and always wished to be with her whenever Anna asked, a chance Elsa greatly regretted refusing and was left in deep despair when Anna became the only family she had left. She also believes that she thinks she does not belong in Arendelle as she sees herself only as a force of destruction, implying that Elsa has low self-esteem towards herself in an extreme case, as she constantly blames herself to be the sole cause for most of her life's misfortunes despite others stating she is not, to the point that she labels herself as a living storm and distances herself from everything and everyone.
However, during her self-imposed exile, Elsa reveals a liberated side to her personality. Without stress or fear of hurting others, Elsa is strong and unafraid, yet with an air of elegance still surrounding her. Armed with a sense of freedom, she is confident in her abilities and accepts them as a part of her, letting them roam free with grace and beauty, all the while no longer worried or daunted by her restraints. In the segment, which was entirely about letting go of her fears and being herself, Elsa abandons what others had wanted out of her, including her parents, so that she can be free to be herself. During this time, Elsa proves herself to be incredibly artistic and a daring young woman willing to remain far from what she was destined to be, and rejects her own fate as Arendelle's queen for the choice of her own freedom.
Although she has a reclusive demeanor towards people, Elsa does possess a softer side; Elsa was more than willing to share some words with Anna as a form of comfort between the two and was seen speaking with dignitaries, hinting that she is not afraid to socialize with others but is at least open towards it. She also displays mischievousness several times.
Despite her fear, Elsa shows to truly care about her family and her kingdom as more than just a position quite selflessly, as she was evidently frightened when she realizes that she had created a winter over her kingdom when she had tried so desperately to avoid putting them danger. But due to the influence of her magic, Elsa does not like to confront things she had caused, for she has always believed she can only create winter, not remove it.
However, Elsa's strongest part of herself is her love for her sister, a trait that gives Elsa the ultimate motivation to save Anna. Although she feels responsible for the chaos she has caused, the bond Elsa shares with Anna is stronger than she knows, as the feeling itself is her reminder that she is not truly alone when there is someone else who cares for her as well. With love, Elsa finds a stronger grip over her abilities in order to save those she cares about. From this, Elsa confronts her fear, and learns how to use her powers for good instead of imbalance, and in doing so, gains the will to control it, utilizing it to put herself and Anna in cryostasis during the destruction of Arendelle.
After her thawing, Elsa had a lot of difficulties adjusting to the new way things happen compared to back in her time. Since Arendelle was well-known in legend by most spiritual beings and even a few from the living world, those who knew of it treated her with awe and regarded her as a bit of a heroine. Elsa tries to avoid this, as she does not want to be reminded of the fate of the once great kingdom, and also as she values being left alone, despite the best efforts of her far more socially-inclined younger sister.
Elsa regards Shinigami with respect due to the job they do in protecting the living world from hollow attack. She has no knowledge of Vizards and Arrancar as she was under ice(pun intended) when they were brought about. Elsa despises Hollow for obvious reasons, and her relationship with Humans tend to vary. Of all of the new machines that she has encountered in the new world, Elsa finds the portable music player to be a special favorite. The way it sends music directly into her ears was nothing short of magical. Elsa has discovered a fondness for bubblegum pop and pop-rock, as well as songs from musical theater and movies.
Likes:
The cold, being alone, keeping people safe, chocolate, her music player
Fears:
people, losing her sister, being treated as a monster
Character Appearance
Height:
5'9"
Weight:
112 lbs
Physical Traits:
Elsa is a strikingly beautiful young woman with a tall, slender figure, long platinum blonde hair that reaches a few inches above her elbows, blue eyes, and pale skin with a light dusting of freckles (a trait she shares with her sister Anna, though she has fewer freckles than her younger sister). She has the face of her mother, albeit with a different hair color. Back in the days of Arendelle, her hair was kept back in a French braided crown twist bun. In her Snow Queen and Cold Defender forms(as well as her normal form since reawakening), Elsa wears her hair in a left side braid woven with snowflake incrustations, and swisps of her bangs swept back on top of her head.
Normal State:
Shadow Queen form: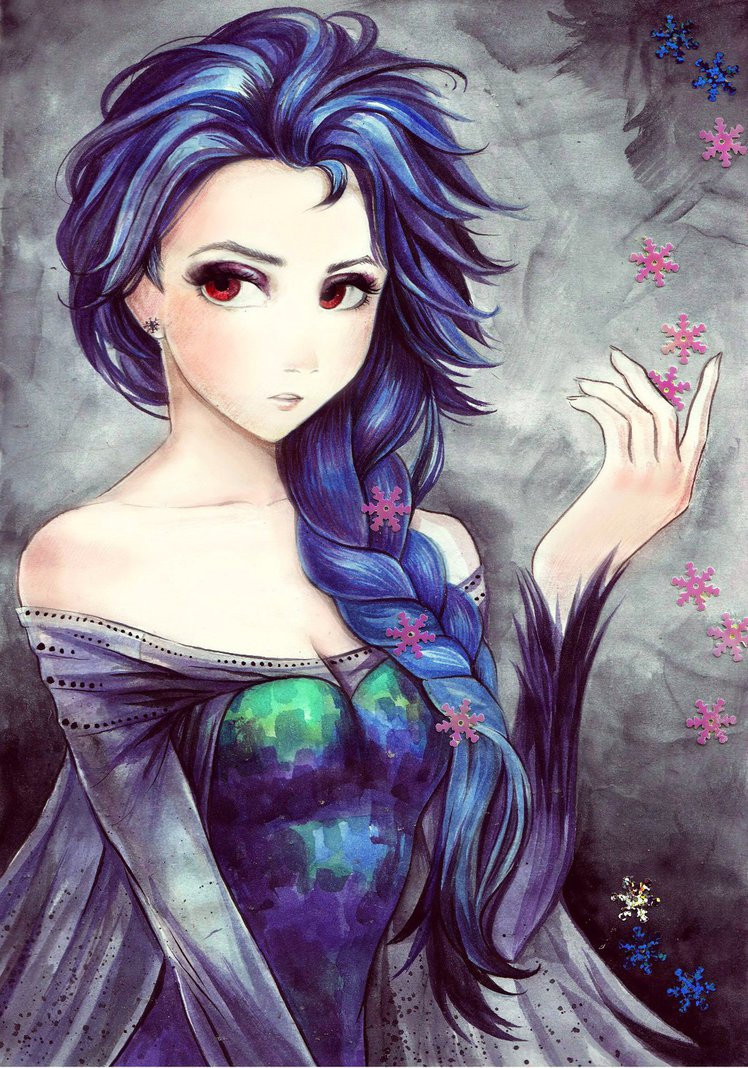 Shadow Assassin form: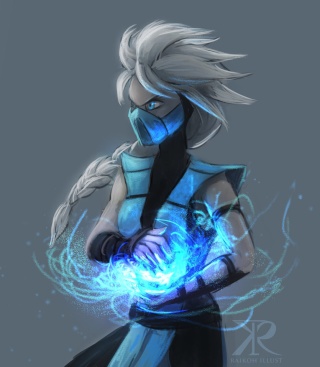 Clothing:
In her pre-Snow Queen state, Elsa's clothes vary, but she usually favors loose fitting t-shirts and cardigans, usually embellished with snow and snowflake related symbology, and pairs this with skinny jeans and Converse shoes or high-top sneakers. She also has a particular liking for thick-rimmed glasses.
In her Snow Queen state, she wears a bluish-purple, off-the-shoulder dress made out of ice with a right knee-high slit, a crystallized bodice, navy sleeves and ice high heels. At the back of her bodice is a long, transparent cape of sheer ice draped down from her sleeves and decorated with big snowflakes. Her hair changes from white-blonde to bluish-black to emphasize the shadow in her heart.
In her Cold Defender form, Elsa takes on the appearance of a masked assassin, weapon of destruction and pain. Her armor is made of ice and her weaponry and shield are described in her Hyper Mode section.
Accessories:
Snowflakes
Fighting Style
General Fighting Style:
With no formal combat training to speak of, Elsa's fighting style relies on instincts and intuition. She does not have the experience required to form and execute complex strategies, so a lot of her tactics are purely reactionary. However, Elsa is aided by her extremely quick mind, which allows her extra time to calculate a response to a given event, and her natural grace and poise. She has excellent balance, and she is able to transition from defence to attack seamlessly. Favoring ranged combat, she carries no weapons and is quite delicate, but her grace, balance and prodigious ice abilities allow her to stay in the fight, even if she lacks the power, speed and technical abilities of other combatants. In her Cold Defender form, she has a sword and shield, but is inexperienced with them, still favoring range.
Strengths:
Ice Manipulation: Being born with her ice abilities, Elsa has had the time to train with them and has developed an unparalleled mastery over her innate powers. She manifests what she needs with preternatural ease and speed. Her range is quite short, but such is her skill that she is far better than the average cryomancer in this range. She is the ultimate cryomancer for her tier, maybe beyond(depending on circumstances). The various abilities will be detailed below.
Reflexes: As Elsa has no formal combat training to speak of, a majority of her combat skill is pure instinct and intuition. As a result, her reflexes and reaction speeds are extraordinarily fast. She nearly always makes the correct decision.
Combat Training: As a result of her training under Jensen Reinhart, Elsa has become proficient in her chosen sword-and-shield style.
Spiritual Energy: After practising and training with her powers for all of her life, Elsa has developed an extremely deep reserve of spiritual energy. She can fuel her powers for a lot longer than normal.
Resistance/Immunity to Cold:
Elsa's powers give her various resistances and defences against her own element:
Elsa is immune to cold temperature-based environmental hazards, i.e. she is unharmed in extremely cold climates.
Elsa has a 75% resistance to cold and cold-based energy attacks.
Elsa is immune to her own abilities.
Weaknesses:
Strength: Elsa is not physically strong due to her small frame and lack of body training.
Durability: Elsa relies on her powers to protect her and cannot take a lot of physical damage.
Weakness to Fire: Elsa takes double-damage from fire/heat based attacks.
Cold-blooded: Elsa tries to stick to cold-temperate areas. If she is forced to fight in an exceptionally hot climate(e.g. hot desert or tropical rainforest) she acquires the following penalties:
Elsa's Stamina is reduced to poor (fatigued after 5 posts of heavy combat).
If Elsa is reduced to fatigue state, the duration of the fatigue is doubled.
Special:
Fallen Angel: Having been corrupted by Azazael Darkmoon, Elsa's spiritual energy has been warped to reflect her new attitude. Elsa's ice manipulation now also counts as dark energy manipulation.
Normal Form (Primary Stage)
Ability Name: Ice Manipulation
Description: Elsa can manipulate and conjure up ice with ease. She does not need water to do so. She can do various things, from shooting spikes of ice, or creating a one foot thick wall to block an attack. It is limited to an object of 15 foot squared, so it could be 25 foot long but would have to be 9 foot thick only. She can use this ability without limits, but the more she uses it the faster she'll tire herself out. However, with her incredibly deep reserves of spiritual energy, this does not happen easily. This only has a range of 300 ft, but as detailed in strengths she makes up for that.
Ability Name: Let It Snow
Description: This power is mainly for RP purposes. Elsa has the power to change the weather in an area she is in, bringing a snowstorm down on area the size of a small town. The severity of the snowfall depends on the amount of energy she wishes to invest in it. This power does not work in a particularly hot climate such as the middle of the Sahara. The storm can be dismissed at any time.
Ability Name: Cryostasis
Description: Another ability for RP. This ability allows Elsa to freeze any (willing) person in cryogenic stasis. The person is preserved in perfect condition until they are thawed. The person does not age and any conditions or afflictions do not progress while in stasis. Elsa can freeze anybody within a designated 10 ft by 10 ft cube. This power takes a minute or two to charge-up and Elsa is fatigued after it, making it ill-advised to attempt in combat, without a decent plan at least.
Ability Name: Ice Shield
Description: At will, Elsa can throw up a shield of ice that protects her from attacks. This shield is about 2 inches thick and has the breadth and width of a tower shield. It blocks a single attack up to a Cero Oscuros in strength before disintegrating. The cooldown on the shield depends on the attack that strikes it:
Up to Bala = no CD
Stronger than Bala, Up to Cero = 1 post
Stronger than Cero, up to Gran Rey = 3 posts
Stronger than Gran Rey, up to Cero Oscuros = 4 posts
Snow Queen Form (Final Stage)
Ability Name: Primary Stage Powers
Description: Elsa retains her Primary Stage powers in this form.
Ability Name: Ice Shuri-flakes
Description: Elsa can generate and throw snowflakes that are roughly the size of shurikens. They have the hardness of Zanpakuto Steel, but can be melted as easily as regular ice. The are poor against armor, but she can throw vast quantities of them(within the time limits of a post).
Ability Name: Icicle Points
Description: Elsa can generate javelin-sized icicles that can be used to puncture opponents. The icicles can be shot from her hands up to a distance of 30 ft, or they simply thrust out of her hand at an enemy in melee range. They can be melted like normal ice. The icicles are only an inch in diameter, but they can punch through average hierro.
Ability Name: Shards of Healing
Description: Elsa can create magical ice shards that are roughly the size of a small cellphone. Each crystal is imbued with one of the following effects:
Shard of Antidote: Elsa can create a shard that when melted into a wound, or otherwise introduced to the bloodstream, can neutralize a specific poison. To create one for a poison, Elsa needs a drop of the poison, either from the creature that produces it or from the wound itself, and a couple of minutes to form a counter-poison.
Shard of Mending: Elsa creates a shard that is melted into a laceration of any size. The wound will close over a couple of seconds. Not recommended for victims of decapitation. The shards will not replace severed limbs, it simply stops the bleeding. If the user has suffered a wound that has damaged internal systems, the healing process takes 2 posts. The user does not regain any lost blood or strength, they simply stop getting worse. Elsa can create up to 3 with a post of concentration, making them impractical to make in combat without cover.
Shard of Boosting: Elsa creates a shard of energised ice. The ice is pointed like a syringe, and when injected it melts into the bloodstream and leaves no wound. This shard only affects those who are in fatigue state. The shard will raise them out of fatigue state for 3 posts. After the 3 posts, the character re-enters fatigue state, with their fatigue state timer reset and an additional 2 posts is added. Any character(including Elsa herself) can only use these once, then must rest normally. Attempting to take more than one before resting normally results in severe complications (read: death). 1 per character per thread.
Ability Name: Cryo Blast
A wide cone shaped blast of cold energy is fired from the palm of Elsa's hand. Equivalent to a cero in speed and damage. it creates ice on anything it hits and delivering a freezing cold blast to the target. Fire counters normally. 15 ft range with a 10ft spread. 2 post cooldown.
Ability Name: Frost Beam
Elsa sweeps a beam of cold energy across the battlefield, doing a gran ray cero worth of energy to anything caught by the beam, and also leaving ice spikes on any surfaces she hits. The beam has a 5 second burst time, allowing for one sweep across the field before it dies out. 4 post cooldown.
Boosts: Spiritual Energy x3, Everything else x2
Cold Defender (Hyper Mode)
Ability Name: Previous Abilities
Description: The only powers Elsa carries over to this form are Ice Manipulation, Ice Shuri-flakes and Ice Shield. Icicle Points is dropped in this mode.
Ability Name: Armor of the Cold Defender
Description: This ability is always active when Elsa is in Hyper Mode. Elsa's armor is as strong as the toughest Hierro for her tier. The armor does not weigh her down, but it only protects from physical attacks. Energy attacks will still hit her directly.
Ability Name: Shield of the Cold Defender
Description: Elsa forms a large snowflake that is mounted to her forearm. The shield is roughly the size and shape of a huscarl's shield, perfectly symmetrical and roughly 1.5 ft in diameter. It is charged with cold energy. The shield is as strong as a Zanpakuto, and can block energy and elemental attacks, but like any normal shield it can only block as much as the shield is broad. It can be dismissed and conjured up at-will and stays up as long as Elsa is conscious and wills it.
Shield of the Cold Defender: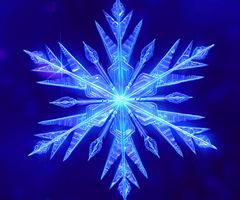 Ability Name: Sword of the Cold Defender
Description: Elsa forms a sword of ice to use with her shield. The sword cannot be melted, and is as hard as Zanpakuto steel. The sword is roughly 3 ft long, but is extremely light. The sword can be conjured and dismissed at will, and can be conjured for as long as Elsa is conscious.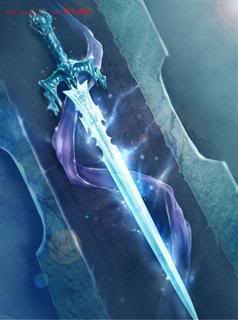 Ability Name: Keen Edge
Description: This ability affects the Sword of the Cold Defender. The sword can cut through any hierro for 3 posts, with a 2 post cooldown.
Ability Name: Icicle Points Mk. II
Description: This is an improved version of the Icicle Points ability. The icicles can be shot up to 60 ft away and can punch through any Hierro. They now also explode with the force of a Cero if they lodge in a person or impact on any solid object. 2 post cooldown.
Ability Name: Icicle Points Mk. III
Description: This is another improved version of the Icicle Points ability. This operates the similarly to Mk. II, but is more potent, exploding with the force of a Gran Rey Cero upon lodgement or impact. 4 post cooldown.
Ability Name: Shredder ball
Azazael fires a ball of cold energy that hits with the force of a cero. However the energy also seeps into the target, and 1 post later explodes back out of them as tiny spikes and blades of ice, shredding the skin of the affected area. So if someone took this straight ot the chest, the energy would shred their skin there, while if someone blocked it with their arms, the energy would shred their arms one post later. 3 post cooldown. Not compatible with Energy Resonance.
Ability Name: Frost Core
Azazael forms a ball of ice, surrounds it with his dark energy and fires it. The attack hits with the power of a gran rey cero, and the layer of dark energy is dispersed, leaving the ice core behind. The ice core then explodes with the force of a gran rey cero with a 100yd radius afterwards, with a slight delay. 7 post cooldown. Compatible with Energy Resonance, the extra damage is added to the ice core's explosion, making for possibly his strongest non final attack.
Final Ability
Ability Name: Let It Go
Description: Elsa expels all of her power in a shockwave of devastating power. Since using a version of this power during the destruction of Arendelle, Elsa has formulated a way to use this without freezing herself. This comes at the cost of reduced range and speed. The shock wave expands outwards at the speed of a cero, to a radius of 100 yds. Anything caught in the shock wave takes damage equal to 2 Cero Oscuros. If the struck being is still alive, they are flung at the speed of a cero out of the blast area. 1 post of charge-up is required, and Elsa is rendered unconscious.
Boosts: Spiritual Energy x4, Everything else x3
Back Drop
Background:
1148-1168, "The Calm Before The Storm"
Elsa Arendelle was born in 1148 in the Kingdom of Arendelle(an area that would become part of present day Norway), daughter to Arngrim and Maria Arendelle, King and Queen of Arendelle. Elsa grew up in a privileged household. She wanted for nothing. However she was born with a unique and powerful gift, the power to control and manipulate ice. It was considered by all who knew of it, her parents included, to be a terrible curse. Such was the fear that permeated the room when she entered, that she began to succumb to fear and sadness, believing that she was a monster. The only comfort she found was in her younger sister, Anna. Anna had been born 2 years after Elsa, and she was Elsa's only source of warmth and love that didn't show fear at her presence. If anything, Anna was instead filled with wonder and awe at her older sister's gift. For the King and Queen's parts, they did love their two daughters very much, but just wanted to keep Elsa's gift a secret, for fear of alienating the citizens(who would surely lose trust at monarchs that were harboring a monster) and the other kingdoms(who would more than likely cease trading with Arendelle, thus depriving the kingdom of its main source of wealth). It was decided that Elsa would be kept hidden, deep in the castle, while she practised controlling and hiding her powers. To this end, Elsa was not allowed to venture outside of the castle walls.
Then one night, something happened that would affect Elsa deeply for some time. One night, after an exhausting function involving dignitaries from the surrounding kingdoms, Anna crept into Elsa's room and woke her sister up, wanting to play with her and her powers. Elsa was wary at first, but relented at the idea of making a snowman. They crept to the grand ballroom, where Elsa proceeded to make the room snow creating giant snow flurries everywhere. They made a snowman named Olaf. Then they started to play a game where Anna would jump around the room, while Elsa created rising snow platforms under her feet. Anna got higher and higher, but she was also gaining in speed. After a few seconds, she was going too fast for Elsa to keep up. Anna fell, and Elsa, in an attempt to save her, tried to place a platform under Anna to try keep her from falling. However, Elsa mis-timed it and the ice wave struck Anna on the head, knocking her out cold, and creating a white streak through her hair. Elsa screamed in horror for her parents, then began to weep. Her parents rushed in and brought the unconscious Anna and crying Elsa to the only place they could think of. A witchdoctor who specialized in supernatural afflictions, that everybody knew of but they actively avoided. The witchdoctor was able to remove the ice from Anna's head, but in doing so was forced to remove all memory of Elsa's ice powers. She was still left with the distinctive white streak in her hair.
After this incident, the King and Queen took no more chances. Deciding that they were going to try harder to conceal Elsa's "curse", they took drastic action. They castle gates were closed, the staff minimized, and Elsa concealed in her room. Elsa was given wooly gloves to wear, as they increased Elsa's ability to conceal her powers. She was kept apart from Anna at all times, and the younger sister was never told why. Elsa was to be revealed if and when she learned to fully control her powers. It seemed like a sound plan, but like most sound plans, disaster would cause it to unravel. 2 years after the accident, The Queen was struck with illness, perishing within a few months. As it happened, she had been poisoned by a rival dignitary. When the King became aware of the plot, he marched to war with the nation responsible. However, due to a sinister plot, he fell in combat after slaying many foes, including his right-hand man, who had betrayed the King after finding out of Elsa's powers. When news of the deaths of the King and Queen, the two girls wept. Arngrim came to visit the sisters one last time before he was sent to Hueco Mundo. Elsa was so overcome with grief and loneliness that she thought she was hallucinating, and Anna could not see him as she did not have powers at the time. He told them how proud he was of them and bid farewell. Even though Elsa thought she was seeing things, she told Anna what she had seen and they took his words to heart.The throne would be now passed on to Elsa once she reached the age of 21. Until then, she retreated back into her room, opening only to receive food and to bathe. As far as Anna was concerned, she was alone. This continued until Elsa reached adulthood and came of age to succeed the throne.
1169 "Let It Go"
Upon reaching the age of 21, Elsa was called upon for her coronation to officially ascend the throne. This entailed the gates to be opened and a ball involving dignitaries from all of the surrounding kingdoms. Nervous as she was(a nervousness that was countered by Anna's sheer excitement), it all seemed to go smoothly. However, during the party an ambassador from the Southern Isles, a lecherous old man, began to make unwanted advances on Anna. Anna thought nothing of it at first, but gradually became visibly unsettled. Elsa moved to defend her sister, but was impeded by two big and burly guards of the ambassador. They claimed that the ambassador was well within his rights to "court" the young princess. When Anna tried to run and the ambassador pulled her back by her hair, Elsa lost control of herself. She blasted the guards out of her way and  picked up the ambassador by his shirt front. She formed an evil-looking ice sword and pressed it to his neck. Elsa was about to end the ambassador's life when she heard Anna's cry of fear. Realizing, the monster she was threatening to become, Elsa released the ambassador, who left quickly vowing never to return, and fled the castle, leaving a trail of ice behind her. She also inadvertently covered Arendelle in a punishing winter storm.
Elsa fled until she reached the tranquility of the North Mountain. Reflecting on the events of that day, Elsa suddenly became aware of her new surroundings, and began to appreciate the freedom of not being near enough to anyone to cause them harm. She decided that this was here place, away from everyone else, where she could use her powers in safety. She went wild, creating an elaborate ice castle and transforming herself into a true Snow Queen, complete with an ice dress and flowing white hair. She sang and danced and anything else that took her fancy. However, she was brought back down to earth by the appearance of Anna, who had tracked Elsa to her new fortress. A confrontation ensued between the two sisters, where Elsa tried to emphasise that she needed to be away from everybody to keep them safe. Anna countered that if Elsa would just let people in, she would find it easier to control her powers. Elsa then tried to push Anna back with a barrier of ice, but Anna dodged over it with preternatural ability. A fight ensued, with Anna continuing to display previously unseen abilities, including conjuring up a magical bow. However, Elsa eventually caught Anna in the chest with an ice blast.
The blast froze Anna solid. Elsa recoiled in horror at what she had done. Just as she did when she was a child, she screamed for her parents and began to weep. Elsa hugged the ice statue Anna, crying uncontrollably, wishing that she had only been more courageous, and she had not shut everyone out, especially Anna. Elsa wished Anna could've known how much she loved her, so that none of this could've happened. Then, due to Elsa's sorrow and her desperately willing Anna to not be frozen, Anna unfroze. Elsa was shocked, but then she forgot about her surprise and hugged her sister, who returned the hug with interest. Elsa had discovered in that instant how to control her power. Elsa vowed never to hold anything back from her sister again. In return, Anna confessed that she too had abilities. As it turns out, Anna was a Quincy. The sisters returned to Arendelle, where Elsa dispersed the storm and took her rightful place as Queen.
1171 "This Is Not The End, But Only A Transition"
Two years past after Elsa ascended the throne, and Arendelle was flourishing. Trade was booming, and Elsa was beloved as a benevolent and kind Queen. However, amongst this peaceful background, there was something dark stirring. Rumours and stories were spreading of strange creatures that attacked stray travellers and devoured their souls. Holr, they were called, or Hollow in English. The creatures seemed to grow stronger from these attacks, and people were starting to fear for their safety. In response, Elsa sent a unit of guards to try and track the source of these attacks and stop them. However, they reported reaching their destination, the area with the highest concentration of attacks, and then disappeared. The numbers of these Hollow were reported to be growing rapidly, so Elsa began to focus on defense.
Things came to a head then later that year. A giant hollow army was seen approaching from the north. Anna marshalled the defense while Elsa formulated a plan for survival. The defense held initially, but eventually sheer numbers of Hollow overwhelmed the defenders and breached the walls, forcing Anna to retreat with her remaining troops to the castle. Elsa was running out of options, her kingdom was in ruins and her people either dead or dying. All she could do was avenge them. No Hollow could be suffered to leave Arendelle alive. Elsa and Anna hugged each other one last time, and bid goodbye. Then Elsa released all of her power in the form of her final technique, which sent a shockwave of cold energy outwards at high speeds. Any Hollow that were caught in it, which was a considerable amount, were destroyed instantly. The rest fled away from the castle. The castle itself sank into the ground from the force of the attack and everything in and around it was frozen deep in a newly formed ice shelf. Arendelle was no more. Elsa and Anna were not dead however. Due to the various factors that affected how the attack went off, they were instead frozen inside the remains of their castle. Waiting, seemingly forever.
Side Notes: I'm aiming for as high a tier as I can possibly get with her, hence the brain-killingly long Backstory(That isn't even finished XD) and personality. Mew help us.
RP Sample: [Show us what you got. Rp with your character that you are applying for.]