Vizard Template

Basic Information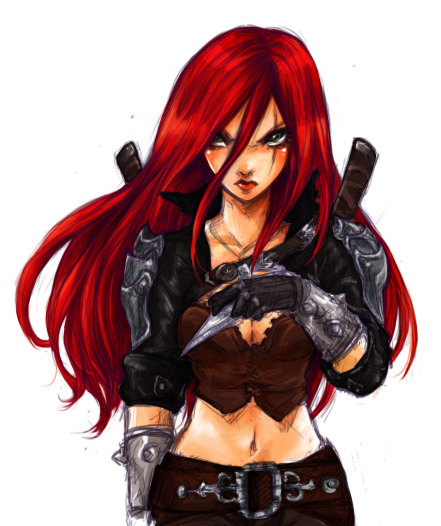 Name:
Ariel Venasha
Age:
21
True Age:
867
Sex:
Female
Personality:
Ariel is an escaped maggot who fled soul society during the retaking. She is a cold, agressive and easily angered person. Though she was once a fun loving, caring person she was slowly warped into an incredibly volatile maniac, with deep seated anger issues stemming from her initial death sentance. She still has a bit of a soft spot, hidden under allot of mental armor.
She's been sealed, locked away in her own head that she's practically fused with her inner hollow, though they are still a seperate entity within her inner world. She is incredibly patient because of her time locked away, seeing as she took a few months after being released to kill the person who betrayed her before leaving soul society behind for good. Likewise she has no problem waiting to get revenge on everyone who was involved in her imprisonment.
Besides her very obvious anger at the world and the shinigami, she is deep down a very sad and lonely person. Her life was ruined and she has no one left, and no where left to go. She is constantly seeking something she can never get back. Though she feels nothing for the members of central 46 that she killed, or even the two captains that crossed her path the night of her escape, she feels some remorse over the guards she killed escaping. Some of them had been friends, but she'd been to angry and revenge driven to go easy on them.
Most of all, she regrets Aki's involvement. Their fight broke her heart, and she is emotionally damaged because of it. She no longer wants revenge against him for stopping her, ended up breaking down and forgiving him when she confronted him.
Ariel does enjoy fighting. Once, she was more conservative like her Zan, but now she'll fight, and kill, anyone anywhere at any time. She has little regard for nature or life despite her zanpakuto being the very embodiment of that. She also cares a little for lives sacrificed in battle, but children are to much in her books. She will never use deadly attacks in the presence of innocent people if she can avoid it, unless she's been driven into a rage.
She is deeply afraid of binding kido. The threat of being sealed away again drives her into an uncontrollable rage of destruction. She mistrusts shinigami and vizards, despite the latter sharing her plight. She will go out of her way to kill shinigami if they interfere with her though most leave her alone. She knows very little of arrancar, and considers them nothing more than hollow, pests mostly. As for hollow, she despises them, despite her union with her own inner hollow. Humans, bounts, quincy and anyting else have nothing to worry about from her if they avoid angering her.
Likes:
Revenge, being free, children
Fears:
Being sealed away again, binding kido or abilities, fire.
Character Appearance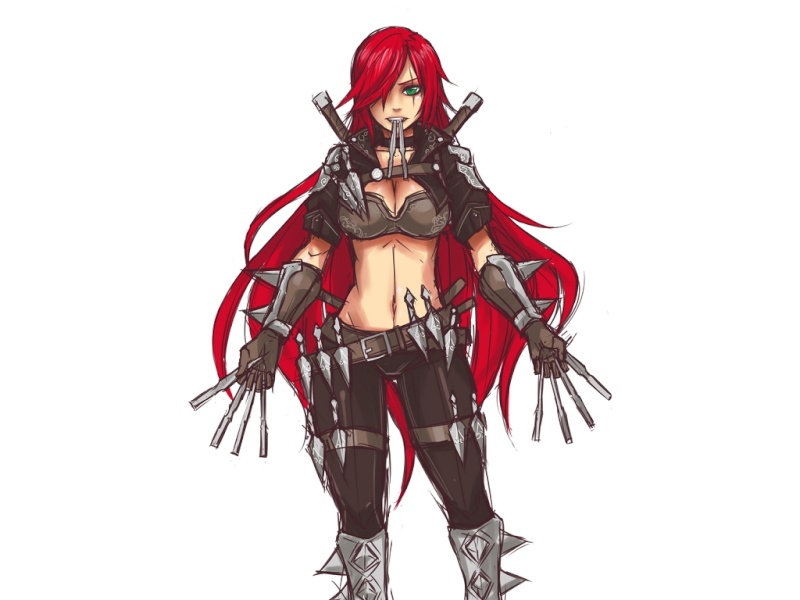 Height:
5'9"
Weight:
129lbs
Physical Traits:
Ariel has long red hair that flows loosely down her back, and scar over her left eye. She has green eyes ringed with burnished bronze, and her Scelera are black as opposed to white, as if she were wearing her vizard mask.  Her body is well toned, if slender, and she is busty. She always has a looked of mild anger on her face, or deep sadness. She rarely smiles.
Clothing:
She wears a short top with shouder length leather sleaves that have plates of spiked metal stiched to them. She also wears long brown leather gloves, also backed with metal plates with spikes. Long black tight fitting leather pants, with two belts adorned with a collection of throwing knives. Mid way down her leg are another two belts on eitherone fitted to hold more throwing knives. And finally she wears brown leather boots fitted with spiked metal plates.
Accessories:
Fighting Style
General Fighting Style:
Ariel is a well trained mid ranged combatant. She possesses a huge amount of spiritual energy and exceptional levels of control over. Though she is average in most respects she is still a master duel wielder and hand to hand expert, thanks to high reflexes and flexability. She has a good aim with thrown weapons too and tends to use these to counter attacks where possible.
She fights with a tactical style, because she's not as fast or strong as some she always watches a person in the first moments of a fight to figure out their weaknesses, and exploit them. If some's slow but strong, she'll keep her distance, or if their fast but weak, she will let them come to her and punish them, and so on. She has a Keen eye for things like this and it wont take her long to find a weakness to take advantage of.
Likewise, she knows her own weaknesses very well, and avoid's them like the plague. She has some ability when it comes to ressisting them but direct hits with cold, fire or lightning are very bad for her. With average Durability she wont last to long taking lots of hits from these abilities. But she's not comepletely defenseless either. She has a decent ressistance to being cut by blades and a minor form of shielding that can block and repel weak attacks.
Anger is unfortunately a major issue for her during combat, and can have drastic effects on her perception when finding weaknesses or avoiding danger. But it also makes her that much more dangerous, as she tends to go all out, and takes no prisoners when she's angry.
While Ariels Zan is water and plant based, her inner hollow seems to be more focused towards Energy attacks, and allows the use of one of her most powerful attacks attained in this form, the Super Nova Cero. She lacks the use of her former powers, since Ame Sakura and the hollow do not get on well.
Strengths:
Spiritual energy: She has huge amounts of spiritual energy, exceeding some of the strongest captains in the gotei. People also find it diffucult to cut her as if she had a hierro because her energy is so dense and concentrated around her body.
Spiritual control: Her Spiritual control is finetuned to be accurate enough that she could crush hollow with her spiritual pressure but avoid harming normal humans. Despite how vast her spiritual energy is, she is able to compress it right down to nothing, hiding it with utmost perfection.
Sword play/hand to hand combat: She is highly skilled in both sword play and hand to hand making her a formidable opponent in close quarters.
Reflexes: She possesses amazing reflexes, responding to dangers around her quickly and countering them..
flexability/acrobatics: She is very flexable and acrobatic. Mixed with her reflexes she can respond to danger and dodge efficiently.
Weaknesses:
Strength: She is quite weak physically. While she can temporarily mitigate this with roots of the oak, she is easily thrown around in battle in a close fight, making blocking attacks a bad idea.
Fire: She's weak against fire based attacks. 35%, though her water abilities help against it.
Lightning: She's also weak to lightning, but can manage it better because her plant abilities are ressitant to it and water can be used to channel it away from her. She has a 35% weakness if hit directly though.
cold: Like to much heat, to much cold is bad for her and her plant abilities. She has a 25% weakness to cold energy.
Kido: she can't even begin to form a kido, despite her vast amounts of spiritual power.
Anger management: Less a weakness and more of a flaw, she has serious issues controlling her anger in and out of battles. This can lead to mistakes or accidents.
Zanpakuto & Kidou
Sealed Appearance:
After she was released from the maggots nest her zanpakuto were gone, having been destroyed by central 46, but she managed to create a new pair through sheer force of will and spiritual energy, creating a pair of the above long slender blades above in place of her original katanas. The blades of the weapons are both 3ft long, the handle being 1 foot, long enough to be held two handed, despite her usually duel wielding them. She carries them across her back.
Spirit's Name:
Ame Sakura
Spirit's Appearance:
Ame Sakura has pale white skin, and her lips stand out a bright red against it. The top half of her face is covered by a metal mask, her eyes being glowing white slits within the mask. She is wearing a grey kimono type shirt, grey gloves black boots and long grey stockings slashed with white. A black rope belt is tied around her waist, and a short cloak falls from her shouders. Plated armor protects her hips. She has a neclace around her neck and long tree like horns extend from her head, each has a small amount of leaves on them. Finally she carries a pair of long thin blades, though she often carries them sheathed across her back.
Spirit's Personality:
Ame Sakura is a spirit of a Sakura tree, and the embodiment of plant and water. She is a calm and collected individual who believes in peaceful solutions to problems, until you piss her off. A warrior of twin blades she is exceptionally skilled in combat, if she decided to fight. She is very hesitant to let Ariel have the run of her powers because she's so violent compared to Ame Sakura, that she's worried she will misuse them.
As such they do not have the greatest of relationships. Ame won't reveal her strongest attacks to Ariel, which leave her relying on the nameless hollow for her most powerful of moves. Ame does not hate Ariel despite how hostile the vizard is towards her, but she doesn't trust her either. And she definately doesn't trust the nameless one, who has imprinted so heavily on her host's mind.
Inner World:
Ariel's inner world is a large sprawling medieval japanese city set on a hillside. Many of the old buildings are over run by vines and plant growth. Trees dot the land scape, growing up into the sky. Some are growing through the buildings, rending them in half. Lower areas of the city are flooded by a river that flows through it.
At the very centre on top of the hill, stands a massive Sakura tree. It is far larger than they would normally grow, reaching to the sky like a massive oak tree. Ame Sakura is usually at this tree, either up in the branches or sleeping at the base. The weather changes frequently from sunny to raining, an the water levels in the overgrown city rise and fall randomly.
Kidou:
Ariel is incapable of using kido, despite her vast spiritual energy and excellent control.
Spiritual manipulation abilities:
These minor abilities fall under spiritual control, and are various manifestations of her spiritual pressure being used to attack or defend with.
Throwing dagger manifestation: Ariel is capable of condensing enough spiritual energy into a solid blade, and very quickly. She usually carries around a hand full of these throwing daggers on her belts, and can make more in combat. They disappear if they leave a 50ft radius from her. Or she can simply disperse them herself.
Spiritual shield: By concentrating her spiritual energy in a small area around her Ariel can block strong attacks and rebound weak energy attacks like bala away from her. It can block up to a cero once every other post and rebound up to ten bala leveled attacks every post. This is done actively so  she can be caught by surprise and this wont just activate. Physical attacks are not effected.
Spiritual Armor: this is always active. Like other shinigami with formidible spiritual energy, she is difficult to cut, similar to hierro. This is equal to an average hierro. It is replaced by actual Hierro in full vizard form.
Spiritual Pulse: Ariel sends out a pulse of spiritual energy that covers a 50ft radius around her, creating large scale destruction on par with a gran rey. It also has a powerful knock back effect that will send most people flying from the radius of the blast. This has a 4 post cooldown.
Shikai
Call Out Command:
Seed, Ame
Appearance:
her appearance does not change, neither do the appearance of her zanpakuto. Despite this she does actually have to use the call out command, and is not in a permenant state of shikai.
Abilities:
Ability Name: Whip blades
Description: At will, Ariel can convert one or both of her swords into whips made of Long, slender, flexible vines. Each is 7ft in length starting at the hilt of Ariel's swords. They retain their strength, and are still Zan strong. Ariel can command them to latch on to something, allowing her to grab opponants or their weapons (with permission) or anything in the enviroment, allowing her to preform some difficult menovers or swing from things.
Ability Name: Water sense
Description: Ariel can sense water in an area of 100ft, allowing her to find sources of water to fuel her attacks. If she can sense the water she can draw it towards herself and manipulate it, using it to attack and defend. This helps find water even in a desert as she draws it up from underground. She can also sense and use ice, by turning it back to water.
With the  water she gathers she can fire it as a ball, concentrated jet or a large wave. Attacks range from a bala in power and speed to a cero in power and speed. The stronger, the slower. She can also use the water to defend herself making it into a weak shield, though its obviously very effective against fire.
Ariel can generally gather water fast enough to attack with this a few times a post, but she is always at her best in a place with lots of ice or water to access, where as she would suffer in a desert where its harder to gather water. Since she can only sense it within 100ft, her range of manipulation is also contained to that area.
Ability Name: Puddle step
Description: Ariel can move from one body of water to another, allowing her to jump safely out of harms way. She can do this with water she's controlling or water in the enviroment/an opponants water attack. When she does this she'll disolve into water and then spring back up from the target location. She has to be touching water to do this. It has a range of 100ft. She can do this once a post with a 1 post cooldown.
Ability Name: Flow like water
Description: Ariel takes on a temporary water form, and gains a massive speed boost, speed is tripled for 3 posts. She becomes 5% weaker to lightning and ice attacks though. She also gains a 5% ressistance to fire. 2 post cooldown.  roots of the oak.
Ability Name: Roots of the Oak
Description: Ariel's skin turns to bark. She Gains a massive strength boost for 3 posts, tripling it for the duration. She is 5% weaker to fire and cold but 5% more ressistant to lightning. 2 post cooldown.  Does not work with flow like water.
Ability Name: Poison Spores
Description: Ariel creates a plant pod and throws it. It explodes harmlessly but unleashes a cloud of spores into the air. If inhaled, the spors cause the person to become ill, nauseous, and possibly start vomiting. It also causes phantom pains in the chest and lungs. They may caugh up blood. The effects last 2 posts, with a 3 post grace period there after.
Ability Name: Purity
Description: Ariel can clear water of all impurities. Besides now being safe to drink if it  was dirty, it has other benefits, such as curing people of poisons and infections. She can create one litre of this water every 3 posts, it can be bottled, but it loses any healing properties 100ft from her.
Ability Name: Roots
Description: A mass of roots and vines appear in a 30ft area and lash or grab at anyone close enough, trying to tangle them up and hold them in one spot. They have a pretty strong grip and are tough to cut away but with a sharp enough blade it isn't to much hassle. Or Just burn them.
Boosts:
Strength, stamina, speed, and durability x2, and spiritual energy x3
Bankai
New Name:
Ame Sakura
Appearance:
The blades of Ame Sakura have changed so that the right hand weapon is a curved blue blade, and the left is a longer curved green blade with a curved and spiked hilt. Ariel's outfit is very similar but the gauntlests are now a dark green and dark blue color, the plates of each edged with gold. The right shoulder pauldron is  adorned with sharp claw like spikes, while the left is a solid plate. The boots are now a copper/bronze color and the sides of her legs are armored in a similar material. Ariel is also wearing a long green scarf around her neck, and there are several chains hanging from her armor.
Abilities:
Ariel retains all former shikai abilities besides  Roots of the Oak and Flow like water.
Ability Name: Gift of the Sakura tree
Description: Ariel temporarily takes on both the effects of Roots of the Oak and flow like water, tripling both speed and strength. She gains no resistances to fire or lightning but does gain a 10% weakness to cold. 3 post duration, 2 post cooldown.
Ability Name: Gyro Jet
Description: Ariel fires a specialized jet of water spinning at high speeds. It tears away at anyting around the area of the body it strikes, giving an increased damage and piercing power. It does two cero worth of damage but can pierce through strong hierro/armor. The water used is infused with energy and can't be manipulated until its stopped moving. 3 post cooldown.
Ability Name: Branch barrier
Description: A small tree sprouts from the ground and rapidly grows into a dome shaped barrier made of intertwining branches. The barrier is strong enough to stop an attack as powerful as a cero oscuros. 4 post cooldown.
Ability Name: Steam Pod
Description: Ariel throws a plant pod that explodes super heated steam in a 30ft area, causing burns to anyone caught in the blast. (excluding her) The steam then condenses into a heavy fog lowering visibility in the area.. This has the power of a cero. 1 per post.
Ability Name: I am Groot
Description: Groot is a sentient plant based life form. He is highly intelligent but considered dumb because his apparent inability to say anything beyond I am Groot. Ariel understands what he's saying atleast. Groot is a very protective but freindly creature. He happily does Ariel's bidding as long as it doesn't harm innocents. He is 6ft tall but can grow larger.
Abilities: Groot can manipulate his root like body and use it to  attack and defend. His limbs can stretch up to 10 feet and while limbs can be cut away they grow back rapidly and are very tough. They can also become sharp enough to pierce through thick hierro and armor, or grow out to form a shield. Groot posesses immense physical strength but isn't that fast. He is 3 tiers lower than Ariel and is considered a Bankai level fighter.
He is weak to fire by 50%, but also 50% ressistant to lightning. Groot can use all of Ariel's plant based attacks except Roots of the Oak.
Special attack – Plant force cannon: Groot roots his body into the ground, and rapidly gathers energy from the enviroment, plants, trees, flowers, grass and the sun, inside his chest, then fires it as an attack as powerful and fast as a cero oscuros. He can direct its path and manually control it in tracking a target, but he cannot move from the spot he fired it from and if he loses sight of the attack it simply flies off in a random direction and explodes. He can only use this once every time he's summoned.
Duration: He lasts for 5 posts before vanishing. 3 post cooldown.
Boosts:
Strength, stamina, speed, durability and spiritual energy x3
Inner Hollow
Appearance: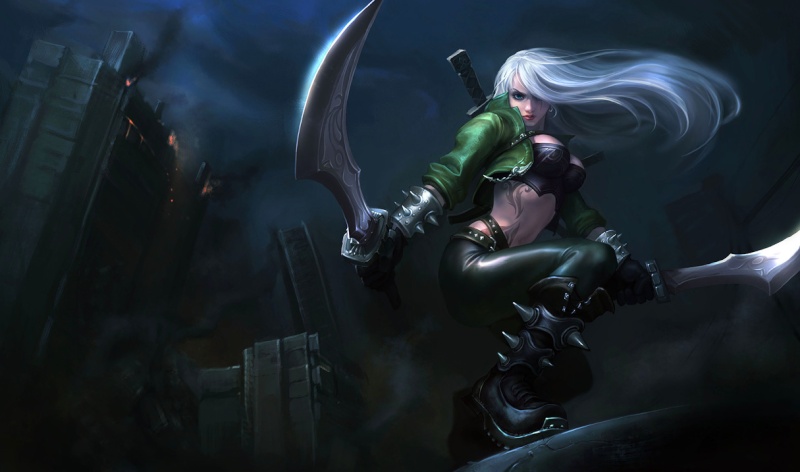 She is an exact copy of Ariel, wearing slightly different clothing, and has white hair, and blue eyes. She even has the scar over her left eye.
Personality:
Ariel's inner hollow goes by no name. She does not just resemble Ariel in appearance, but also personality. They have basically fused mentally, though they are seperate entities in her inner world. The nameless hollow is the origins of Ariel's uncontrollable anger, but the hollow has actually calmed down since it first appeared within Ariel, due to Ariel's influance on the hollow.
It was their time sealed together that allowed such unity to form. Despite all this, Ariel and the hollow barely communicate, since they tend not to need to. The nameless hollow also doesn't seem to have any intentions of taking over Ariel's body since they share it so closely there's not much point. It doesn't stop Ame Sakura from resenting the hollow and also not trusting it.
Mask
Appearance:
A full face mask that reaches up at the top with root like protrusions. The lower part is smooth and fits close to the face in shape. Two green stripes run up the left side while a good portion of the right side of the mask is blue. The rest of the mask consists of a stark white color similar to most vizard and hollow masks.
Abilities:
Boosted Spiritual energy: Her spiritual energy multiplyer increses by 1 when she's wearing her mask, so if she's in standard form and puts on her mask it increases from x1 to x2, and when she wears her mask in shikai or bankai it increases from x3 to x4.
Hollow Powers:
Cero: Her standard Cero, they pack more punch than the cero of others her tier because of her vast spiritual energy.
High Speed Regen: Her high speed regen is quite fast, often healing bad wounds within two posts of dawning her mask.
Ability Name: Super Nova Cero
Description: Ariel is capable of firing a cero of serious size and power when she's wearing her mask. The cero is as powerful as two cero oscuros and as fast as a gran rey. It only has a 50ft blast radius so is a very concentrated destructive attack. This is by far her most powerful attack including anything she has access to in her full Vizard Form. It has a 7 post cooldown and can only be used twice a thread. After the first use it cracks her mask in half, and once its been used a second time it shatters her mask completely regardless of the remaining time.
Full Vizard Form
Appearance:
She looks much the same, but her vizard mask is fused to her face and split across the mouth in a wicked grin. Her hair is tied back and still red and very long. She has wings that are wrapped around her body after the transformation for only a moment as they are shed almost instantly after her transformation. Bronze armor decorated with spikes and skulls cover most of her. She is wielding two identical bronze like blades that are coated in a powerful blue energy.
Abilities:
High speed regen: Her high speed Regen is even faster now.
Hierro: She now has a strong hierro. This does not stack with her previous tough skin caused by her high spiritual pressure. It replaces that.
Cero: Her Cero now pack even more punch. She could fire up to eight at one time, but the drawbacks to  doing so are obvious since that would use allot of power even for her.
Ability Name: Super Nova Cero
Description: Ariel can use super nova cero in her Full Vizard form. It still has the same restrictions of two uses per thread and Taking this form does not reset the cooldown or use allowance. It does not boost the power either.
Ability Name: Raw blades
Description: The energy surrounding her weapons creates a powerful cutting effect, aiding her ability to cut through things. This effect pulsates rapidly and is active for one out of  every two posts. When it is active it can cut through almost anything, but when inactive the blade are quite blunt and better suited to clubbing someone with.
Ability Name: Energy Bolt
Description: A bolt of energy fired from one of her swords. Similar to a cero in speed and power if the target is hit they will lose control of their reiatsu for 2 posts, making it hard to form energy attacks, and there is a 50% chance any ability they use will simply fail or back fire. 3 post cooldown
Ability Name: Nova Beam
Description: Ariel sweeps a blue pulsating beam of energy across the battle field, equaling to a Gran Rey Cero in power. It has a length of 50ft and lasts long enough to be swept in a 90 degree arc infront of her. 3 post cooldown.
Boosts:
Strength, stamina, speed, durability and spiritual energy x4
Back Drop
Background:
She was born into a noble family in soul society. If she had a human life, she sure as hell can't remember a bit of it. She does remember the easy life she had growing up in soul society compared to some poeple. Back then, she even cared about their strife. Even at a young age, people spoke of her spiritual power. Some even feared her. As a noble born, her destiny was sealed, she would be a shinigami.
Her young life consisted of rigorous study. She was thought to fight and lead, to be studious, subservient and obiedient. Her parents had high hopes that she would one day become a captain of the gotei when she was strong enough. Ariel had different plans of course. Many nights of her young life before the academy were spent sneaking out into the rukongai to live like a normal child. She wanted to help the people in need, though there was not much she could do to help them beyond stealing money from home. She spent allot of time playing with the street rats, who enjoyed her company but resented her easy life.
One night though, her spiritual energy drew a hollow to her and it attacked everyone around, hurting innocent people who came between her and the hollow. Out of anger she focused all of her power on it and crushed the hollow into the earth, killing it but also causing considerable damage. She was noticed though, and besides the outrage she faced from her parents she was also forced to join the academy, to learn to control herself. There she met Kayn, a young recruit who she became good freinds with. Kayn was her partner in crime, her best freind. They did everything together. He was terrible at sword fighting, but he was one of the most promising kido users around.
Ariel was the opposite, though she showed masterful control over her energy she couldn't form a kido to save her life. She did pull off a few other tricks that impressed the higher ups though. She accelled in the use of her Zan and discovered Shikai before she'd even graduated. Her first years with Ame Sakura were nice, they trusted and understood each other more then than they would come time as the years passed.  When she graduated, she was asked to take more time training and join the Special forces, while Kayn was recruited into the kido corps. She accepted, happily.
When she returned a fully trained, powerful officer, she reconnected with Kayn, but found he'd become so cold towards her. Something had happened to him, and he never explained. Despite that, they stayed relatively good freinds. Finally back and free, she could set her free time aside to help those in the rukongai as best she could. She had money, so allot of that went to any cause she could find, and since her parents continued to support her because of her officer position she still had no worries or troubles surviving.
Even than, she was very powerful for a normal seated officer, but the special forces kept her talents hidden to avoid loosing her to another squad. So she never became a captain, and was generally underestimated by many people. Not long after her return she met Akihiko Iyou for the first time. She'd always heard stories of his terrible use of kido in the academy, a trait they shared in common, but she had never met him before then.
They became very good freinds. She always enjoyed his pranks and tricks, even the ones he pulled on her. His freindship was welcome, because a few years later Kayn cut communications with her completely, a blow that left her rather saddened. Ariel and Aki trained together allot, honing thier skills in battle with each other. It was thanks to his guidance and training that she unlocked her Bankai at all. She was 341 at the time. Twelve years later, when she was out on a rutine mission, she was attacked by something.
Ariel woke several hours later after a cold knock out. She found Kayn standing over her casting a healing spell. When she worked up the energy to ask what had happened he'd explained how she'd been attacked by a hollow, how he'd been nearby when it happened. It didn't make sense but she accepted it. He helped her back to the Seireitei and gave his full report.
Somewhere close to 50 years passed before the first incident. In the throws of battle, after recieving an injury from a hollow,  a mask suddenly formed on her face and Ariel went berserk, shreading the hollow and the rest of her team. She left nothing alive, passed out and awoke hours later. Unfortunately, Ame had no answers for her, though she seemed to be hiding something. Since the spirit spent all of her time in Ariel's inner world, it made sense that she knew everything thhat happened it. But she did not tell Ariel. A few years later it happened a second time but she'd been on a mission alone at the time, and there were no casualties.
The second time it happened she made contract with another being in her inner world. Ame had no answers for her. She had no idea what to do, and went to see Aki about it. Only he wasn't home. So she went to Kayn, since he'd saved her life. He knew instantly what the cause was, that she'd obtained hollow powers, but he promised to keep her secret.
He did not, however. Hours later she was apprehended by secret service forces and several members of the kido corps. Kayn was there too. He'd completely betrayed her. Back then the charge for obtaining and using the powers of a hollow was the death penalty. This outraged many people. Because it was central 46 who declared this. Akihiko was particulary furious, and tried his best to help Ariel.
But they hadn't expected Ariel to escape the nest. They'd down right underestimated just how powerful she was and failed to take proper precautions. In her time in prisoned, a deep and powerful anger took hold of her. Anger centred on central 46. She was furious by they're disregard for her life, how easily they threw her away once she become useless. She broke out of the nest killing many of her former comrades in the process, and turned her eyes on Kayn and the Central 46. She was intercepted by two unknown shinigami, a captain and vice captain, on her way to Kayn. She was forced to kill them. She never managed to locate Kayn, so she stormed the meeting room of central 46 and attacked them.
One by one she began to crush them with her spiritual energy, but she only killed six of them before Aki arrived to stop her. It was a terrible fight between best freinds, and when he finally subdued her she was sealed by the kido corps before she could cause any more damage. They moved her jail to  the deepest depths of the maggots nest, and put under constant guard. Her Zanpakuto were taken and destroyed. This was when she was 421, ten years before Kayn's experiments with hollofication were discovered and he was arrested no thanks to Akihiko. Twelve years after that Aki was arrested for a prank. Maybe Central 46 hadn't gotten over him trying to stop Ariel's execution. It didn't matter to Ariel when she was finally freed by the maggot leader.
During her time locked away, she was concious in her inner world. At first she faught her inner hollow, though it was difficult because it never revealed itself. But slowly she came to agree with it and merge with it until they shared a very similar personality. Her Zanpakuto spirit was cautious of this union but for the most part she kept it to herself. They weren't going anywhere after all, might as well get used to it.
Allot had happened in her 446 years trapped within her bindings. Between Aizen and the arrancar, all of the events of the war on heaven, the fall of the gotei, when she finally awoke she was confused, but pleased. She was happy about the fate that had befallen her jail keepers. She was thankful of the person who freed her, but her mind was set on revenge against Aki and Kayn, who gotten free after the fall. Foolishly he hadn't tried to kill her when she'd just woken up and was weak, though she never gave him the chance anyway. But she didn't attack him either, the maggot leader liked him around.
So she waited, and waited. She didn't fight the shinigami who were still in soul society even when they crossed her path on an intel gathering mission. She simply let them go. Since they didn't stick around to bother her she had no reason to worry about them. Revenge would soon arrive in the form of a shinigami war party, come to take back their home. The Maggot leader rallied her forces but Ariel never entered the battle. She sensed Aki there, but had no intention of fighting him when she was likely to die. She knew well enough that he'd make it through the fight.
Instead, she went after Kayn who was picking on some small fry shinigami, proving just how weak he really was, and blew him to bits with her super nova cero. He hadn't stood a chance, really. He was never a match for her since despite all his kido he was no where near her power. She fled into the human world after, overwhelmed by joy for the revenge she had finally gotten. And she'd been told revenge wasn't worth it. Who ever had told her that was a liar.
Side Notes:RP Sample: