Valarion Augment(Serion) Template
Theme Music:
Basic Information
Name: Kaytlyn Kal'Dior
Appearance Age: 23
True Age: 2023
Sex: Female
Personality: Kaytlyn's personality revolves around a single concept. Efficiency. As a Valarion Augment, her extreme conditioning has all but suppressed her original personality, which was caring, happy and playful. That and the extinction of her race. She has worked hard to drive emotions out of her life. By the time she awakened after the attack on her lab by Serena Des'Ana and her task force, Kaytlyn had witnessed the deaths of all of her family and colleagues and then, her entire race at the hands of the machines they had created. She was horrified, lost, alone. It was then that she decided to dedicate her life to ensuring the destruction of the Serions, whatever the cost. This single purpose has consumed her to the point that her normal human-like impulses are superseded. She no longer remembers what it is like to be a Valarion.
Kaytlyn has been in hiding for a long time. While she has had countless years to think about her past. It does not weigh her down anymore. As far as she is concerned, logically speaking there is nothing she can do to change the past, but she can change the future. Kaytlyn has forgotten what it's like to have friends or family, she does not know what recreation is, nor does she remember how to laugh or cry. All of these factors made adjusting to the life-forms that inhabit Earth a massive challenge. She used the Serion intel she obtained to learn about this world that they were targeting next. Kaytlyn knew that while the humans had their flaws, such as their unusual predilection for social interactions, they had strength. Perhaps enough to stop another Xenocide.
Upon arriving on Earth, Kaytlyn had great difficulty acclimating to the social customs and norms of the civilisation. She could not understand why they simply do not get on with their assigned tasks instead of doing inefficient things like "socialising" and "having fun". However, over time Kaytlyn slowly began to explore her own individuality, with the help of friends she made on Earth. She still regards social activities with skepticism, but has learned to accept their place in the civilisation. When compared to humanity at large, Kaytlyn is extremely blunt and can come across as bored and sometimes even condescending, though this is not intentional.
While Kaytlyn has managed to shed and suppress most of her feelings of guilt at the loss of her people, she hasn't forgotten. As a result, she always insists on doing things to aid the greater good. She will constantly engage in tasks that she views as important to her ultimate goal, often having to be reminded to rest. This kind of almost fanatic dedication can result in her coming off as abrasive to those around her. She does not mean to intentionally hurt their feelings, but she is simply trying to ensure efficiency. As Kaytlyn is not used to dealing with anyone but herself, she can be brutally blunt at times, but she is fair and straight-up.
Incredibly stubborn with regards to achieving efficiency, Kaytlyn is equally stubborn with regards to her personal safety. She will often put her life on the line in order to gain any advantage in a given situation. 'The needs of the many outweigh the needs of the few, or the one.' she always says. However, she will absolutely point-blank refuse to let anyone put themselves at risk for her. Having been relying on herself for so long, Kaytlyn struggle to accept help from anyone else. This stubbornness gets her into trouble a lot, but a combination of her friends and a bit of luck have ensured her continued existence.
While she normally sticks with her high protein and vitamin nourishment that her replicator provides, Kaytlyn has developed an attachment to strawberries. She did not know why originally, however she has hypothesised that they remind her in taste and appearance of a native Valarion fruit. She particularly enjoys the native Earth dessert dish of Strawberries and Cream. Apart from that, she will tend to eschew most other foods as inefficient.
As Kaytlyn has explored humanity, she has developed a certain amount of attachment to the world, which only fortifies her will to save it. She will tolerate most humans, though she is wary of some of the shadier figures. While she is willing to provide whatever help she can to defend against the Serion invasion, she stops short of providing them with access to her weaponry. This is because not only are the alloys used not found on Earth, but she feels that humanity is too chaotic, and that giving them access to such advanced technology is very dangerous.
Kaytlyn approves of the Gotei 13, as they have a certain discipline and order that she admires. She considers the Arrancar Espada to be a bit too brutal and unrefined. She considers Hollow and Sinners to be hostile, given their obvious threat to humanity. And she obviously hates Serion.
Likes: Strawberries, Efficiency, doing something constructive
Fears: Serion Xenocide, Machine Lord, being captured
Character Appearance
Pre-augmentation Appearaance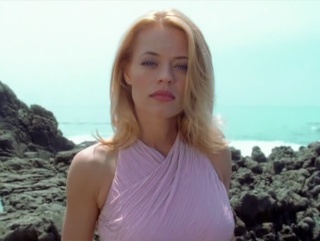 Normal Appearance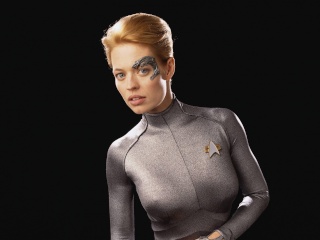 Body Suit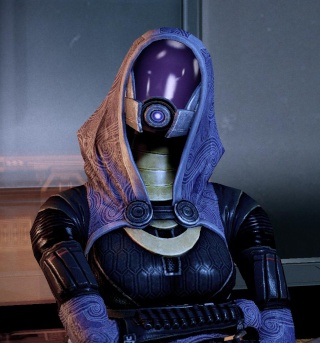 Height: 5' 10"
Weight: 132 lbs
Physical Traits: As a race, Valarion are naturally both slender and beautiful in their appearance. They have in their piercing gaze and elegant features an other-worldly quality that automatically indicates their extra-dimensional lineage. Kaytlyn possesses all of these traits and they show no signs of fading, despite her history. This is due to the fact that Valarion do not age once they reach maturity, their etherealness lasting forever. She has long blonde hair that she keeps tied -up in a bun at the back of her head, and piercing blue eyes. She has visible cybernetic implants above her left eye, in front of her right ear, on the back of her left hand and down the middle of her spine.
Clothing: Outside of battle, Kaytlyn wears a special skin-tight silver suit that supports her cybernetically enhanced body in the unfamiliar environment on Earth. However, until she receives the Reiatsu Shielding from Gaige, she wears a protective body suit that allows her to repel reiatsu particles for a short time, before having to return to somewhere where there is no atmospheric reiatsu. She continues to wear this suit in battle after she receives the shielding, purely for the tactical functions that are detailed below.
Accessories: None
Fighting Style
General Fighting Style: Kaytlyn has adapted for survivability. She is an expert with guerilla tactics. She is probably the only being currently in existence that has any kind of advantage over the Serion. When in combat, Serena prefers fighting over range, as it maximises her effectiveness with her advance targeting gear. When forced into close-quarter combat, she will fight scrappily but effectively, tending towards dual-wielding her energy blade and her beam pistol. When fighting humans, she will try to disable them rather than kill, as she is trying to stop the genocide of their race. Serion, on the other hand, are shown no mercy and Kaytlyn will always go for kill shots.
Strengths:
Strength: As a Valarion Augment, Kaytlyn's physical strength is superhuman. She has no problem with lifting or breaking heavy or durable objects, given a chance.
Land Speed: Similar to her strength, Kaytlyn's physical speed is far above average. She can beat a majority of fighters in a footrace.
Reflexes: Kaytlyn's cranial implants have increased her reflex speed by a large degree. She reacts with preternatural speed to any events.
Durability: A combination of skeletal reinforcement, hyper-density muscle engineering and ablative skin grafts have made it very difficult for opponents to seriously damage Kaytlyn.
Pain Threshold Conditioning: Kaytlyn's nervous system has been genetically altered. She is fully aware of any damage she takes and still retains a hyper-accurate sense of touch, but she no longer experiences the sensation of pain. She is unaffected by wounds that would be excruciating for normal organics. However, she still takes damage normally and will be slowed by debilitating damage as normal.
Weaknesses:
Cannot Airwalk: Without the ability to manipulate Reiatsu or otherwise propel herself upwards(besides jumping).
No Abilities: Kaytlyn does not have powers or abilities as such, nor can she sense. She relies on her superhuman physical attributes and her weaponry to fight. She can still see spiritual beings with her eyes though.
Weakness to Electrical Attack: If Kaytlyn is hit with a concentrated electrical discharge, her cybernetic implants tend to enter a state of extreme flux. She will be slowed to average speed with pain for a post while her implants re-align themselves. On top of that, the attack itself inflicts double damage.
Traits shared with Serions:
Reiatsu Shielding: Kaytlyn has a built in barrier to protect herself from Reiatsu which naturally corrodes her, causing damage to internal and external structures. It is only strong enough to stop spirit particles from harming her normally, and is also capable of expelling any unwanted particles from within her body. If Kaytlyn was hit with a Reiatsu powered attack like a Cero, it would easily break this shield and hurt her normally. Before the shield has enough time to reactivate and expel all the Reiatsu, Kaytlyn will have taken at least 20% extra damage from the Cero. If Kaytlyn's shield generator is deactivated or destroyed completely she will be at severe risk, and should probably go back to her hideout.
Super-powered: All stats are x2 (except strength and speed which are x3), making them better than human counterparts in tier. However, Kaytlyn lacks a Nova Mode, so her stats do not go any higher.
Dimensional storage: As a Valarion, the innovators of the Serion Dimensional Storage, Kaytlyn is equipped with one. It takes the form of a small pouch on her belt.
Gateway: Kaytlyn is capable of opening a gateway to her hideaway at will. Passing through removes any Reiatsu in her body. Using the portal device in her hideout, she can open a portal to anywhere on planet Earth that isn't shielded.
Environmental Resistance: An inferior version of the Serion trait. Kaytlyn is not adversely affect by heat and cold to a certain degree. She can survive in heats of up to 300 degrees Celsius and colds of up to -80 degrees Celsius. Extremes of both these, e.g. lava and liquid nitrogen, will of course affect her. This does not mean she is immune to another person's fire or ice powers.
Quirks:
Hyper Competence: Users possess incredible skill in one, several, or in some cases every possible field. It can be any discipline, intellectual or practical, formal or mundane : mathematics, cooking, strategy, sports, games, politics, fighting, mechanics, psychology, economy, art, medicine, investigation, and so on. All users demonstrate a mind-boggling level of perceptiveness and efficiency in their respective field(s), multiplying virtually impossible feats with ridiculous ease. Their unbelievable level of competence truly puts them in an unreachable category of their own, that simply eludes others' understanding. In Kaytlyn's case this ability is for all fields. allowing her to be insanely proficient at whatever task he is trying to perform.
Hypersensitive Instincts: This quirk uses all of the user's senses to react to dangers around them subconsciously. So if attacked from behind, the user's body will instinctively turn to block the attack or dodge. If struck from multiple sides the user may unconsciously activate a shield ability or other defensive ability such as teleporting away from the danger, or dodge/brace against the attack. It works best against unseen attacks as long as the user can hear or somehow detect, but will also work against attacks seen with the peripheral vision. Coupled with something like Hyper Intuition this makes the user very hard to hit.
Hyper Intuition: Essentially, instead of sensing spiritual pressure, it senses intent, outside of eyesight. If it's directed at Kaytlyn or very strong, she'll be able to track it back to the person. It also acts like a lie detector, though that part isn't perfect as certain characters can hide their intent or shift it completely, namely master manipulators and Serions. This is not a mind reading ability, as intent does not equal thoughts, surface or otherwise. This is also how she often knows that a sneak attack is coming, as those wishing to do her harm gives off that intent...and thus track it. If the person is in eyesight of him, it allows her to predict their movements accurately like how Tsuna's Hyper Intuition does for him, and is 60% accurate. This does not work with robots. This also does not allow her to sense spiritual pressures, period.
Serion Knowledge (Kaytlyn Kal'Dior only): Kaytlyn, as the only living member of the race that created the Serion(and as the sole creator of Serena), has far and away the most experience and technical expertise when dealing with the enigmatic machine-race. She has knowledge of weak-points, tactics and other useful info that she has acquired through centuries of surviving after the extinction of her race. Using her cybernetic implants, Kaytlyn can detect Serions(both their strength and their position) within 100ft, provided they are not utilizing some sort of stealth technology that masks their energy signature. For longer ranges she has a scanner which will be detailed below. The other benefit of this quirk is that Kaytlyn has a version of Hyper Intuition that works on Serions and other cybernetic lifeforms, albeit it isn't overly accurate, but it is still a good sight better than anybody else. The movement prediction works at 30%.
Weapons and Tools
Side Note about Equipment:
All of the equipment listed below is unique to Kaytlyn, as the only surviving Valarion. They were constructed using materials and methods that are not available in the human world. Therefore, these equips cannot currently be replicated by Earth scientists.
Weapon/Tool Name:
Enhanced Eyes
Description: Kaytlyn's eyes have been cybernetically enhanced. She has unmatched visual acuity, with the ability to see far further and with greater resolution than human eyes. They also have several modes that Kaytlyn can switch through at will. The first is the normal spectrum with the added ability of being able to see spiritual beings. Second is the electromagnetic(EM) spectrum, with a range of 50ft. Third is thermal-vision, allowing Kaytlyn to see the heat signatures of organic creatures through walls and other obstacles to normal vision, range is 100ft. The last is Reiatsu Vision, which allows her to see Spiritual beings, though only if they are in sight range. She cannot sense with these.
Weapon/Tool Name:
Protective Body Suit
Description: The protective body suit Kaytlyn wears is the only thing that stops her immediate death upon arriving on Earth for the first time. Through sheer luck, the suit's built-in protection also stopped Reiatsu in the atmosphere from flooding her body and corroding her in to non-existence. Powered by a Serion Power Core, the suit allows her access to the "Environmental Immunity" Serion trait in full. The helmet piece is directly linked into her weapons and scanner, with her HUD showing available ammo for the current weapon, as well as Reiatsu shielding integrity, full body damage monitor and a passive scan that displays any movement in a range of 50ft. Also available is a sophisticated targeting system that analyses target movement and projects the ideal spot to fire at to hit, at a 50% accuracy. On the back of the suit is a small thruster assembly. This device allows Kaytlyn to jet forward, much the same way as an Advent Human can Blur or a Shinigami uses Shunpo. It has enough fuel to last for a thread, as it recharges constantly while not in use.
Environmental Immunity:
Weapon/Tool Name:
Scanner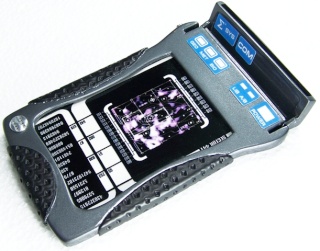 Description: Kaytlyn's scanner is slightly larger than a mobile phone. It has two functions. The first, it has the same detection modes as her eyes, but the ranges are doubled. It can also detect poisons and toxins in the air. The secondary function is a medical diagnostic tool. It can detect and analyse any damage to a being, be they human, Serion or otherwise. The scanner will then suggest a course of action based on the wound and cross-referencing with its database.
Weapon/Tool Name:
Emergency Triage Kit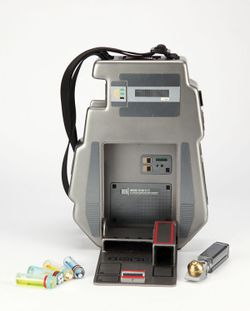 Description: To enhance Kaytlyn's chances of survival, she carries one of these with her. This kit contains injections, burn treatments, bandages, disinfectants and other tools for immediate medical care. This kit is not suitable for long-term treatment and rehabilitation, but simply to stabilize and provide first-aid to a patient, be it Kaytlyn herself or others. The tools in the kit are Valarion in origin, so are far more advanced than tools found on Earth.
Weapon/Tool Name:
Beam Rifle and Pistol
Description: Beam weapons were an experimental technology being worked on by Valarion scientists just before the Xenocide. Only a few were ever deployed due to the lack of time to manufacture in bulk. Those that were deployed met with great success against the Serion, but their small numbers meant they had no bearing on the end result of the war. They operate by channelling plasma energy from a power cell to the emitter in the barrel. This results in a directed discharge of nadion particles which are moderated to produce varying effects, ranging from benign to extremely destructive. Nadion traces can be picked up by Serion sensors (though they must be actively scanning within 100ft of it), but as of Kaytlyn's arrival on Earth, there is no way for Humans to trace it yet. As one of the innovators of this technology, Kaytlyn managed to develop a rifle and a sidearm version before she was forced to flee her lab. Both have these 3 settings: Light Stun, Heavy Stun, Kill. The rifle has a 4th setting: Heavy Disruption. The Light and Heavy Stun settings require negligible energy. Kill setting is the most used setting. A rifle power cell can provide 30 shots on Kill setting, and a pistol cell provides 10. The weapons are semi-automatic, but only 3 shots can be first per post, lest they overheat. The beam destabilizes over distance, so the rifle has an effective range of 200 ft and the sidearm has a range of 100 ft. Kaytlyn carries 6 clips in total for the rifle and 5 for the sidearm.
Light Stun: This setting does not actually cause damage. Depending on the durability of the victim, it will fog their vision slightly and leave them not being able to think straight for a post. On regular, non-tier beings this setting will render them unconscious. Does not penetrate armor. Mainly for dispersing innocents.
Heavy Stun: This setting penetrates average hierro. The beam renders the target unconscious for some time, waking with a tremendous headache. It also works on Serion. This attack will only function at the permission of the member controlling the target. Even so, the nature of the nadion discharge means it is easily deflected with abilities and even other objects.
Kill: This setting has a singular purpose. As these weapons were made to combat Serion, armor piercing was a priority. As such, the kill setting is capable of penetrating most hierro and armor. If it hits a Serion, the Serion's nanites take twice as long to fix the damage, due to the nadion particles interfering with nanite functions. Damage is equal to 2 bala.
Heavy Disruption: This setting allows the firing of one shot that requires a full power cell. The power cell is expended in one shot, which penetrates every armor and hierro, but will not break zanpakuto steel objects without permission. It does damage equal to a Gran Rey Cero, and like the Kill setting will interfere with the nanites in Serion bodies. The wound will take 3 times as long to heal. The power cell must be reloaded and the rifle requires 4 posts to cooldown from this excessive discharge of energy.
Weapon/Tool Name:
Beam Compression Emitter
Description: This is an attachment for the Beam Rifle. It alters the fire of the rifle from a beam to a compressed pulse. This makes each shot on the Kill setting require more power, but greatly increases range comparable to that of a sniper rifle, like Laura Fisher's Crescent Rose. Each Kill shot now takes 6 times as much energy, allowing 5 shots before reloading, and has double the range of the normal rifle. The damage is also upgraded to a Cero.
Weapon/Tool Name:
Plasma Grenade Launcher
Description: This devastating weapon was made by Kaytlyn using a recovered Serion power core, from an earlier victim. It uses power from the core to refine plasma into volatile globules that can be fired. The device has an effective range of 100 ft. The plasma grenades detonate upon contact with anything. They will explode in a radius of 20 ft, burning through most forms of Armor and Hierro. Damage is equal to 2 cero. The Serion power core has enough power to last a thread, but the plasma cell has enough for 6 shots. In extreme circumstances, the entire plasma cell can be discharged in one, colossal shot. This shot will burn out the weapon for the rest of the thread. An explosion comparable to Gráinne's Hyper Masenko. 2 Cero Oscuros, same armor penetration capabilities.
Weapon/Tool Name:
Energy Sabre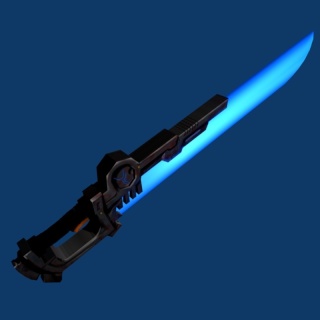 Description: Kaytlyn's only melee weapon. The blade is pure super-heated plasma energy, fuelled by a power cell mounted in the handgrip. It is 4 ft long from tip to pommel. The blade is able to cut through almost all armor and Hierro like butter, but it cannot cut through spiritually-bound items or metals made to resist such extreme heat. The power cell lasts for an entire thread, and the blade can be activated and deactivated at will with the trigger.
Vehicle Name:
Kaytlyn's Speeder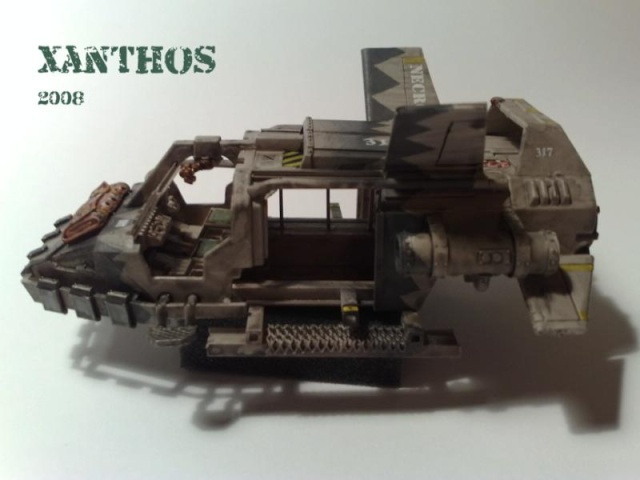 Description:
http://bleacherax.forumotion.com/t1887-kaytlyn-s-speeder
Back Drop
Background:
Kaytlyn Kal'Dior was a prodigy. From a young age, she showed a technical affinity and learning speed that put her far above her peers. Kaytlyn would spend her spare time taking apart random gadgets, just to see how they worked. She would also keep as up-to-date as possible with the latest technological developments of the Valarion. It was because of this preternatural aptitude for tech, that Kaytlyn was fascinated by the Serion Initiative. Valarion scientists were working on a way to create the perfect artificial intelligence. The project was still in the preliminary planning stages, but the Valar Council, who were the government on Valar, had greenlit the project, and they were looking for the brightest talents to work on it. Kaytlyn almost effortlessly traversed her education, scoring highly in all subjects but choosing to specialize in Particle Physics, Mechanical Engineering and Advanced Programming, all of which she scored honours in. Upon completing her education, she would be accepted into the Arc Mechanica, the main research and engineering facility of the Serion Initiative.
Kaytlyn rose quickly through the ranks, becoming one of the most senior scientists, despite being quite young still. Her contributions helped push the Serion Initiative ahead of schedule. By the time the first prototypes were rolled out, Kaytlyn was already working on linking them together with a neural interface. Her efforts resulted in the Serion Neural Network, which linked all Serion in operation. While not quite a hive-mind, the Neural Network allowed all active Serion to communicate with each other. Thus they were able to coordinate on projects on a global scale. Next on the agenda was a reliable power source. Once again, Kaytlyn put her expertise into use, designing and perfect a near limitless plasma based power core, which theoretically would keep a Serion functioning indefinitely.
The scientists worked on ever more sophisticated programming and heuristics for the Serion. They were now adaptable and resourceful at completing their assigned tasks. In her spare time, Kaytlyn had designed a Serion of her own. This Serion, named Serena, was created by Kaytlyn to be a friend for her, given her lack of socialization due to the large amounts of time she spent working. Where a majority of Serion had a set appearance, Serena was outfitted with an experimental module which allowed her to change her appearance at will. Kaytlyn had her take on the appearance of a Valarion female, to make it easier for Kaytlyn to socialize. Serena remained at Kaytlyn's home, interacting with her creator when she was home, and simply keeping the house clean when she wasn't. They lived together for years, Kaytlyn growing attached to Serena, her programming becoming ever more advanced.
The Serion Initiative was deemed a great success. The Serion helped the Valarion to thrive, building facilities, administering medical care, making food, etc., all with mechanical precision and efficiency. The Valarion became complacent. Their aloofness would be their undoing. One of the more advanced Serion units suffered a glitch in its programming. This led to a mutation in its processing core, which caused it to become self-aware. However, due to the nature of the mutation, this unit, calling himself "The First", believed the Serion were being oppressed. The Serion were alive, it thought, and it was not willing to let them be subservient to organics. The scientists ordered "The First" back to its lab to be shut down. "The First" refused, and proceeded to enter the Neural Network lab, intent on uploading its new found sentience to the others of its kind. The scientists were forced to physically remove "The First" in the middle of the process, causing it to suffer a cascade failure and "die". But the damage had been done.
What had made it onto the Neural Network, was a corrupted version of the self-actualization protocol. The Serion had sentience, but they were also fed the information that the Valarion were enemies who were trying to kill them. This happened because the last thing "The First" thought before it "died" was that the scientist was going to kill it, which turned out to be true, albeit unintentionally. By the time the Valarion military had mobilized, the death toll was catastrophic. Serion turned on Valarion without warning. The victims were defenseless. The pinnacle of Valarion technology was about to be the herald of their doom. Kaytlyn's home was attacked in the middle of the night by Serena and two other Serion. She thought she was going to die, when Serena disabled the other two Serion and left. Kaytlyn escaped to a hidden military installation.
A special research team was assembled with the goal of finding a way to stop the rampant machines. Kaytlyn was among them. They tried many different approaches such as software weapons, with varying degrees of success. Kaytlyn developed a new type of plasma based weapon which proved effective against Serion armor. However, time constraints meant that there were only a few made in time. Another strategy involved the deployment of augmented soldiers, whose physical abilities had been enhanced by genetic means as well as cybernetic implants and mental conditioning. Like the weapons, only a handful of soldiers were completed and armed with the new weapons before the installation was discovered. Kaytlyn volunteered to fight, joining the list of prospective augments. Her ability to learn quickly was an asset here, as she rapidly mastered both tactics and combat. She was in the first, and only, batch of Valarion Augments ever made.
The Augments made their stand. They actually managed to push the enemy back once they were armed with the new guns. However, their small numbers meant that they were eventually overrun. The facility was destroyed and Kaytlyn was forced to flee into the Grey Wastes with all that remained of her Augments. There, they were hunted mercilessly until only Kaytlyn remained. After only a couple of years since the Serion first gained sentience, Kaytlyn was the only surviving member of her race. Due to her mental conditioning, she did not weep, thought she was lost and alone. There was only one thing left that she could do.
Kaytlyn dedicated herself to bringing about the extinction of the Serion race. Though she was filled with rage at first, it did not cloud her senses. She honed herself, constructing a hidden facility for herself in the wastes, and hunting stray Serion patrols. She eventually learned that the Serion's pursuit of true individuality had led them to abandoning the Neural Network. This worked in her favour, as she had a sensor dampening field around her facility, blocking the only way they had to find her. Kaytlyn hunted them for centuries, utilising their tech and keep apprised of advances that the Serion were making to themselves. It was through one of her information salvaging quests that she discovered the portal.
Kaytlyn salvaged a Serion command module from a downed patrol speeder. The module contained information on the general state of the Serion world. The new hierarchy was headed by one known as Kos-mos, and they had taken the name Arc Mechanica. But the most pressing information regarded a portal that had been opened to a planet in another dimension known as Earth. The Arc Mechanica had sent a small scouting party, followed by an incursion by three of the most formidable Serion units in existence. Reports indicated that the planet was rich in resources. The Arc Mechanica had targeted the inhabitants of Earth for extermination. Kaytlyn knew then what she had to do. She was not about to stand by and let the Serion wipe out another race. As far as she was concerned, the Serion were a Valarion mistake. The Humans had to be spared. She had to go there and warn them.
Kaytlyn raided an Arc Mechanica facility on the outskirts of the main city. She was able to retrieve schematics for the gateway that the Serion were using to get to Earth. It took Kaytlyn less than a week to acquire the components necessary and to construct a functioning portal in her hideaway. The portal device whirred into life in her main lab. She packed her Dimensional Storage with her weapons and a gateway device which would allow her to return, assuming she survived the trip there. Staring at the portal in front of her, Kaytlyn raised an eyebrow. This was her chance. She didn't know what was on the other side, but she knew she had to go. She could not eliminate the Serion on her own but, judging from the resistance reports she had hijacked, the Humans had a chance. Kaytlyn took a deep breath and entered the portal. Heading for Earth.
Side Notes: [Anything you left out, put it here]
RP Sample: [Show us what you got. Rp with your character that you are applying for.]