Serion Template

Basic Information
Name: Rathia Des'Ana
Age: 23
True Age: 100
Sex: female
Personality: Rathia is a Serion subservient to the machine lord. She was built well after the fall of the Valarion by Serena. She only knows of them by pictures and stories she's collected from others, though she is greatly interested in them because Serena always spoke of her maker. She has always looked up to Serena and was devestated by the other Serion's betrayal. She does not understand the value of life, and so the destruction of humans is nothing to her compared with the continued existance of herself and her own kind.
Despite Serena's attempt to instill some of her personality into Rathia she failed since the thing that makes serion sentient cannot be controlled, and Rathia became her own person. That, and Serena could not transfer the gift Kaytlyn had given serena, memories of being happy and more advanced ai than other serion had before all were made sentient.
She has a very strange personality. She acts familiar to people she's never met and engages in light chatter mindlessly. She never seems to take anything seriously, however there are times where she is very serious, and all gentle playfulness vanishes from her voice. Despite this she never displays signs of anger or hatred.
Rathia is a strange serion. She likes to make others into her pets, and keep them around for a long time. She will often take control of serion to scout the human world. Since she doesn't target powerful serion, the machine lord doesn't have a problem with her activities. The weaker serion have grown wary of Rathia and most scatter when she appears.
Rathia has spent as much time studying humans as Serena has, however she developed an interest purely because she desires to take herself an organic body, to experience what it would have been like to be a valarion. She developed her replication nanites so that they could also take over the body of humans and allow her to wear their bodies. Its the closest she's ever gotten to succeeding in her goal.
Likes: Being a good serion, doing her master's bidding, flying
Fears: Serena, Kosmos, Kaytlyn. (she fears Kosmos the most)
Character Appearance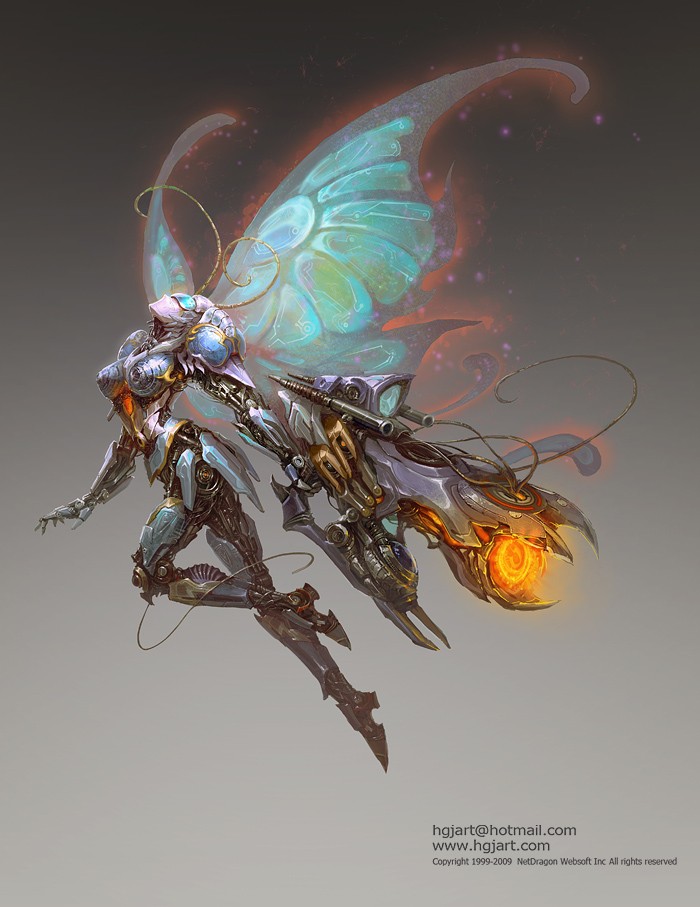 Height: 5'6"
Weight: 170lbs
Physical Traits: Rathia has a lightweight body. Her face is feminine in shape though it lacks a mouth, and her eyes are thin curved lines of blue light, however when she is serious or angry, they turn red to reflect that. She is lightly armored and obviously mechanical, with a pair of energy wings shaped like butterflies wings. It is Obvious that her design was influanced by a butterfly. Her voice is light and happy, with a slight robotic reverberation to it. When she becomes serious it gains an edge of anger. Her body is colored a mix of light blue and silver with hints of gold. A red glow emenates from under the plates of armor covering her sternum.
Clothing: none
Accessories:
Fighting Style
General Fighting Style: Rathia tends to stay out of direct combat, instead opting to infect several serion or humans and send them into the frey instead. Despite that she is fast and quite strong, though her armor and powercore are lacking. Rathia is agile, her wings of energy allow for great mobility and flight. Rathia wont attack unless she's forced in to close range combat, or has entered nova mode where she has access to her bigger guns.
Rathia likes to take control of some npcs and cloak herself, then direct the npcs to attack her opponants. When she's weakened them enough, she will enter nova mode and try to finish off her opponants directly, or if she feels their to strong she simply flees. She takes a tactical approach to combat. She tends to try set traps or lead her opponants into dangerous situations.
Despite her dislike of direct confrontation she is well armed for it. Her shield is perfect for keeping dangerous foes at bay, while her inferno spears allow her to attack from range and up close, and also come with the added benefit that they explode. She forgoes the use of energy weaponry and only has one ballistic weapon, her Gun lance. She tends to stay out of Nova mode until its really needed.
Strengths:
Master Lancer: She is a master in the use of both her Gun lance and spears, both with and without a shield. She deploys a quick powerful style that utilises both skill, and her speed and strength.
Speed: She is as fast as it gets for her tier. Her speed  is augmented by the energy wings on her back, along with her agility. She can easily turn mid sprint without slowing down.
Strength: For a machine that so closely resembles Serena's design, she is very strong. Not as strong as she is fast, but her strength is definately up there.
Hardened Armor Points: While her armor is lacking in most places, she has several areas where it is  near unbreakable. The first area is her hands, up to the elbow joint, not only uncuttable this area is super resistant to heat, and rathia could submerge her hands in lava for a few seconds without taking damage.
The second point is her lower legs from just above the knee all the way down. Again, this area is extremely resisitant to heat too. The third point is the area on her back that Emits her wings, this stops her wings from being destroyed by damaging her back.
Weaknesses:
Energy supply: Her core is a little weaker than other serions. She goes into low power after 8 posts of combat, for 3 posts, compared to the usual 10.
Durability: She's not the toughest of Serion. She lacks armor to allow for greater speeds and the abilty to fly, and so she cant take as many hits as other serion before she needs to repair or consider retreating.
Armor: her armor is severely lacking in all places except the hardened Armor points mentioned in her strengths. It is well below average, and though her internal structure is tough as with all serion, she might as well be human when facing down blades and bullets.
Uncontrollable Final: since the nature of her final's activation is the way it is, it can be activated without her intention, which can cause problems for her since once it starts she can't stop it. This can lead to accidents and she tends to avoid using nova mode especially in storms and around lightning users unless she means business.
Weapons and abilites
-Utilities-
Ability/weapon Name: High mobility Energy wings.
Description: When activated, usually in combat situations or just to fly, Rathia has increased mobilty and the ability to fly through the air at very high speeds. She is the first serion to be built with such a set of wings. These wings cant be destroyed, since physical and none physical things mearly pass through the energy. That being said, they also cant harm anyone.
Dash: Rathia can use her wings to emits bursts of speed that allow to move as if she used shunpo. She can do this on the ground or in the air but only when her wings are active.
Ability/weapon Name: cloak
Description: Rathia can use a cloaking device to change her appearance. The appearance change is only holographic, meaning touching her will allow someone to figure out she's actually not human. She generally only uses this to scout, take over a human, or get close to someone without them noticing. Its not flawless either, sometimes the image will distort or twist, and its not nearly as good as Serena's disguising methods. It does however hide her Energy.
-Weapons-
Ability/weapon Name: Combat Shield
Description: Rathia has access to an incredibly hard shield designed for use in combat. It is a strong as Zan steel. It is a round shield with a diamater of two and a half foot and is made of solid metal. It has a slight angle to it. Bullets deflect easily from it and if she angles it correctly she can deflect them right back at the shooter, though with little accuracy. Rathia is proficient with this weapon in both her left and right hand. It has a razor sharp edge and can be used to slash, as well as capable of being used for a shield bash, and has a built in miniature power core that allows rathia to create an energy shield.
Energy Projection: Rathia can Project a powerful shield of energy from her shield, one that spans a 6ft radius. When this is activated it can block up to a gran rey cero in power. 3 post cooldown.
Ability/weapon Name: Inferno Spears
Description: Rathia has access to a large amount of 5ft long spears made of the same materials as her combat shield. Each spear has a wide long blade on the top, about 6 inches long and two inches at its widest .They resemble boar spear heads. The spears have a miniature serion power  in the shaft of the weapon that heats the length of the weapon to extreme temperatures. The metal's alloy reacts to the heat in a way not normally seen, and instead of melting the blade, it is does allows them to cut through most things as if those things were made of butter. This does no damage to Rathia who's hands have been designed to withstand the heat.
Rathia can throw these spears through solid brick walls, leaving only a hole the size of the spear. Wounds made by these weapons are instantly cautorised. They can pierce through above strong armors and hierro. While anyone can pick up these weapons, they may find the handle incredably hot, resulting in nasty burns to their hands. They also cannot activate the secondary function of this weapon.
Self Destruct: Rathia can cause the power core of these spears to self destruct. She must be touching the weapon, and once activated, the spear head begins to glow with an intense light. She can then throw the weapon at a target. As soon as it impacts it explodes leaving very little of the weapon behind. The explosion has the same force as a cero. Any metal left is fair game for reiatsu in the air and begins to disolve.
Ability/weapon Name: Injector blade
Description: This is a one and a half foot long, thin blade capable of peircing almost any armor and hierro. It is built into Rathia's left arm. Besides being used to stab things, it can be used to infect npcs with Rathia's replication nanites and virus.
-Nanites-
Ability/weapon Name: Replication
Description: Rathia is able to infect npc Serion with nanites and a processor virus, allowing her to take control of their bodies. The nanites reshapes the Serion to look exactly Like Rathia, and the virus strips their free will and joins them to her with a Nueral link that stays connected across dimensions. These copies lack Rathia's wings, cloak and nova mode, but otherwise look exactly the same and have her injector blade. She can give them an inferno spear to use if she wishes.
She sees and hears every thing they see and hear, and can act through them, make them say what she wants and cotrols them with little concentration and effort on her part. They start at three tiers lower than Rathia, one being three tiers lower than her, two would be 4 tiers lower than her, and 3 would be 5 teirs lower than her. They share her strengths and weaknesses. The Replicated Rathia's can not spread the infection to humans.
She can infect up to 3 npc serions with this at one time. Each Serion she infects gains a new color. The first one is always Red, the second is always Green, and the third is always Black. She Referes to them by their color. When one is killed and she replaces it, it becomes the color that died. She can infect 1 per post. If one is destroyed, she can replace it a post later.
Ability/weapon Name: Human hi-jacking
Description: Similar to Replication, Rathia can infect human npcs with nanites. While she cannot change their appearance, the nanites can enter the brain, allowing her to seize control of them. She sees and hears every thing they see and hear, and She can speak through them, and control their actions with little concentration and effort on her part. As soon as she releases them, they die, all of the nanites left in their body self destructing. Its quite messy but not dangerous to anyone else. She can infect and control up to 6 humans at once. 2 of them are 5 tiers below her. 4 are six tiers below her. And 6 are 7 tiers below her. These humans are generally very weak, average in all stats, and Rathia will generally only take control of them if she needs a disguise, or a distraction. They cannot use her inferno spears, since the skin would melt off their hands if they tried to. She can infect 2 per post. If one is destroyed, she can replace it a post later. It should be noted that when she stabs someone, the nanites heal the wound fast so that its not fatal and they wont bleed out.
Ability/weapon Name: electronic Hi-jacking
Description: Rathia can infect just about any electrical object with her Nanites, allowing her to take control of the infected object. She can easily use this to hack into computers, or take control of turrets, cameras and other defense systems. Rathia has a smaller injector blade built into both index fingers, so that she can inject nanites into these objects more safely and without punching a hole through them, one that would likely end up breaking those machines.
Nova mode
Nova Mode Appearance:
Same as Above. She cab Use all previous tech and abilities.
-Utilities-
Ability/weapon  Name: Pull them through
Description: This ability uses a modified dimensional device serion use to travel between Asenda prime and earth. However unlike her normal dimensional device, this one locks onto a weak serion signature and rips them from asenda prime, depositing them on earth near Rathia. She can use this once a post to replace lost minions. This cannot target Non npc Serion or those who are stronger than 4th tier.
-Weapons-
Ability/weapon  Name: Gun Lance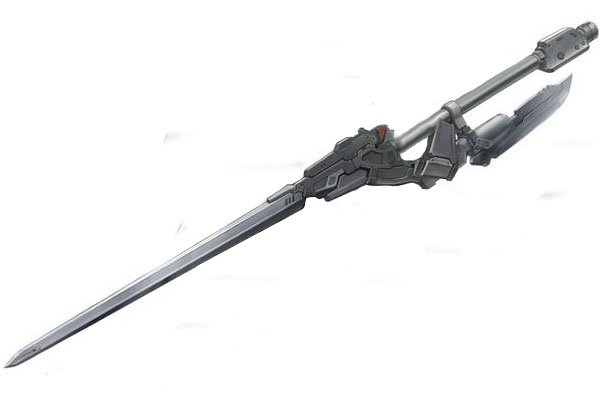 Description: Rathia favors a long elegant lance with a gun built into the lance blade. The weapon is built to peirce through strong heirro and armor, and deliver a devestating blast as it does it. The weapon is 7ft long with the handle situated at the rear of it. A heavy counter weight at the end of the handle balances out the lance blade, which makes up half the weapon. The mechanism for the gun is just above the main grip and trigger. Below the secondary handle is a second short wide combat knife. The lance blade is designed for peircing not slashing and is only pointed not edged, but the combat knife is perfect for slashing  if Rathia's to close to thrust the weapon or get off a shot. The counter weight can also be used to deliver a heavy blow. The weapon is designed to be weilded one handed, as it is perfectly balanced, however two hands can be used to swing and slash with it more effectively. The long secondary handle can also be secured under the arm, couching the lance in place. Held like this and with a good amount of speed behind it, Rathia can easily punch through almost any armor or hierro. This is an ability and is described fully in charge.
The Gun: The gun part of this weapon fires a round the same size as a those fired from a 50 caliber sniper rifle. It has 3 types of ammo types, piercing, explosive, and burst.
Piercing: Peircing ammo is a long thing bullet designed to pierce straight through a body and can keep going with enough force to hit a second person It is good at going through armor, hierro and flesh. It doesn't leave much of an exit wound but on larger foes it'll go right through. Does 1 bala worth of damage. If it hits one opponant and passes through, hitting a second it wont go through but does the same damage. Highly accurate and excellent for long range shooting.
Explosive: This ammo explodes on impact, causing signifficant surface damage. Does 3 bala worth of damage to unarmored people but only half that to armored people or someone with an average hierro. Best at medium range.
Burst: This ammo is similar to buckshot from a shotgun, but has a benefit over it. The benefit of this is it has a much weaker kick back than a shotgun has, reducing recoil and increasing accuracy. When fired, the ammo explodes a split second after leaving the barrel, showering shrapnel at an opponant. The closer a person is to the shot the more damage it does, the highest being a cero worth of damage when within 5 foot of it. Best at close range.
Clip: Each clip holds 5 shots, and Rathia has 5 clips of each type of ammo.
Charge: Rathia uses this ability by couching the lance under her arm, and charges towards the target at near shunpo speeds. Despite the speed she can change directions slightly, curving towards a target. The lance contains enough force behind it from the massive amounts of speed that if it hits, it is likely to go straight through what it hits, unless it hits an item as strong as Zanpakuto steel, while delivering a cero oscuros worth of damage. The sudden burst of speed is draining and this ability has a 4 post cooldown.
-Nanites-
Ability/weapon  Name: Upgraded Replication
Description: Works exaclty like replication except for a few changes. Rathia can Infect a single Serion with an upgraded form of her replication virus. This serion shares her strengths and weaknesses, and can access her Dimensional storage and has her wings, it can also pass the nanite infection to humans in her place. It is three tiers below her. If destroyed, Rathia cannot make another of these replications for 5 posts.
-Final-
Ability/weapon Name: Core Overload
Description: This can only be acrivated in a location with access to electricity, a lightning storm, or if she is fighting a lightning user. It doesn't take much to kick off the process. Rathia must be struck by a lightning bolt, or a lightning attack as strong as a gran rey cero, or grab a powerline/cable. Regardless of how it happens, she takes no damage, instead absorbing the entire thing into her. When she does, her entire system is flooded with energy, and her core is pushed into an overload state. Micro cores in her hands and feet activate, creating intense amounts of heat in her arms and legs, the metal begins to glow, going from a dull orange to a bright white over time. Her wings turn to intense jets of bright blue flame. The same thing happens in the centre of her chest, where she usually emits a dull red glow.
This heat builds up over the course of three posts, also heating up the area for 20ft around her. Her arms and legs are hot enough that they can cause severe burns on contact Anyone within 20ft of Rathia will experience a mild heatstroke, causing them to feel dizzy and react slower. On the third post, all of the heat and energy building up inside Rathia is released in a devestating blast with a 100ft radius, that does 3 cero oscuros worth of damage to anything caught within. As well as causing wide spread destruction, fires rage in the aftermath of this attack.
Besides being a final, this ability has its drawbacks. Rathia cannot use her dimensional storage, or any items in it. She cannot replicate or take human slaves since any she got close to would die from the heat, and this ability also damages her for a cero oscuros worth of damage over the three posts. If she's already badly damaged when she uses this she may severly damage herself. Using this puts her into low power mode for the rest of the thread, though because of the damage she takes, she is pretty much out of the fight. If her arms and legs weren't reinforced, the ability would destroy her. This ability also activates instantly if she's struck by a gran rey cero or higher attack during nova mode, or a bolt of lightning, meaning she doesn't quite have direct control of when its activated, which is why she tends to avoid nova mode.
Boosts: Strength, speed, Durability, Energy all x4
Back Drop
Background: Rathia was built by Serena a short while after first contact with the human world. Such a practice wasn't uncommon, as Serion didn't reproduce like humans, so some would get together and build themselves a progeny, someone who would follow in their footsteps if something happened to them. Serena had wanted a Serion with a similar mind set, one who opposed war with humans and who would stand by her side. Rathia was at first, that Serion. She adored her creator, in her younger years and was her best freind.
However she also made a name for herself as she slowly developed her own set of weapons, and Serena didn't like how she was turning out. Serena had failed to create someone like her, because she couldn't pass on the most important part of herself, her memories of Kaytlyn, and the unique programming the Valarion had given her. So Rathia slowly developed into a ruthless machine, much like any other serion.
It did not help. That Rathia became close to the Machine Lord, working as one of her underlings. This shaped her even farther into the thing Serena had tried not to make. Of course, what was done was done and Serena was, by law, forbidden to shut down her progeny. Even when Rathia's activities were discovered, the Machine lord forbid her from being touched. Her ability to create copies of herself using weak serion was something the machine lord liked, and Rathia was left alone to do as she pleased, even though what she was doing was essentially murder.
Rathia's unique technology gave her a bad name with many serion. Most actually feared her, since she could potentially hi jack them and force them to become her. Since it didn't appear to effect serion of great power, the higher ranking members of the Arc Mechanicus didn't care. Rathia did try several times, but she failed on all occasions, and instead just killed the machine she tried to convert.
Rathia's technical prowess earned her a spot in the research and developement team where she oversaw a very important project for the Machine lord, after which she decided to move to the shadow squadren, with somewhat decent infiltration skills she tried to replace the Arc's best infiltrator, Serena, while she was in the human world. Rathia even planted a second spy, a human under her control in the Coalition. It was that spy who found out Serena had not only been captured, but had willingly betrayed the Arc Mechanica. The machine lord was not happy to find this out.
Side Notes: Replication and human hi-jacking cannot infect npcs who have an app on the site. Its litterally only weak humans and weak serion.