Serion Template

Basic Information
Name: Model X
Age: 20
True Age: 539
Sex: Identifies as Male
Personality: Model X is the final model from the person who created him. Unlike other "Models", he was built with range in mind, with a signature of copying other skills. He has a bit of a superiority complex with those of his line because he's the final model. Otherwise he's very neutral, if a bit...honor bound. Unless ordered by a superior, he often doesn't get involved with one on one combat situations. However, he deems no tactic as cheap or dishonorable.
He doesn't much like Rathia because of her primary ways of attacking. In fact, he has often gone out of his way to shoot at her for getting involved in his affairs or controlling his own troops. When he heard of Serena's defection, he was every bit as mad as the Machine Lord, offering to assault NYC immediatly and with him at the head.
He takes loyalty to the extreme, having no qualms about who is in charge or their agenda. He will serve whoever is on the throne. If he's ordered to kill someone, including one of his "brothers/sisters", he'll do it and not even bat an eyelash. He literally just doesn't care about right or wrong. Just the status quo.
Model X keeps to being organized and in the know, which much to his dismay, keeps him in constistant contact with the Shadow Division. He prefers the upfront approach to things instead of sublety...something that he relates back to Model III, who was perhaps the closest to him in terms of relationships. While not particularly saddened by his brother's death, he wasn't happy about it either.
Likes: Shooting at Rathia, following orders, shooting other things in general
Fears: Machine Lord, Drastic Changes in protocal, losing purpose
Character Appearance
Height: 5'10"
Weight: 750 lbs
Physical Traits: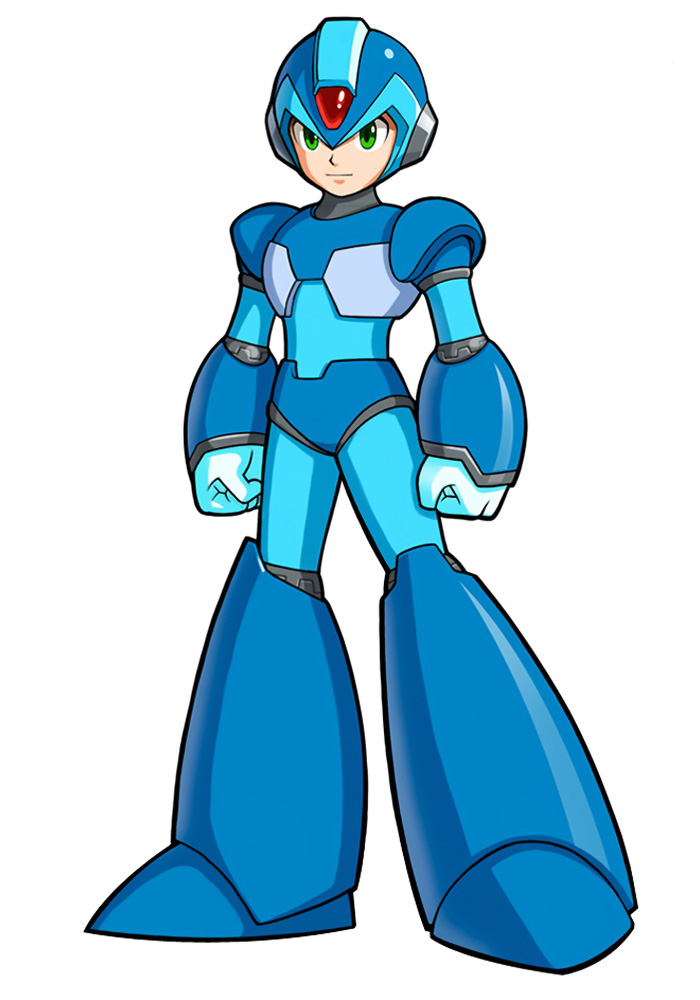 Clothing: Above
Accessories: above
Fighting Style
General Fighting Style: He generally sticks to medium to long range combat, and just walks calmly. He doesn't much like close range combat, but does use it if necessary. He has very good accuracy, augmented by a variety of advanced sensory parts, such as night vision, advanced sound detection, infrared, seismo detection, and hearing. He tends to stay out of other's conflicts unless ordered to by the Machine Lord/superior. Only after one's current opponent is defeated will he go in.
Strengths: Armor/Toughness, an Advanced Power Core, giving him longevity and to fire away for three times the norm.
Weaknesses: Nanite Regeneration is a bit of a low for him. He can't draw as much power from electrical systems either, adding only an extra cero or two of power for him to use.
Weapons and abilites
Ability/weapon Name: Buster Cannon
Description: Either arm can turn into a cannon to fire a variety of energy blasts, from bala strength to even Cero Oscuras level, with appropriate cooldowns.
Ability/weapon Name: Hidden Blades
Description: He isn't very flexible. To combat this, he holds a storage of a 100 tiny, but sharp as all hell (cut through hierro and armor? No problem) blades in ports all over his body. He cannot make any more and must replentish them after each thread.
Ability/weapon  Name: Ability Copy
Description: He can only copy up to 3 abilities, whether they are melee based or ranged. He can even copy poison gases that are attempted on him. The ability must hit him for him to copy it, and to copy a new ability after his 3 max, he needs to "forget" one. And then to recopy an ability had previously copied, needs to wait 3 posts. If the ability has a cooldown, it has the same cooldown with him. This is where his nanites purpose goes to instead of regenerating. If the abilities come from the same purpose, some of his appearance may change to fit it, though is purely cosmetic, unless he copies physical melee weapons like a shinigami's sword or Loran's head and tail blade.
Ability/weapon Name: Armor/Shield Enhancement
Description: He can enhance his armor to better take damage, even from reiatsu based attacks, reducing attack power by 75%. 2 post duration with 2 post cooldown starting when it ends.
Nova mode
Nova Mode Appearance:
Second one from the left.
Spoiler:
Note: All previous abilities as before, and then these.
Ability/weapon Name: Rapid Fire
Description: From having multiple barrels on his buster cannons, he can fire little energy bolts the same strength as a hado 4. High rate of fire (like think machine gun/gatling gun fire rates) and very difficult to dodge, but extremely weak. It's mostly used for quick defense against missiles and things that can be deflected/destroyed with little power. If sprayed and prayed for an entire post, a 1 post cd is incurred.
Ability/weapon Name: Advanced Shield
Description: He can deploy a stronger reiatsu shield, capable of taking a Gran Rey no problem. 3 post CD.
Ability/weapon Name: Teleport
Description: This has a 100 yard radius a 2 post cooldown. However, it takes a good chunk of energy to use.
Ability/weapon Name: Reflection Shield
Description: He can reflect a reiatsu/energy based attack back an opponent, up to a Cero Oscuras. 4 post cd.
Boosts: Armor/toughness x4, strength x4, speed x2
Back Drop
Background: Built as part of a series of 10 models, he was the last one built. It is unsure if they were built by a valerion or another serion, but Model X really doesn't care. He lived with his 9 older "brothers/sisters." While he didn't get along much with them, he did get along best with Model III, who was sent to Earth to test their defenses. He was already with the military and working his way up when they got the call that he was killed.
He had heard of a Rathia Des'Ana that can take control of others. Like many other Serions, that make him uncomfortable with her existance, but unlike others, tolerated it. Until she temperaly took control over him. Then he just hated her guts and often shot at her on sight. It took him five long and painful days to regain control. Since then, he'd gained immense pleasure at randomly shooting at her whenever possible.
As mentioned, when he heard of Serena's betrayal, he wanted to eliminate her as a threat immediately. Also, he wanted to keep that information on the low, or else it might effect troop moral for when they finally attack.