Arrancar Template

Basic Information
Name:
Azazael Darkmoon
Age:
25
True Age:
Unknown
Sex:
Male
Personality:
Azazael is the result of the merging of three great consciousnesses, arngrim wolfcloak, Kain Lasdren and Sen Resilius. Azazael, as he Now calls himself is A ruthless killing machine. He embodies the pure rage that lives within Arngrim's soul, and like Kain he relishes killing people and he doesn't care who. However unlike the former assassin he is Strong willed. He refuses to call anyone master, and does not bow to anyone.
He is vicious, ruthless and bloodthirsty, and likes to inflict pain. He would set the world on fire to watch it burn, and with or without Allies he intends to destroy everything. He hates the soul society and they are the focus of his assaults, though the human world is not safe from him either. He does not bargain or give mercy. If he thinks someone has something to offer him, he'll kill them if he can and take it instead of striking a deal, unless of course, its an army.
He is Intelligent and cunning, a manipulator of people. He can get what he wants, and if not he simply fights for it. He is not someone to be easily trusted as he'll just as quickly stab someone in the back as he would help them. He honors alliances as much as he needs them and as soon as they've served his purpose he'll break them off without a second thought. He is devious, and will turn his enemies against each other if he can.
Azazael's mind is twisted by darkness. His soul is as black as a sinners. There is nothing he does not hate. His followers nothing more than pawns, they do as he commands or he kills them without mercy or a second though. He believes in the saying that its better to be feared then loved, and he is definitely a leader to be feared. Though he is fond of a fight, he's capable of playing the long war, taking his time with each move made in the game of war.
Despite his absolute desire for destruction he is actually well spoken. He can be very convincing, can make a person come to trust him and make them think he's their friend, that he would help them in a time of need. He might even do it, but only if it suits his end goals. He never give anything without an ulterior motive, and though anyone who is meeting him for the first time might think he's a well meaning individual, someone who knows him well would know never to trust him no matter how convincing he is.
There are times when each of the souls in Azazeal, can exert influence over Azazael's actions. This is exhibited in his inability to harm either Clara, Olivia, and his hesitance to Kill Grainnè Xios despite her being his greatest enemy, thanks to Arngrim's influance, or the fact that he will mercilessly hunt Alexei Romanov, thanks to Kain's..
Azazael hates shinigami, and vizards, humans, and even most arrancar and hollow. He surprising feels like he has more in common with the black souled sinners, though he'd prefere not to join their ranks when hueco mundo is so perfect for waging a war on life. Sinners are nothing to him, an enemy of his enemies, but that doesn't make them an Ally. Though he might side with them, he's just as likely to fight them, or let them be. He treats Serion in the same manner. Anyone who is useful to him has a place in Azazael's kingdom but once they out live their usefulness he will probably kill them.
Likes:
Revenge, destruction, causing havoc, inflicting pain.
Fears:
falling to pieces, not being in control, ducks (they're watching him).
Character Appearance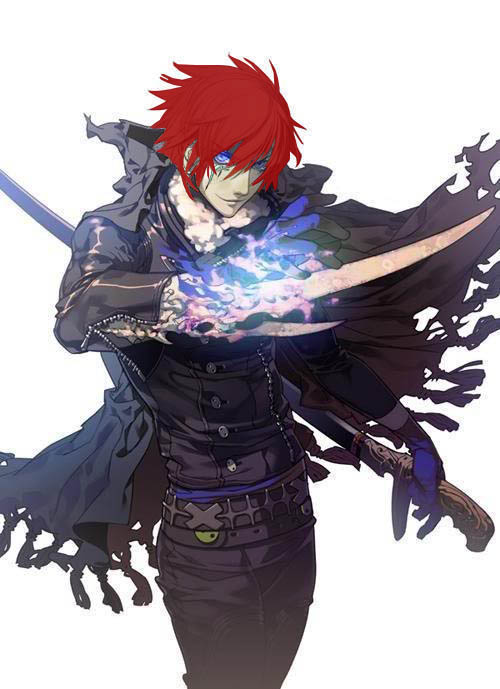 Height:
6'1"
Weight:
187lbs
Physical Traits:
Tall, muscular but with a compact build, Azazael has pale white skin and short blood red hair. His eyes are a piercing bright blue that glow unnaturally. Though he can change his appearance right down to his eye color, his eyes always glow slightly. His mask piece is a scar like spike of bone under his left eye. His hollow hole is in the base of his throat, under his scarf.
Clothing:
Azazael wears a sleek leather jacket with allot of zips and buttons on it. There sleeves are open and can be zipped up, though he never bothers. He wears a black tattered cloak with a hood, and a white scarf around his neck. He wears tight black pants and low cut black boots. He wears two belts around his waist and blue gloves.
Accessories:
Tyrfing
Fighting Style
General Fighting Style:
Azazael fights with a combination of sword and fist. He is an extremly skilled swordsman and martial artist, though his unarmed attacks contain a more primal force than honed skill to them. He utilises a furious combination of speed and strength to bring his enemies to their knees, mixing in his ice, fire and energy powers for a destructive display of power. His high speed regeneration helps him recover from attacks quickly.
Azazael likes to get in close and personal when he fights, only attacking from range when his opponant forces him to by backing off. He preferes full frontal confrontation, but he is not opposed to fighting dirty or using his surroundings to his advantage. He shows no regard for lives, his men's or humans, and will quickly throw them away to gain an advantage. He doesn't play around, even in a sparring match Azazael fights to kill, and until the opponant survives until he is impressed, he will not let them walk away.
While he plays around and toys with his opponants outside of combat, he does not do so when the fight starts. he is relentless, throwing everything he's got at someone to try and crush them, but he doesn't fight with a full fury, and is careful not to rush into traps if he suspects them.
Strengths:
Speed: He is an exceptionally fast arrancar, though not quite on par with Grainne Xios.
Strength: He packs a hell of a punch, there isn't many people alive he can't over power with his physical strength.
High Speed Regen: His recovery speed is exceptional. He is capable of regrowning limbs in a single post, though they are underdeveloped muscle and bone, skinless and weakened to half strength for that post and the next. It also hurts, allot more than it would to let them regrow normally.
Master Of blade and fist: He is a master swordsman and hand to hand combatant, having years of combat experience from both Arngrim, Sen and Kain at his disposal. Despite his fusion into a new being, his body remembers all being's former skills with their respective fighting styles.
Dark resistance: 75% resistance to Dark Damage.
Weaknesses:
Stamina: His vicious but skillful fighting style, speed, and strength takes alot out of him, and he can only go 8 posts before hitting a 4 post fatigue state.
Hierro: His hierro is practically non existent. Only those lower than 1-5 would have trouble cutting him, and even then those with high strength could probably manage it.
Holy Weakness: He takes double damage from Holy attacks. Thats a whole 100% more damage from them.
Suppression: He cannot suppress his reiatsu past a certain point, leaving a large portion of his power on display, and making it impossible for him to hide.
Specials:
Hypersensitive Instincts: This quirk uses all of the user's senses to react to dangers around them subconsciously. So if attacked from behind, the user's body will instinctively turn to block the attack or dodge. If struck from multiple sides the user may unconsciously activate a shield ability or other defensive ability such as teleporting away from the danger, or dodge/brace against the attack. It works best against unseen attacks as long as the user can hear or somehow detect, but will also work against attacks seen with the peripheral vision. Coupled with something like Hyper Intuition this makes the user very hard to hit.
Dark Angel: All of Azazael's attacks are infused with dark energy. Since both Kain and Sen shared this trait, the resulting infusion of dark energy is greater, meaning their weaker to holy than before but even more resistant to the dark, and do more damage to holy aligned beings.
Zanpakuto & Cero
Sealed Appearance:
Azazael's zanpakuto has the appearance of the weapon in the picture above. It is a long katana like sword with an intricate gold handle. The handle has a long hilt protruding from one side. The blade is bluish in color.
Zanpakuto Name:
Belial
Zanpakuto Call Out:
Fall from grace, Belial
Cero:
Cero: A standard powered purple cero with a pulsing white core.
Bala: A standard powered purple Bala with a pulsing white core.
Gran Rey Cero: A standard powered white gran rey cero with a pulsing purple core and edges.
Cero Oscuros: A standard powered purple cero Oscuros with a white edge.
Dark Snake Bala: Azazael can create black snake like energy creatures, that will home in and attack a target by bitting them and exploding with the force of a bala. They are half the speed of normal bala but have good tracking, however hitting them destroys them. He can create 10 per post. They will not leave a 50ft range around him and explode at the start of Azazael's next post.
Dark claw: Azazael Charges his hands with cero energy. He can then slash once with each, unleashing a cero worth of damage as he attacks. The attacks travel 5ft or until they hit something, and are meant for close range so he is likely to try and actually claw somebody's skin at the same time as hit with this. The energy cuts and tears, rather than causing explosive damage. Stacks with Energy Surge. 1 post cooldown.
Dark Hollow Lance: A simple spear of purple white energy, the Dark Hollow Lance is formed in Azazael's grip and thrown. It does not explode on impact, but pierces into anything in its path. It can pierce through rock and metal with ease. When it hits a target, it easily punches through even the strongest hierro, and pierces the body. Its approximately 5 foot long and 3 inches thick close to the middle. The draw back behind the lance's punching power is that it cannot be used in conjunction with Energy Resonance. The range is 100ft. 3 post cooldown.
Pre Release Abilities:
Energy Mastery: Azazael's unique birth has given him mastery over energy. This abilities is not affected by Elemental Alignment, and allows Azazael to directly manipulate his own energy. He can create energy and manipulate it in different ways, using it for attacks up to the power of a cero, or to create weak identical copies of himself to use as messengers or distractions, or change his own appearance, or to create/extrude additional blades from his body, similar to the picture above.
He can manipulate objects up to a limit of 1 ton with this energy, and his copies can pick up and carry similar weight. His copies cannot fight, are easily destroyed and serve mostly as messengers. He can also use Energy Manipulation to mask his appearance, voice and energy signature. He can only do this outside of combat. He cannot turn invisible but he can use it to appear taller or shorter, male or female and so on. He can apply the same methods to his own copies too. Its not uncommon for him to take the appearance of Arngrim, Kain or even Sen.
Elemental Alignment: Azazael is able to increase or decrease the temperature of his energy to use fire or cold attacks, changing the alignment of his energy from fire to ice. He cannot use any fire and cold abilities at the same time. He must switch elements and can switch them once a post. He can only use set abilities or abilities that work with Elemental Alignment like Dark Hollow Lance, and does not have free control over fire or ice, and cannot change the alignment of Energy mastery or energy surge which count as dark energy. He cannot manipulate or interfere with other's ice or fire abilities.
Resurreccion
Appearance:
Azazael's hair turns white in this form, and the hollow mask under his eye expands and turns black. His hair becomes much longer, falling down to the middle of his back. His outfit changes, becoming tattared. Most notably he gains a pair of black draconic wings. The wings are as strong as Zanpakuto steel and the claws on them are razor sharp. He gains two pairs of horns, two twisted mismatch horns that extend up, and two larger horns that extend around his face. The horns are all black. Azazael's energy is purple with a white core, almost like purple fire in appearance.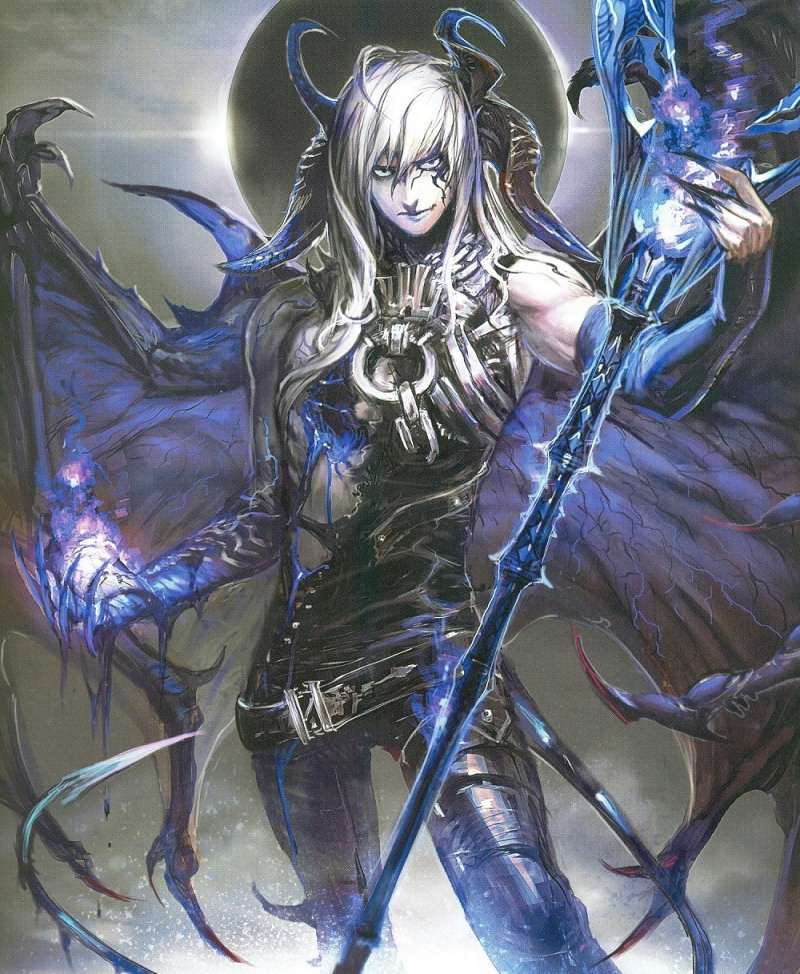 Abilities:
Advanced Energy Mastery: He can now manipulate up to 2 tons in weight with energy Mastery. In resurrection Azazael cannot use energy to change his appearance. He can also wrap his fists in energy to repel blades and can charge up them up to deliver a cero leveled punch once every second post.
Energy surge: Every second post, Azazael's unarmed melee attacks gain a slight energy boost to them. The boost stacks, starting at 1 bala and tapping out after 10 posts at 5 bala. Meaning after ten posts, All of his melee attacks (including melee based energy attacks like Dark Claw) hit with an extra 5 bala worth of energy damage, however the drawback being that any energy based attack that hits him (excluding finals, fire, and holy.) also do extra damage to him. So after five posts if he's hit with a gran rey cero it would do an extra 2 bala worth of damage to him. As each post passes, his hands and feet begin to leak purple white fire like energy, which grows more and more intense over the 10 posts. The energy protects his hands and feet against being cut too, as if they were as strong as zan steel. He can chose to turn this off, meaning he neither takes or deals extra damage, and posts stop counting towards this. This extra energy is standard energy and is not fire or ice.
Energy Resonance: If Azazael is hit with an energy attack (excluding finals and holy) He may chose to absorb it, taking an extra 50% damage from the attack, and then fire it back on top of any of his own energy based attacks (excluding standard cero, bala, energy surge and dark claw or other melee abilities). If he were hit with a gran rey level attack, he could add that grey rey worth of energy to his own gran rey, or even a dark snake or Ice blast. Energy Resonance has a cooldown based on the attack he choses to absorb. If the attack he is hit by has no cooldown, then he can do Energy Resonance the next post if he chooses to. Energy resonance takes the elemental alignment of the attack its added to.
-Fire-
Combustion beam: Azazael fires a beam of super heated energy from the palm of his hand. The attack travels in a straight line for 50 feet, before exploding outwards 30 feet with the power of a gran rey, igniting anyone caught within the blast. 3 post cooldown. 1 post burning, fire can be put by normal means. Compatible with Energy Resonance.
Fire beam shield: He can create a shield of fire that can block up to hado 88 or gran rey, and fire it back at 2/3 the power, as a beam of pure fire. The strength of the attack depends on the one that hits the shield. 3 post cooldown. Not compatible with Energy Resonance.
Explosive blade: Azazael creates a sword out of fire, and then strikes at a target. When the weapon hits, it explodes with the force of two cero towards the target, in a blast of fire. 2 post cooldown. Works with energy Resonance.
BaleFire: A white hot bar of condensed fire as strong as a cero is shot from Azazael's hand. Its capable of dispeling a barrier that can stop up to a gran rey in power on contact and continuing at the same power. It can only do this once, and if it meets another barrier strong enough to block it it will be stopped. 3 post cooldown. Not compatible with Energy Resonance.
-Ice-
Cryo Blast: A wide cone shaped blast of cold energy is fired from the palm of Azazael's hand. Equivalent to a cero in speed and damage. it creates ice on anything it hits and delivering a freezing cold blast to the target. Fire counters normally. 15 ft range with a 10ft spread. Can be used with Energy Resonance. 2 post cooldown.
Frost Beam: Azazael sweeps a beam of cold energy across the battlefield, doing a gran ray cero worth of energy to anything caught by the beam, and also leaving ice spikes on any surfaces he hits. The beam has a 5 second burst time, allowing for one sweep across the field before it dies out. 4 post cooldown. Works with energy Resonance.
Ice Bulwark: Azezael creates a dome of ice around himself and anyone else he deems worthy. The dome can stop up to a cero oscuras worth of damage, and greatly reduce damage taken from attacks stronger than that. 5 post cooldown. Not compatible with Energy Resonance.
Ice Spike Driller: Azazael's left arm is replaced with a 6 foot long drill made of ice with sharp spikes as strong as a Zanpakuto. The ice drill spins at high speeds increasing its penetration abilities quite a bit, backed with Azazael's strength it can be used to pierce through physical blocking barriers such as something that can stop a gran rey, but it may take a few thrusts of the drill to fully shatter the barrier. It also makes mincemeat of strong hierro and armor. 4 post duration, 3 post cooldown. Not compatible with Energy Resonance.
Boosts:
Strength, speed, stamina, durablily and reiatsu X3
Resurreccion Segunda: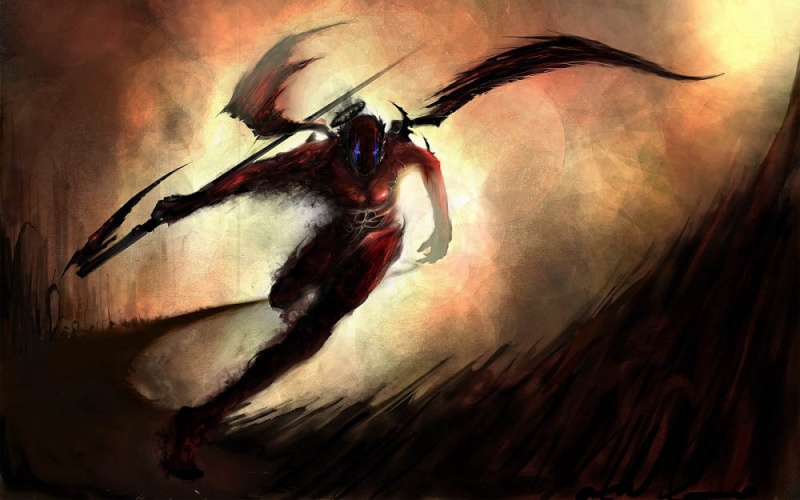 Appearance:
Red skin, blue orbs for eyes, a dark haze surrounds Azazael's muscular body. He has two horns, a black halo sitting over one. He has small black wings, razor sharp clawed hands.
Abilities:
Azazael retains all previous abilities, though some have modifications to them in this form.
Energy Surge: this now applies to his swords too. It also gains elemental aligment based on the element he is currently using.
Vengence: When Azazael is hit with an attack equal to or greater than the power of a gran rey cero, a massive ball of energy equal to a gran rey appears from thin air and seeks out the person who fired the attack with vicious accuracy. It can easily smash through objects and rubble and can only be deterred with a shield or blast of equal power, a weaker energy attack will be knocked away or destroyed the first time rather than detonating this, but will half the power of vengence. A weaker shield will reduce the damage based on the shield's power. 5 post cooldown. Not compatable with energy resonance.
-Fire-
Inferno gatling beam: Azazeal fires off 100 beams of concentrated fire. These beams can pierce through strong hierro and just about any environmental cover. He can aim the beams as he fires them allowing him to continue firing at his target as they move. They're as strong as a bala. 4 post cooldown. Not compatible with Energy Resonance.
Improved Balefire: A white hot bar of condensed fire as strong as a gran rey is shot from Azazael's hand. Its capable of dispelling a barrier that can stop up to a cero oscuros in power on contact and continuing at the same power. It can only do this once, and if it meets another barrier strong enough to block it it will be stopped. 6 post cooldown.Not compatible with Energy Resonance.
Scorched Earth: Azazael's body bursts into flames and then he unleashes a powerful wave of fire in a 100yd area, scorching anything within range to cinders. The wave leaves lingering fire and travels from him in a dome or sphere outwards. It does damage equivalent to a cero oscuros worth of damage and can ignite people for 1 post, and ignites the battlefield in the radius and it stays that way for 2 posts. 1 post charge, 5 post cooldown. Frozen field goes on a 2 post cooldown when this is activated. Not compatible with Energy Resonance.
-Ice-
Shredder ball: Azazael fires a ball of cold energy that hits with the force of a cero. However the energy also seeps into the target, and 1 post later explodes back out of them as tiny spikes and blades of ice, shredding the skin of the affected area. So if someone took this straight ot the chest, the energy would shred their skin there, while if someone blocked it with their arms, the energy would shred their arms one post later. 3 post cooldown. Not compatible with Energy Resonance.
Frost Core: Azazael forms a ball of ice, surrounds it with his dark energy and fires it. The attack hits with the power of a gran rey cero, and the layer of dark energy is dispersed, leaving the ice core behind. The ice core then explodes with the force of a gran rey cero with a 100yd radius afterwards, with a slight delay. 7 post cooldown. Compatible with Energy Resonance, the extra damage is added to the ice core's explosion, making for possibly his strongest non final attack.
Frozen Field: Azazael's body freezes over, and then he lets out a cero oscuros leveled blast of freezing cold ice energy from his body. His body ices over before hand, and when the attack goes off, spikes of ice are also shot out of him. The blast and spikes of ice have a 100yd radius. This also freezes the battlefield in the blast radius and stays' that way for 2 posts..1 post charge, 5 post cooldown. Scorched earth goes on a 2 post cooldown when this is activated. Not compatible with Energy Resonance.
-Final-
Darkmoon slice: This ability can only be activated once either Scorched earth or frozen field has been activated, during the two posts that either abilities' battlefield effect is active. Depending on which ability he uses to initiate this, decides the elemental alignment of his final, and the elemental effects it has. It can only be used once a thread.
When initated, it lasts two posts. In the first post, two long blades of energy roughly 6ft in length each appear in Azazael's hands, and he unleashes a rapid combo of 100 slashes that fire off energy cuts in all directions. Each blade fired off travels 100ft and hits for two bala each. Then in the second post, Azazael slashes one final time with each blade in any direction he likes, using them up. The slash travels 100ft, same as before, but the slash is much wider and each hits and explodes with the power of a cero oscuras, with a blast radius of 100ft each.. He can target the same person or two individuals.
Boosts:
Strength, speed, stamina, durablily and reiatsu X4
Back Drop:
Background:
-The History Of Kain-
Spoiler:
-The History Of Sen-
Spoiler:
-The History Of Arngrim Wolfcloak-
Spoiler:
-The Forging Of Azazael-
Eventually, Kain and Sen met again. It happened during a fight between Kain and the Shinigami Scott Rollins. The two had been fighting for sometime, when Sen showed up intent on eating Kain. However The shinigami and Kain wanted to live, so they joined forces and faught Sen with all their might. Because of their injuries, they were both forced to pull out all the stops to beat the vasto lorde, and in the end Scott gave his life so that Kain could eat Sen before he destroyed a good portion of the city.
Consuming Sen hadn't been as easy as kain expected. Sen's soul was to strong to simply eat and obsorb, instead the vasto lorde faught back against kain. They wrestled for power inside Kain's body, while on the outside their mindless form went on a rampage of destruction across Hueco mundo, consuming all in sight. The scourge was matched by none, and none could stop it as it made its way towards Los Noches in search of the most powerful soul it could find, Arngrim wolfcloak.
It was there they ambushed him, right after Arngrim's brutal fight with Captain commander Grainne Xios. Weakened from the battle, and so soon thrust into another, Arngrim was barely able to hold his own, even with the help of Liv and Clara. The fight turned brutal as Arngrim entered segunda to try and finish the beast off as fast as possible, but the monster sunk tentacles into Arngrim, reaching his heart with an almost fatal blow and starting to sap his energy. Arngrim in turn, bit the creature in two, effectively killing him. However becuase the creature was in a state similar to that of a menos grande, where multiple souls faught for possession.
Because of this, instead of dying, the creature infiltrated Arngrim's body, sucking his soul into the fight. This much power suddenly coming together in one being resulted in a massive explosion of energy that forged the 3 souls into one. Thus, Azazael was born, forged in the aftermath of a battle between powerful souls.
Azazael quickly took control of hueco mundo, killing or driving off anyone who chose not to follow him. Some however were more than happy to serve the new ruler. Azazael was not content with his new seat of power though, and turned his eyes towards the realm of earth, Soul society, and even Hell.
Side Notes:
:
.
RP Sample:
And then lol.