Human Template

Basic Information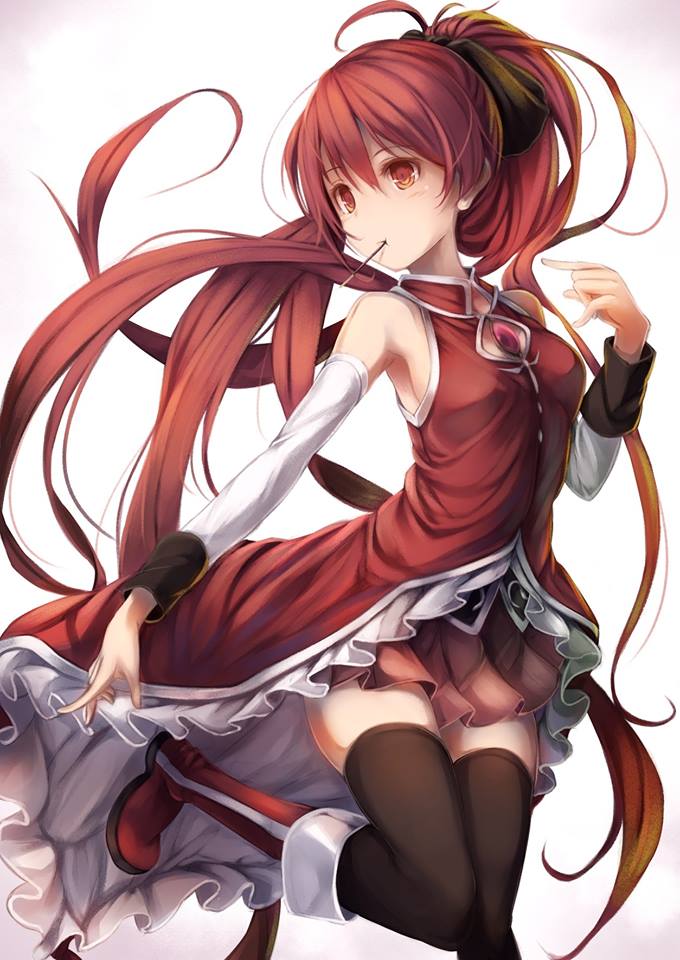 Name: Vyn Victris (Ashe)
Age: 17
True Age: 19
Gender: Female
Personality: Vyn is a complicated individual. While generally kind, she is cold to the world. It takes a while and effort to make her warm up to people, and most give up before they get through that thick layer of ice and stone that protects her, which is fine by her. She acts like she doesn't care about anyone but herself and Zackary, but Vyn can't stand to see people in danger. She tries hard to ignore it but she will, in the end, go rushing into the fray to help if it's really important.
She is very serious, and keeps things professional, letting Zackary handle the cutting comments and quips. Behind her serious nature though is a happy and playful girl, when she wants to be. She hides it well, but she does have a sense of humor. Its still pretty hard to make her smile or laugh, even Zackary has trouble cracking through her serious face in public.
Vyn is deeply traumatised by her past, the experiments Hanna Ashe performed on her damaged her beyond repair. She sees herself as a monster, and while she was stripped of her spiritual energy she is not powerless like she should be. She  knows she's no longer human like Zackary, or advent human, or even like her sister who also suffered at the hands of their mother. It makes her feel alone. The scars that mark her body don't help either, and make her feel worse when she remembers they exist.
Another side effect of her experiences is that Vyn is liable to snap. Usually its caused in a fight, but sometimes rage and fear might overwhelm her and cause her to go berserk, Causing havok. Its one of the reasons she tends to stick close to Zackary, because if she flips he can usually put her out with a tranq dart before she can hurt anybody, and never in all their time together has he been the target of her episodes, so he's usually safe from her rage.
She has few friends and none are closer to her than Zackary, who is not only her best friend but her guardian. She likewise looks out for him, and cares for him more than she lets on. There's nothing romantic about it however, though she does get mildly possessive and jealous when other people flirt with him. Its a deep friendship, and she's only truly her happy, friendly self when she's alone with him.
She considers Gaige a friend too, but they're relationship is far from smooth. She did try to kill Gaige and her friends, and at the same time Gaige shot off her right arm with a railgun. Things like that don't just go away, even if she's no longer under the effects of her mother's brainwashing. As much as she wants to get to know her sister and father better, she prefers to keep her distance for everyone's sake. Vyn doesn't really hate any race, they're either her enemy or just a stranger. As long as someone doesn't attack her or zackery she won't seek out a fight with them, unless they're harming civilians or other evil things.
Likes: Zackary, puns and quips, punching things.
Fears: Her mother, Gaige's railgun, being controlled
Character Appearance
Height: 5'5"
Weight: 115lbs
Physical Traits: Vyn has long red hair that falls down her back. Sometimes she wears it loose but its more common for her to wear it tied up. She has bright green eyes with a darker ring of green around the edges, Vyn shares many of her older sister's looks, from slender size to facial features. On first glance, she appears likes frail, but her appearance is deceiving. She has pale white skin because she really hasn't gotten much sun in the last two years trapped underground. Her body is laced with surgical scars from all of the genetic modifications she has undergone, though none are  apparent on her face apart from a nick over her eye she got in school before she was kidnapped. Her right arm is robotic from the elbow down, and has a similar design to Gaige ashe's arm, since it was her who built it..
Clothing: She wears a pink plaid skirt and a black undershirt, along with a red sleeveless high collared red coat with white trim. The coat is long and open from the waist down, and appears almost like a dress, with white frilly trimming around the hem of the coat. She wears red shin high leather boots with white trim on the inside, and black stockings that go up to mid thigh. She also wears a white sleeve with a black cuff on one arm, while her right arm is unadorned. She carries her sword on her left hip.
Accessories:
Fighting Style
General Fighting Style: Vyn relies entirely on instinct in combat. She has no real formal training, but thanks to her various gene mods she is able to adapt to many combat situations quickly. She Lacks long range abilities due to having no spiritual energy what so ever. She is a natural fighter though, what she lacks in experience she makes up for with pureborn skills. If she had some proper training with her sword with the likes of clara or Jensen she would easily become a master. The same can be said for her hand to hand combat skills.
After her battle with Tadatomo and Laura, she has learned restraint when fighting, and tends to be less aggressive unless she is really pushed to do so. She only fights with her all when Zackary is in danger and if he's badly injured she goes berserk and shows no regard for herself or her opponent. When she rages, she attacks with no thought to her bones and uses cataclysm blow and hyper blow without restraint, which can result in her breaking her own  bones because of this.
Because she has no powers she is constantly seeking ways to strengthen her body and gain new techniques that don't require spiritual energy or guns. She refuses to enhance herself farther with technology and will not accept the offer of more equipment beyond heaven's edge.
Strengths:
Strength: Thanks to muscle fibre density she is much stronger than a normal human. Her strength is high for her tier.
Speed: Thanks to muscle fibre Density she is much faster than originally, that and speed runs in the family. Speed is by far her best of these traits, even if she can only reach shunpo like speeds by rocketing off walls or the ground.
Stamina: Her stamina holds up pretty well in combat thanks to Muscle fibre density.
Durability: Vyn can take a beating and keep fighting for a long time. Between her unnaturally toughened body, almost unbreakable bones and fast healing she's a pain to put down unless your using fire or energy attacks.
Spiritually Null: Vyn is spiritual deaf. She isn't affected by excess amounts of spiritual pressure. She isn't even aware something is happening. She also cannot be sensed, because she has no energy to sense. She's still affected by energy attacks though.
Weaknesses:
Spiritual Abilities: When Gaige saved Vyn by stripping her of her perfect human powers, she also stripped her of all spiritual energy. Vyn has no spiritual energy what so ever. She cannot be sensed by sensing or pesquisa because of this, but she also cannot sense others. She has no powers. She can only see spirits because of her modified eyes. She cannot learn magic, or anything that relies on spiritual energy to use. She cannot gain or learn to use fullbring. She cannot air walk, or use blur.
Energy/fire weakness: Vyn takes double damage from all Energy and fire attacks. Her bio Electric skin stops lightning from also affecting her this way however.
Weapons
Weapon Name: Heaven's Edge
Description: Heaven's edge is a sword crafted by Vyn under the instruction of Zackary, using materials from Gaige. It's a lightweight, razor sharp sword. its simple just designed to cut, and has no other special properties other than it is as strong as Zan Steel. Vyn carries it on her left hip and wields it in her robotic hand. Zackary added a chip that allows Vyn to call it back to her hand, so even if she throws it or someone takes it, she can just call it back to her hand.
Robotic Augmentations
Ability Name: battle Arm Mk III
Description: During the battle with Gaige, Vyn made the mistake of attempting to block a round fired from Gaige's railgun, resulting in the destruction of her right arm up to the elbow. So Gaige replaced the missing half of Vyn's arm with A battle Arm like her own, with a few minor changes. The battle arm is surprisingly light and matches Vyn's regular arms' strength. it is built with metals reinforced to be capable of blocking Zanpakuto steel or equivalents. It starts just above the Elbow and is fused to her nervous system allowing it to respond exactly like her old arm, but with much greater precision.
Genetic modifications
Ability Name: Muscle Fibre Density
Description: Despite her small size her Muscles are powerful, particularly her legs. A simple leap can carry her long distances at high speeds, as if she used shunpo. She can use this against any surface but changing directions in motion is impossible, though she can twist herself around so she won't slam flat into a wall, but would hit feet first and leap again. Besides the shunpo like leap ability, she gains high strength and speed from this without gaining huge amounts of bulk.
Ability Name: Bone fibre Density
Description: Her bones are very strong and almost impossible to break or cut. They can withstand serious shockwaves and blows without harm. And since her bones are so strong, she can punch like a railgun, easily smashing through anything in her path. She can punch and kick with the force of a cero if she so desires.
Ability Name: Neural Enhancement
Description: This grants Vyn heightened reflexes, instints and also an expansive intelligence and exceptional protection against Psionic, fear and illusion based mental attacks. It renders her fears ineffective against her, albeit with a bit of concentration. All effects duration is reduced by half. Her increased intelligence allows her to learn new things at an increased rate, including fighting styles and the use of weapons she's not familiar with.
Ability Name: Adaptive bone marrow
Description: Her rate of recovery is enhanced beyond human normals, matching the high speed regen of an arrancar easily. She recovers from small wounds within a post and larger wounds or Damage caused to her bones from cataclysm blow would take 2 turns, Major wounds would be gone in 3 posts, and so on.  She can't regrow arms or legs however, but she could hold the limb in place and the healing would reattach it, which would take 3 posts to be able to use it again..
Ability Name: Hyper Reactive Pupils
Description: Her eyesight is as keen as a hawks. She can see long distances and with great detail in low light and darkness, but her eyes are weak to bright lights and powerful flashes. She can also see spirits because of this modification.
Ability Name: Bioelectric Skin
Description: Bioelectric skin acts as a secondary skin sensory organ and Vyn can detect people through walls, or who are invisible or trying to sneak up on her. It works by constantly emitting an invisible electrical field that is drawn to a living or spiritual being's natural energy, and also serion's energy. This creates a tugging sensation that alerts her to that enemy. If her eyesight is compromised, this will work as a slightly less effective way of tracking her opponents, with an effective range of 50ft. Touching her skin directly also results in a mild but painful electrical shock, that deters continuous contact but does no damage. Continous contact isn't enough to charge Serion. It can generate enough electricity over the course of fight to do more than shock, too. She can turn this on and off at will.
Ability Name: Toughened body
Description: Vyn's body has been toughened by gene mod. Damage to vital areas effect her less and she doesn't suffer the effects of bloodloss quickly. She has a high pain treshold and can fight through pain and bloodloss for longer than normal. Damage to vital organs like her lung take longer to effect her, and she can survive without oxygen for longer. damage to heart or brain kills instantly as normal. She needs far less food and water and can survive without both for a month.
Ability Name: Hyper blood Filtration
Description: This gene mod filters Vyns blood at a high rate, cleaning poisons, toxins and foreign bodies from her body. This reduces the duration of poisons by half,
Ability Name: Special moves
Description: Vyn can use a variety of enhanced melee attacks with the combination of her Gene mods, as described below.
Biocharge: With each post of combat that bioelectric skin is active, one charge is generated. Vyn can use these charges to use powerful moves like Cataclysm blow. She can have up to 5 charges stored at once, and with each charge stored her skin becomes a bit more sparky.
Hyper Blow: Vyn can strike with the force of a cero using her fists, knees, elbows and feet. It takes a bit more stamina to do, and because she doesn't have protection on most of these places, this can and will hurt her. However her bones cannot be broken by this unless she was to punch with the same hand more than twice in the same post and so on.
Cataclysm Blow: Vyn can strike with the speed and force of a gran rey cero, she does this using electricity gathered from bioelectric skin and combining it with a hyper blow to create a devastatingly powerful attack. She can only do this once every 3 posts, and it also uses 3 charges of bioelectricity. The bones of the limb used to deliver the blow are weakened to the point that if she uses Hyper blow with that arm in the next 3 posts, the bones would break. This includes her robotic arm, however only the bone in her shoulder would be affected since the metal of that arm is much tougher than her bones.
Piercing strike: Using her left hand Vyn can deliver a blow than can punch right through armor, by vibrating the muscles at high speeds and generating an electric field. It can pierce or slice right through hierro and armor. The electric field is strong enough to block zan steel blades. The effect lasts a post. It uses 2 charges and has a 2 post cooldown. It can be used with Cataclysm blow if she has enough charges.
Thunderskin: While Vyn's skin naturally deters continuous contact, some people don't get the idea. So she can spend a charge to Zap them with half a cero worth of damage and force them to let go. She can do this once a post.
Boosts: She's equivalent to Bankai. strength, speed, stamina and durability x3.
Back Drop
Background: Born to Hanna and Kevin Ashe two years after Gaige's birth. They were unable to care for her, as she was an accident, and so they put her up for adoption almost as soon as they discovered her conception. As such, Gaige was not old enough to remember her ever existing and vice versa. Vyn was given away to a family in Toronto, canada, where she was raised as a normal girl with a normal life. She was always an adventurous girl and enjoyed exploring and visiting new places. Her parents kindled this wanderlust in her, and they travelled a lot as a family. Most of these adventures went well, however a trip to yellowstone park ended all of that..
It wasn't a normal trip, because her parents friends came with their family, their two daughters and son, Tom, Vyn's boyfreind. He was about a year older than her and also enjoyed adventuring and exploring.. So despite their parents warnings, the pair snuck off into the forest to explore. It was nice. They played games and explored the forest and climbed trees and just had fun. But when they decided to have a foot race it went bad, and Vyn slipped on a verge and tumbled down a steep rocky slope, hurting her ankle and cutting her face, which is how she got the scar around her right eye.. The boy tried to help her, and they ended up stuck because she couldn't climb back up. It was getting dark, and they decided it might be best to stay put, rather than splitting up and getting lost in the forest.
They fell asleep at the base of a tree, but then a noise woke Vyn up. She woke up Tom to warn him. They cowered in the dark, afraid of what was out there. And then a hollow attacked. Tom jumped to Vyn's defense, snatching up a stick and hitting the hollow with it. The hollow hit Tom back hard, sending him into the side of the cliff with a crack. Vyn looked on in terror as it turned on her and advanced. And that was when her spiritual energy manifested. Her energy burst forth in a massive torrent that ripped the hollow to shreds where it stood, killing it. But Tom was dead.
It was a long time before Vyn went back to School. The other family blamed her for Tom's death, allot of people did, especially at school. But she did well in school, had as normal a life as she could,, until she was 17, and was abducted by her real mother. Indeed, Hanna had started something four years before that she was not going to give up on. Considering how well her second attempt at making a perfect human went, with her as the subject, She decided her bloodline was the best to repeat it on. Since Vyn's sister Gaige was useless, already ruined by the first attempt, Hanna kidnapped her abandoned daughter.
She was kind enough to explain all of this to Vyn whose reaction was to cry and cower in fear from her mother as she attempted the experiment on her. Unlike with Gaige though, Hanna was more careful with Vyn. She first reinforced Vyn's body with Genetic modifications such as the adaptive bone marrow before performing the full experiment. The experiment to turn Vyn into a perfect human was far more successful than with any previous subject including herself. Infact it was more successful than any attempt thereafter also. Vyn gained a form Hanna dubbed Divine perfection, due to its power compared to any other subject.
After her success, Hanna continued her work, keeping Vyn a secret. Vyn, now a shell of her former self was completely under Hanna's control. But she remembers everything that happened to her, and her mental state is less than stable. After the attack on hanna's facility, and the death of her mother and tormentor, Confused, scared and extremely powerful, she did the first thing she could think of, try to secure her place in the world. Vyn fled and found the army of perfect humans her mother had created. She called all those who had been active and survived the assault on Hanna's test facility, to a hidden bunker in sweden. There, the rest of the army waited to be freed from cryostasis...
As she searched for a way to open the Perfect Human's cryo pods, she discovered a seperate pod under virtually no security. Vyn disengaged the systems and freed the occupant. Little did she know, the human that stepped out was destined to be her best friend and protector from that day forward. A few days later, Altaria, the surviving perfect human from the main facility arrived and together they began working on freeing the rest of the perfect humans.
It wasn't long, maybe a week, before Gaige and her freinds showed up. Vyn tried to make them go away, and when they wouldn't, she faught them. Gaige  ran away and Vyn ended up fighting Tadatomo and Laura, who she quickly overwhelmed. She almost killed Luara but stopped and instead sent her flying. It was then the facility exploded and she thought Zackary was dead. She went berserk.
Vyn quickly brutalised Tadatomo and Laura and knocked them out, but before she could do any more, Olivia and her mother Clara showed up. Vyn attacked, and  ended up battling with clara who put up a much fiercer fight, her experience allowing her to fight through Vyn's rage. Zackary arrived with an Injured Gaige and deployed the pitfall device, A device that created a gravity field that captured Vyn. Despite its strength, Vyn was to strong to be pulled in, and Gaige was forced to shoot her. She'd aimed for the wing, but Vyn blocked the railgun with her right arm and it was destroyed by the impact.
Between the pain and the sudden impact  her wings gave out and she was ripped from earth into the portal and passed into unconsciousness. Vyn woke up some time later. She wasn't initially fixed, She slowly recovered from her mother's brainwashing and the power that had corrupted her. She stayed in asenda prime for some time, recovering, and Gaige replaced her arm, which she was grateful for. She considered going back to her family to atleast let them know she was Alive, but in the end decided it was best for everyone. Then she and Zackary left and set off into the world, so that she could make a real place for herself in the world.
Side Notes: Preferably no higher than 1-3.
RP Sample: