Advent Human Template

Basic Information
Name: Jin Tachikawa
Age: 18
True Age: 18
Sex: Male
Personality: Kind, sweet, optimistic, a prankster, but oddly serious, Jin has had a tough road in his young age. Despite having only been with Yuri as his student for eight months, he's seen more kindness and relief with him than anyone had ever tried to give him. As such, he is loyal to the core to Yuri, despite a virtual secret from even Angel.
He's quite jovial and happy most times. He's very easy to be made content. But piss him off, which is both hard and easy to do, and he's a stone cold killer. No emotion, no remorse. How is he easy to piss off? Insult Yuri. How is he hard to piss off? Virtually anything else. You can go on a killing spree/rapey spree in front of him and he won't even get pissed off. He'll still shoot at you, or try to take your head, but not because he's mad.
He's a bottomless pit of a human, eating amounts of rice crackers that no normal person should be able to consume. As such, he's almost always eating, and doesn't shy away from offering to share to those he is conversing with. It's something of a joke between him and Yuri, especially since he takes rice crackers out of seemingly no where. He'll even use it as a pranking tool.
He isn't one to mess around in obviously serious situations, though his tone can be lighter than what one would expect. Particularly if he looks down on his opponent. He'll generally lend a helping hand to anyone who offers it. Unless one insults his master, he has a very high tolerance of assholes and generally not very pleasant people. He is also a lot more technical oriented than Yuri is, but is less of an espionage type of guy.
Likes: Wine. Animals. Weapons.
Fears: Venus Fly Trap. Angler Fish. Dinosaurs coming back to life.
Character Appearance
Height: 5'10"
Weight: 145 lbs.
Physical Traits:
Spoiler:
Clothing: See Picture
Accessories: Cyan colored sunglasses.
Fighting Style
General Fighting Style: He is exceptionally flexible, balanced between range and close range fighting. He prefers close range, however, though his pistol and sniper rifle, and in later forms two other things, allows him to fight range with range. Somewhat tactical, he does try to use the terrain or manipulate it to his advantage.
Strengths: Stupid amounts of Reiatsu, slightly above average speed, sensing: see Detection Plus
Weaknesses: Lack of control of said Reiatsu, slightly below average durability.
Primary Stage
Ability Name: Egret
Description: A sniper rifle that fires a beam of energy at twice the speed of a cero, but the same power as a cero. It has  a tendency to shatter barriers that can block a standard cero, even though it still blocks the shot. Can be fired once per post. Can be summoned and desummoned at will.
Ability Name: Energy Saber
Description: Four white sticks are hooked in his pockets that he can control telepathically. From those sticks come a yellow energy saber that he can adjust the length of, with a max length of a standard one handed sword. Aside from that, no special properties. He prefers wielding two of them, though. The control is within 20 yards of him.
Ability Name: Blaster Pistol
Description: A pistol on his hip that fires energy blasts equal to a hado 31. If separated from him, he can desummon it, and resummons it into its holster. Aside from the weapon being Zan steel, there is no other special attributes except with a flip of the firing mode, a different bullet type is used. Rate of fire is however fast he can pull the trigger, and feeds off of his energy.
Ability Name: Giblets (sub ability)
Description: The alternate firing mode to the blaster pistol. The fire bouncy bullets, that are high explosive. Only one bouncy bullet can be fired every 2 posts, is equal to 1 cero and a half, but also has a 35 yard blast radius. It can bounce up to 10 times before detonating on the 11th attempted bounce. He can make it explode on will.
Ability Name: Shield
Description: A hexagonal shield that blocks up to a cero oscuras, getting the same cooldown as the ability it just blocked, plus one. Can also be used to shield allies up to 75 yards away.
Ability Name: Detection Plus
Description: His eyes are not normal. He can switch vision modes, from X-ray (can't see through abilities, soul bound items, zan steel, lead aprons, or thing specialized to block this type of vision mode), to infrared, to reiatsu (in a radar type fashion or similar to the Hyuga eyes like fashion, but not both at the same time), to night vision. His hearing is also better than most, though not as good as a canine's. He's still able to hear a person's heartbeat in the same room.
Final Stage
Ability Name: Ibis
Description: A very powerful, high penetrating rifle. Think of it as a 57 mm anti-tank cannon. 5 post cd. 4 is because of power (cero oscuras), an additional 1 because of anti-armor/hierro/barrier.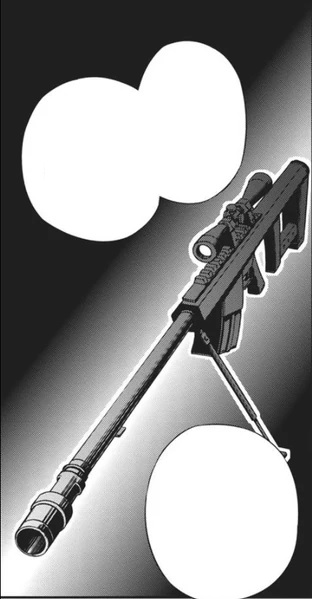 Ability Name: Kotetsu
Description: A non-adjustable energy blade with a normal hilt. The blade is the length of a katana, and has...extremely mild anti-armor/barrier/hierro abilities. Any barrier that can block a cero or weaker it can cut through, but nothing stronger. It also has a sub-ability, listed below.
Ability Name: Senku (sub-ability)
Description: Once per post, this is an extendable slash with a range of 40 yards. It is also stronger, but only a little bit. It's also more malleable, able to bend and curve, though only by about 35 degrees.
Ability Name: Reghast
Reghast appearance:
Description: An oddly shaped energy blade and hilt that can turn into a shield. It can also be used with a "thruster" mechanic, to propel itself, and/or its user, in a single direction at just shy of double their speed, 1.8 times, or if by itself, like it was thrown by the Hulk. That can be done at twice per post. It does hit harder in a swing if the thruster mechanic is used.
Boosts: Speed, strength, durability, and reiatsu x3
Hyper Mode
Side Note: Organon replaces Kogetsu. But everything else can be used, and summoned/desummoned at will.
Ability Name: Organon
Organon Appearances:
Description: An anti-armor/barrier/hierro sword. FEAR IT. It has two sub abilities.
Ability Name: Ring of Defense (sub-ability)
Description: Organon's sub-ability number 1. Refer to the second gif for appearance. In that same ring fashion, he can defend himself from any attack in that fashion. This can be done once every 4 posts. For frontal assaults, he must use the blade for the ring to occur. It'll block a cero oscuras or hado 90-ish leveled attack. Can't block last resorts obviously.
Ability Name: Ring of Attack (sub-ability)
Description: Organon sub-ability number 2. He can create very visible rings. On those rings are blades that can swivel, but goes along that ring, like a rail. Refer to the second pic, the diagram. And for appearance, the last gif, though ignore the weights/black things on them. The blades are also anti-barrier and anti-armor/hierro. They'll cut through anything not soulbound or zan steel (or last resorts). Extreme power at the cost of high visibility. He can only have up to 8 rings at once. Each ring can have up to 5 blades on them. The rings are intangible, and one can go through them without interference. They're more of a sign of where the blades are gonna go. He can edit their orbit however he wishes, expanding them or contracting them, but not in the sense that he can change from horizontal to vertical. That range is 50 yards, and isn't fast, but not slow either. Only way to not know where those blades are at is to be deaf, dumb, blind, and completely unable to sense reiatsu.
Boosts: Reiatsu x4, speed and strength x3.
Back Drop
Background: He started out as a child prostitute, until he killed one of his clients. Pissed off, his pimp tried to kill him in front of a lot of people. Only to get herself killed by him. An officer from a PMC took him in and trained him how to fight, but the PMC as a whole was still cruel to him. After the PMC was eliminated, an assassin took Jin in, and taught him how to spy and kill silently. After Yuri met Jin, he talked to the boy, then 17 years old. And showed him kindness and respect he never really had. Liking that a lot, he asked the older man if he could be his student. Yuri accepted, and Jin killed his old master.
For eight months, he trained/hung out with Yuri, forming a type of brotherly bond with him. Though Yuri kept him a secret, Jin didn't mind at all, and he mellowed out quite a bit. Until Yuri disappeared. It took him two weeks to find his adopted bro again. In the form a soul stone. He built Yuri a new body, and the two have been searching for Alexei since then.
Side Notes: He's not as spy like, but he's good enough at it to make a living from it. He can also build things. Including Yuri's new body.
RP Sample: lol