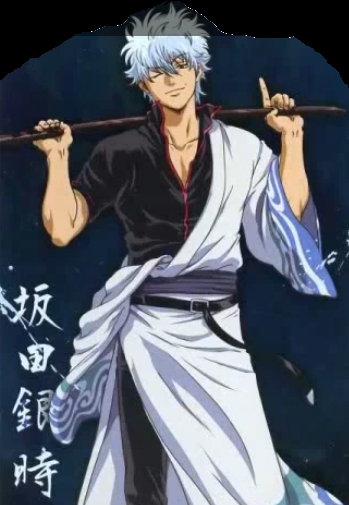 Gin
Basic Information
Name:
Gintoki Sakata
Age:
32?
True Age:
32?
Sex:
Male
Personality:
Gin acts like a middle-aged old man. He loves doing nothing and being lazy for the hell of it and will fight for the latest shonen jump. Gin has an aura about him that allows other people to become a little attached to Gin. Gin has a wicked sense of humor that he will use anytime he pleases. Also, Gin is the type of person that would act crazy in order to do a goal. He loves his strawberry milk.
Gin is a loyal man who will fight for his friends. Even though he has no family, he does have one with all of his friends. And when he fights for something that he is truly dedicated to, he will not stop until he succeeds or, on the other hand, dies. Even if it is a situation in which he is likely to not come close to succeed and he knows it, he will still fight. His headstrong determination is only matched by his love of shonen jump and strawberry milk.
Gin is willing to get his hands dirty in order to finish a job. Such as cheating in a fight in order for a gorilla (nickname of Kondo) to not marry one of his friends since his friend knows the gorilla for being a stalker. Hell, Gin will ride someone down a snowy mountain and, if it's a guy, if the humanboard is going to fast he will use the penile brake! Which was the chance of lacerations of the penile area of the person he is riding down the mountain and might even snap that thing off (got that from an episode last night... nearly died of laughing).
Gin is a cannibal no more and will never go cannibal again... So yeah, clearing that up for you.
Gin has an undying passion for sugary treats and snacks and foods. Even though his blood sugar level is too high. So if someone spills his chocolate parfait of the week, he will freak the f*ck out and go on a rampage of anger.
If someone harms or, god forbid, kills one of his friends, Gin will go back to the mindset of the silver-haired devil... A mindset of kill or be killed with no regard for life of any kind. When he goes into this mind set, it automatically activates his hyper mode... so yeah... when he is in this form, you should be fighting at full strength or you are f*cked...
Likes/Loves:
Strawberry Milk, Shonen Jump, The Manga called 'Detergent' (Parody of Bleach), Friends, Ice Cream, Sugary foods
Fears/Hates:
Losing those close to him, Mayonaise, Salted Seaweed,
Character Appearance
Height:
5' 11"
Weight:
179 lbs
Physical Traits:
Clothing:
exactly the same above, OR A RANDOM COSTUME!!!
Accessories:
None
Fighting Style
General Fighting Style:
Gin's fighting style is a little unpredictable since it is too focused to be called savage yet too rough to be called fine. He just tanks through any attack that is thrown at him unless the attacks are too lethal. If they are too lethal, he'll just dodge. However, he has an indominateable spirit that allows him to fight recklessly, which most of the time turns out to be a ruse for a clever attack.
Strengths:
Close to medium range attacks, Endurance, Low Fatigue, and Zanjutsu
Weaknesses:
Long Range Attacks, Defense, sugary sweets... he can't help himself XD
Abilities & Weapons
Primary Stage
Weapon:
Lake Toya
Appearance:
(during Primary Stage, Lake Toya is in it's sheath)
Name:
Blink Stride
Effect:
Basically Gin's Flash step...
Name:
Indominatable will
Effect:
Gin fights to the max without stopping until he passes out/dies... Even if he's on the brink of death, he'll fight as if he was okay (think Kenpachi Zaraki... Yeah, Gin has Zaraki durability)
Name:
Kamehameha
Effect:
Gin releases a Gran Rey cero strength and size energy beam at his opponent... 2 post cooldown... And has to be charged up like in the anime Dragonball Z.
Name:
Substitution
Effect:
If Gin gets hit he can poof out and leave a puff of smoke, leaving behind a pair of oval glasses, and Gin appears a good 10 feet away from where he substituted from. 3 post cooldown. If anybody can get the referencing on the oval glasses, then they get a fricking thumbs up XD...
Name:
Non-Lethality
Effect:
Gin fights with the wooden sheath on his sword... meaning that he is able to make the chances of him killing his opponent shorter. He can still enemies without using his actual blade, but that would be when Gin actually tries to kill someone.
Name:
Reality Breaker
Effects:
Gin can break reality by pulling insane stuff out of his robe... Such as the Pizazz fruit where who anyone eats it goes into their final form, but would have a hammer crotch while in that form... Or he can pull out an umbrella that shoots bullets from it... Or he can pull out goggles that, when he wears them, he goes into concentration mode and he can easilly find his enemy's weakness... I moved it to Primary stage cause it would be much more convenient here... And useable outside of combat...
Final Stage
How-To-Activate:
Gin pulls the actual blade out of the wooden sheath of Lake Toya.
Name:
Lethality
Effect:
Gin's blade ups the lethality rate... yeah...
boosts: Strength, Speed, Endurance doubles, Fatigue times 1.5
Hyper Mode
New Appearance:
Boosts: Strength, Speed, Endurance Quadrupled. Fatigue Doubled
Back Drop:
[/size]
Background:
Gin was born on an island... an island untouched by the presence of souls, reiatsu, any of that crap. It was a special island because shinigami and arrancar have never stepped foot onto it... And it was also special since it was about 300 years behind modern times. The island was a distance off of Japan, and was a very good sized island. And in this time, Gin was born into an era where there was a civil war going because people from the outside world found this 'technologically slow' island and tried to introduce new technology.
Gin's parents were killed by these revolutionaries when he was about 4, and he first picked up a sword on that very day that the parents were slain. Those who killed his parents were killed brutally. Gin didn't move away from his house, not knowing how to support himself. A week afterwards, he was starving... And the only option for him to live was... the taboo... eating another person.
After he ate the corpses of the murderers, he got up and left with his sword... went out to get more food.
Two years later, Gin was known as the silver haired devil. Mainly because he murdered anyone who faced him and then ate their corpses. This cycle of cannibalism and massacre continued until he faced a man who put away his sword and offered the kid a chance to live without eating people and learn how to hone his skills as a samurai. Gin, when asked this, looked at his rusty, blood-stained, rough edged sword and then at the man, trying to decide which to choose. When the man walked away, Gin chased after the man, wanting to get away from the life of pointless bloody death.
After 16 years, the war of technology was waning for the side of the island, the technologically advanced people winning. The last stand for the island was led by Gin himself, his teacher, and 2 of his friends. Gin fought valiantly and won, but his side lost since everyone except Gin had died. Gin gave up and decided to live as a vagrant back in his home district, the kabukichko district.
A year later, Gin was in a graveyard in the middle of winter, struggling to survive. That was when he spots an old women bringing rice balls to a grave.... The grave that Gin was on the other side of. The old women put the riceballs down onto the snow covered grave and started praying, Gin then took his chance and took the riceballs. The old lady says that they aren't for Gin and are for her husband, which Gin pauses for a couple of seconds and then replies by saying that dead people don't eat food and that he made a promise to her dead husband that he would protect the old lady. HALF A YEAR LATER, Gin was living in Otose's double home (duplex, yet apartment on top and bottom) with the lower home being a bar. Gin was in charge of his own 'Odd Job's Gin' business. Where he did odd jobs for other people.
Through odd jobs, he met lots of people and made lots of friends, good friends, during a number of years. He did a couple odd jobs which opened his latency for spiritual powers (even though he didn't know about them), which included attending an old man's funeral in which the old man's spirit played mean spirited jokes on Gin and a cop that Gin is a little bit of a rival with; helping Otose's friend with being the manager of a ghost hotel; and finally helping a weather girl who is a demon hunter by night.
Now it is present day and Gin's island is running out of shonen jump and strawberry milk. He had been running around the island, trying to find some for the past couple of days and he sees a man in a black and white robe walk into a gate of some kind, while holding the latest shonen jump and a carton of strawberry milk. Gin chases the man into the gate, which closes behind him, and then after a couple of minutes, Gin is accidentally in the Soul Society, speechless because it's basically something out of Detergent!
Side Notes:
Expect a lot of craziness...
RP Sample:
"Fufufufufu..." -Maxie from Team Magma {say the stuff after 'Maxie' with an old school british detective voice... you know, the voice given to him in the Pokemon TV show XD}