Mod Soul Template

Basic Information
Name: Yuri Romanov
Age: He looks like a robit...or a white stone. In a ghost form he looks 17.
True Age: 22
Sex: Male
Personality: He sticks his middle finger at any authority. Bad mannered, though if you prove you're a good leader, he'll follow you, if only temporarily. You become his friend he will go to hell for you. A "jack of all trades," he can fulfill just about any role you can imagine, though some may require extra training that he would be willing to go through, so long as you're paying to go through it. While not necessarily a bad person, he believes the world needs change. He does not let go of grudges and the like. Once you've earned his hate, he'll hate you for life. He also settles his debts, not liking to owe anyone.
Once you get to know him, he is a good person, it's just getting past his "rough" exterior. He is a lover of fine wine and of cats, but it's not like he'll go into a rage about them or anything. He is somewhat lazy, preferring easy missions or those that don't require a lot of work. Doesn't mean he won't do it though…long as you pay him in some way or if it's settling his debt to you. That doesn't mean his loyalty can be bought, he hates the Coalition for reasons that will be explained in his background. And even then, it's not very likely if he's devoted to you. Though he would be willing to work with them if the time ever comes, but his "partner" from them better keep an eye on him, for he will shoot them in the back if the opportunity arises and he can complete the mission on his own from then on.
Strong willed, stubborn, and perhaps a little arrogant, he's gotten into and out of his fair share of trouble. He used to have a type of Hyper Intuition, warning him of impending sneak attacks or danger, sometimes involuntarily moving just as a swing or shot was about to hit him. That, coupled with his speed, made hitting him extremely difficult, though it also means his durability was really low. He used to take great confidence of this Hyper Intuition, and always followed it, and it's a good idea to pay attention to him when he starts saying stuff about not liking a situation and other similar comments or gestures. Or at least used to. It no longer applies to him...sadly. He sulks about it from time to time.
He's gotten a lot more mischievous in his new form.
Likes: teaching his student new things, fine wine, being lazy, and cats.
Fears: Killing a comrade that he trusts, vampires, and betrayal, losing his student
Character Appearance
Height: He is now one foot in diameter
Weight: Five pounds
Physical Traits: A white version of what is below. In the center is a white stone that holds his soul. In an incorporeal form, he holds the same albino appearance with cyan eyes as before.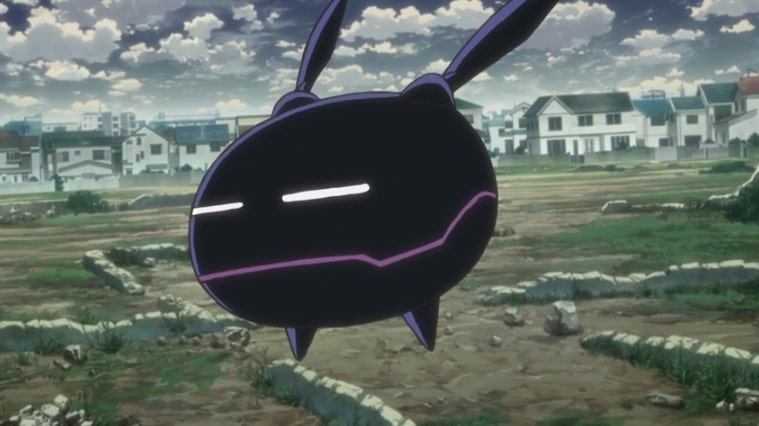 Clothing: What are those?
Accessories: None.
Fighting Style
General Fighting Style: He can't fight no more...he can just evade, tank, and hide.
Strengths: Utility and tankiness.
Weaknesses: He's a non-combatant...what do you think?
Quirks: Soul-Transfer: There are tons of white "soul stones/crystals" that he can transfer his soul into whenever he wishes, possibly becoming as close to being unkillable (as you'd have to find all the crystals and destroy them) as you can be. These crystals/stones do allow him to pop out in an incorporeal body, even incorporeal to spiritual beings. But it's also limited to a 10 yard radius around the stone. He also can't interact with anything while in that form.
Primary Stage
Ability Name: Float
Description: He can float around. That is all.
Ability Name: Body Malleability
Description: He can bend, shape, and generally turn his body into whatever he wishes so long as it isn't sharp or pointy.  So making hands he can do...but they be little a punch from him isn't gonna do anything anymore. He does have a soul stone/crystal in the center of his body though, and is the only thing that he can't manipulate on his new body.
Ability Name: Armor
Description: Despite how light the armor is, it is incredibly tough. And allows him to tank pretty much anything short of a last resort. For a little while at least...he'll be destroyed before the person runs out of energy to fling stuff. Cutting it is tough, but doable if you wear it down a bit.
Ability Name: Lie Detector
Description: The only pointy bit he can do comes out of the mouth and into you. But it's like a needle. Basically the only part from his hyper intuition left. He can detect intent, lies, and vitals from that. Purely rp tool or permission only.
Ability Name: I call Haxorz!
Description: He's now a robit...that can hack shit...really, really, really, really, really, really, really fast. Basically, all he has to do is plug in and go, and he's just as good as Serena, Gaige, and Kaytlyn is now. Or close to it. Obviously can't hack Serion or Player Characters (like Jeffrey).
Ability Name: Damn it, Jin, I'm only a Surgeon!
Description: He put cords on/in whoever he wants to heal and start to heal them. It takes up to 12 posts to heal someone from near death to fully healthy, albeit unable to fight. Literally the only thing he can do with his spiritual power now.
Back Drop
Background: Shit happened when he was on a mission. And he got captured by Alexei, got his soul ejected, sealed into the soul stones, and watched in horror as his body got dragged off to who knows where with nothing more than an apology from the original Alexei. There he waited for two weeks before his secret student found him, and brought him home. Jin, being a mild inventor himself, built a new body for Yuri. And now the two are off to find what the hell Alexei did to his body!
Side Notes: Fear me!
RP Sample: