Vizard Template

Basic Information
Name:
Kagura Ryūkōtei
Age:
20
True Age:
20
Sex:
Female
Personality:
Kagura, much like her father Parius, is a care-free, go with the flow kind of woman. She generally allows events to play themselves out, and takes action accordingly. However, she is much more serious than her father. She tends to think with her heart, rather than with her head. Which has gotten her into trouble more than once. However, she possesses an incredible "never give up" attitude, which she uses to power out of these situations. She has retained her families battle-hungry nature, but it is less acute than in, say, her father, or uncle. Kagura wishes to help the Shinigami, and the Gotei. She hates Hollows, but is wise enough to realize that not all Arrancar are mindless beasts. She is a strong believer in right and wrong, and she tends to do the right thing because of this.
Likes:
Her family, friends, a good fight, doing what is right.
Fears:
Hollows, Truly being alone, her family dieing.
Character Appearance
Height:
5'4"
Weight:
90 Lbs
Physical Traits:
Kagura is a beautiful young teenager with blue eyes, and long, black hair. Her eyes are now red, due to her Hollowfication. Her skin has also gotten paler.
Clothing:
Kagura now wears a white, button up, long sleeved jacket, and she puts on a white trenchcoat, with gold accents on the edges, and on the buckles in the front. She wears a white ascot around her neck. She wears dark blue shorts, and thigh-high socks of the same color, with two white X's near her thighs, She finishes with white boots. All in all, she appears in the opposite of a Shinigami's mostly black attire, looking more like an Arrancar's outfit
Fighting Style
General Fighting Style:
Kagura a fast, close-quarter, melee specialist. She likes to strike, hard and fast, and then keep doing so, until her opponent is finished. She has no qualms aiming for vital areas, and killing her opponent, unlike her father. She tends to rush into things, but her amazing durability, and stamina, Kagura can keep fighting on, regardless of the beating she took because she just rushed into battle. She is also still somewhat inexperienced in the art of battle, examples of this include the aforementioned rushing into battle, and not using her head for tactics, like Parius does.
Strengths:
Sword Expert: Kagura has been trained in Zanjutsu since she was a young girl, and has gotten quite good at the art of the blade.
Natural Speed: Like all Ryūkōtei, Kagura's natural speed in almost superhuman, and her reflexes are top notch, for someone her age.
Shunpo Expert: Trained by her mother, who was a Shinigami herself, Kagura has gained quite a great understanding of Shunpo, able to basically become a blur to her enemies, and she is able to use it to augment her sword swings to be even faster than her already amazing natural reflexes.
Durability/Stamina: Even for her tier, Kagura can withstand an immense amount of punishment ,and keep fighting. She is also able to fight for increased amounts of time, sometimes even surprising her opponents with how long she can fight.
Weaknesses:
Kidou: Despite having Shinigami parents, Kagura seems to have retained her father's avoidance of Kidou. She has not learned a single one, and isn't quite adept at identifying what Kidou is what number, etc.
Sensing: Kagura hasn't exactly trained this ability, instead focusing on what her strengths are. She can only feel Spiritual Pressure if she is close to it, or if it is an extremely large source of it.
25% Weakness to Water based attacks.  
Special Qualities
Ryu no Me (Eyes of the Dragon)
Spoiler:
Zanpakuto & Kidou
Sealed Appearance: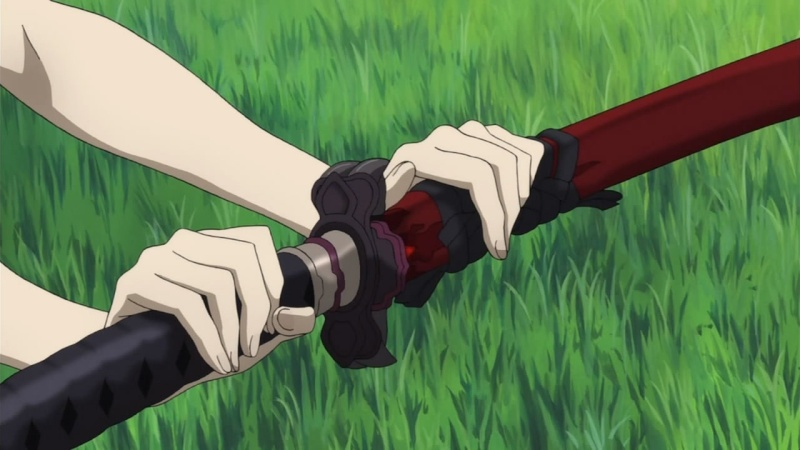 Spirit's Name:
Raikoukasai Ryu (Lightning-Flame Dragon)
Spirit's Appearance:
Raikoukasai Ryu (Raikou for short), is a large, red, serpentine dragon. It has two mouths, and it's eyes are pure yellow. In Kagura's Inner World, it's coming is marked by thunderclouds.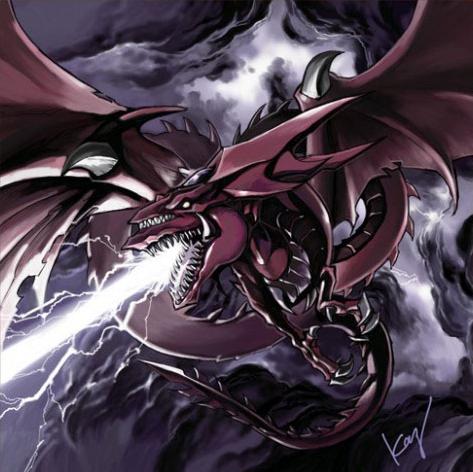 Spirit's Personality:
Raikoukasai Ryu is a voice of wisdom, and calmness to the normally rash Kagura. It is a wise spirit, generally not giving anything to Kagura unless she earns it. It is fiercely protective of it's wielder, though it cannot actually do anything. It hates it when Kagura is injured, and is secretly proud of her never-give-up attitude. Even if it scolds her for being rash because of it.
Inner World:
Kagura's inner world is an immense mountain range, stretching for beyond what the eye can see. On the top of the tallest mountain, there is a shrine. This is normally where Kagura speaks to Raikou. Normally having clear skies, this changes when Raikoukasai Ryu shows itself. The skies darken, and thunderclouds stretch out, as far as the mountains.
Kidou:
Not being apart of the Gotei, Kagura knows no kido.
Shikai
Call Out Command:
Wake Up, Raikoukasai Ryu
Appearance:

Abilities:
Note: It takes 1 post for Kagura to switch elements. If she switches fire to lightning, it'll take a post before she can switch back. I only write this because I know I will be asked about this later.
Fire Abilities-
1.Fire Wave: Kagura fires a wave of flame at her opponent. The wave itself move as fast as a Cero, and hits with the strength of one. But, it also causes burning damage, and can stay on the opponent. Flames last for 2 posts. 4 post cool-down.
2. Kagura is 35% more resistant to any kind of flame while having her Shikai awakened, and is naturally immune to her own flames.
3. Kagura's blows has her flames behind them. Meaning, if they are cut with Raikoukasai Ryu, they suffer burning damage, along with the normal cutting damage.
4. Flame Orbs: Kagura summons up to three orbs, made of her flames. They move a bit slower than a Cero, but explode with the force of one. They also spray her flames when they explode, meaning that her opponent could catch fire, if they are too close. They explode with the same force as a Cero. Flames last for 2 posts, 4 post cool-down.
5. Flaming Roar: Kagura roars, blasting the immediate are in front of her with flames, like a dragon's roar. As powerful as a Cero, but is only capable of hitting up to 6-7 feet in front of Kagura. Flames last 2 posts, 3 post cool-down.
6. Flame Dragon Wave: Kagura fires a wave of Fire in the shape of a dragon at her opponents. It is as powerful as a Gran Rey Cero, and does the usual flame damage, with the same duration on the flames. 5 post cool-down.
Lightning Abilities-
1. Lightning Edge: A basic skill, Kagura's blade, while in Shikai, gains an immediate boost to cutting power, able to easily cut through normal Hierro.
2. Resistance: Kagura also has a passive 25% resistance to Lightning, while in her Lightning version of Shikai
3. Thunder Clap: Kagura collides Raikoukasai Ryu with anything, while charging energy into the blade. When it hits, it creates a knock back effect, also deafening the opponent, for 3 posts.
4. Lightning Explosion Wave: Kagura charges energy, and lightning crackles off of her. She then releases it all, causing an explosive wave of lightning energy, for around 30 feet around her, and it is as strong as 2 Cero's. 4 post cool-down, 4 thread limit
5. Lightning Dragon Wave: Kagura creates a blast of lightning, initially looking like a dragon. Halfway to an opponent, it transforms into a beam. It hits with the power of a Gran Ray Cero. 5 post cool-down.
Boosts:
Speed, Durability, Stamina X2, Strength X1.5
Bankai
New Name:
Kaminari Kasai Ryūjin
Appearance:
Just the armor, not the hair
Kagura gains armor, on almost all of her body. The armor is draconic looking, and is a deep purple. The armor has spikey potrusions on her shoulders, forearms, and calves. She also has a small, light-purple cape on her back.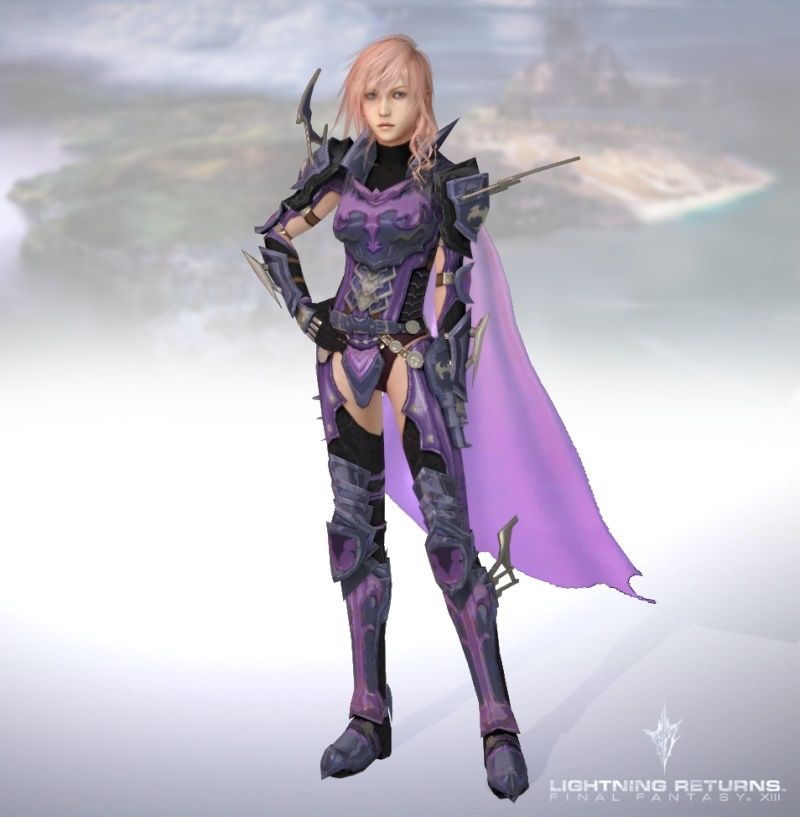 Abilities:
Kagura now is able to use both of her elements at once. She can also still use her Shikai moves.
Burning Lightning Grapeshot: Kagura charges 8 bullet-shaped spheres of fire and lightning energy. She then fires them, where her opponent generally is. The orbs are not in her control, once they get shot. The orbs are Cero-powered. 6 post cool-down.
Flameshock Wave: Kagura fires off a burning wave of lightning energy, which moves, and is as powerful, as a Gran Rey Cero. 3 post cool-down.
Thunderflame Roar: Kagura roars, blasting her opponent with a shotgun-like blast of fire, and lightning. It is as powerful as a Gran Rey Cero, but a bit slower than one. Max range is 6-8 feet. 4 post cool-down.
Flamewarped Lightning Explosion Wave: Kagura charges energy, and lightning, and bits of flame crackle off of her. She then releases it all, causing an explosive wave of lightning and flame energy, for around 50 feet around her, and it is as strong as a Gran Rey Cero. 4 post cool-down.
Resistance: Kagura is now 50% resistant to fire, and lightning, and is naturally immune to her own flames, and lightning.
Burning Thunder Dragon Wave: Kagura fuses her lightning, and flame powers to fire off a huge blast at an opponent. It is as strong as 2 Gran Rey, and  has a 4 post cool-down.
Burning Crusader Armor: Kagura charges her body with her own energy, made from her Lightning, and Flames. While it is active, flames, and sparks shoot off of her (Harmless). Her speed, and strength are doubled, and it lasts for 3 posts. 4 post cool-down.
Boosts:
Speed, Durability, Stamina X3, Strength X2.5
Inner Hollow
Appearance:
Kagura's Hollow's looks resemble those of a young man. He sports shaggy hair of dark color, long enough for its bangs to reach his nose and likewise, strands of hair to cover the sides of his face all the way to below his shoulders. On the back of his head, the Hollow's hair forms a big ponytail. His attire consists of a dark colored shirt and a light colored cape with a pattern of flame that is torn into stripes on the bottom. He also wears light colored trousers that are tied by straps on his thighs and slightly above his ankles, as well as boots of a dark color.
Personality:
Often seen smirking, the Hollow is a cool, collected, yet arrogant, man who plays himself off as being extremely intelligent; he quite regularly refers to himself in the third person. Also, much like the rest of his kind, the Hollow belittles humans, and thinks of them as nothing more than insects. Indeed, he finds the mere thought of letting a human live when given the chance to kill them a tragedy, and usually commands Kagura to try and kill one, if possible.
Mask
Appearance:

Abilities:
Strength, Stamina/Durability X2
Hollow Powers:
Kagura's Cero is blue, and red in color. The dominant color is based on what element she is currently using.
Full Vizard Form
Appearance:
Kagura's clothes are replaced by a geometric printed body suit with a blue and white dress coat adorned by an over-sized black collar supported by two belts which corsets her waist and a black cape. She grows horns on the side of her head and she also grows a lot more hair. She also grows a pair of claws and royal blue markings appear on her legs. She is surrounded by flames which her feet seem to be merged to.
Abilities:
Boosts:
Strength, Stamina/Durability X3
Back Drop
Background:
Kagura was born of Parius, and Saya Ryūkōtei. She arrived in the world a couple of months before Parius became a Vizard. Fearful of their safety around him, Parius decided to make a hard decision, and have them move away from him. They moved the China, having snuck both Saya and Kagura out of the Gotei. Parius told no one of their location, or about the fact that he had a daughter. He didn't want them hunted down because he was a Vizard. So, Kagura grew up not having a father. She heard stories of him through her mother, but never actually met the man. She was raised by Saya, and the two were close as a result. It is Saya who began Kagura's training in the blade, having nicked an Asuachi from the Gotei before she left.
At age 8, Kagura began her lessons, and soon blossomed into an able swords-woman. Saya has stated that Kagura's growth is astounding, though she also credits the Ryūkōtei's natural relationship with a sword. Kagura, at age 15, learned her Shikai, though she was far from mastering it. It is during this time that Parius actually visited the two. Instantly connecting to her father, Kagura and Parius stayed up the entire night talking. Parius was impressed with her ability with a sword, and welcomed her as a full member of the Ryūkōtei Clan. Stating that they would move in with him after he found a place to call home for himself, Parius left again. Kagura was saddened, but she didn't let it get her down for long. She continued to train with her blade, eventually learning most of her Zanpakuto's techniques in Shikai. She was 20 by then, and had blossomed into a proud, young woman. Parius then appeared again, telling the two that their house was finished. Transporting them to the Ryūkōtei Manor, Kagura was amazed at how nice, and pristine it was. Greeted immediately by her uncle, Abel Ryūkōtei, the only other one to know about them, Saya and Kagura were immediately set up in the Manor. Kagura soon longed for something more, and asked her Father one day if she could join the Gotei. thinking it over, Parius finally agreed. On one condition. She would join the squad he picked for her. Agreeing on the spot, Parius was ready to take his daughter to the Gotei, and to her new Captain. An old friend. Jensen Reinhart.
Side Notes:RP Sample:
I am Parius. Here me roar.